Mary Portas: Secret Shopper, Channel 4 |

TV reviews, news & interviews
Mary Portas: Secret Shopper, Channel 4
The Queen of Retail still reigns
Wednesday, 19 January 2011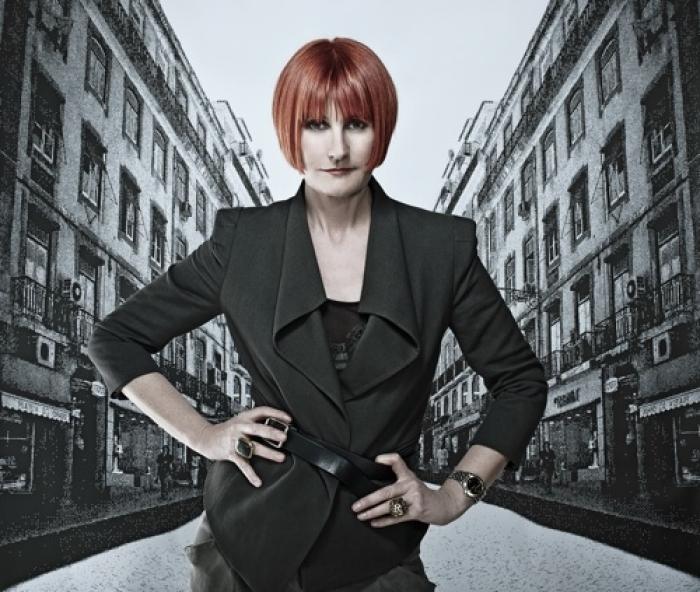 Still fierce and fabulous, Mary Portas wages war on poor service in her new series
She's back: the retail guru and style icon, with her sharp red bob, sharper tongue and enviable sense of style. In two series of Mary, Queen of Shops on BBC Two, she whipped ailing businesses into shape and established herself as one of television's most striking and engaging personalities. If online message boards are to be believed, she also – thanks to her much-discussed mid-life divorce, relationship with Grazia fashion editor Melanie Rickey and sexy combination of attitude, intelligence and eye-catching elegance – inspired happily married women up and down the land to fantasise about enjoying a sapphic interlude with her.
Now she's moved to Channel 4, and in her new show she's setting out to skewer the high-street perpetrators of Britain's notoriously bad service. Aptly attired in military chic, she's ready for battle. "The revolution starts here," she proclaims with characteristic chutzpah.
The first programme in the series focused on disposable fashion, and in truth Portas's revolution started small. She tackled relative chain-store newcomers Pilot; and while she hoped that what she achieved with the company would have a knock-on effect on the "fatter cats", it would have been nice to have seen her take on one of the real Big Boys. Still, as a preliminary, she did ditch her designer gear for the "secret shopper" part of the mission, donning an unflattering brown wig and a school-run mum outfit for a spot of undercover filming in some well-known stores.
'The managing director was gung-ho. "Our stock has the lifespan of yoghurt,"
he boasted'
The resulting customer-service picture was, unsurprisingly, not pretty. At Primark the lighting was harsh, the queues epic and the clothes chucked in heaps on the floor. And the staff were clueless: when Portas asked about harem pants (Mary! So last summer!), one assistant couldn't see how they would differ much from jogging bottoms. It was little better at New Look, H&M or Zara.
"I need to get my hands on a fast-fashion chain," Portas announced. So it was off to the Coventry headquarters of Pilot – an unprepossessing premises which, she pointed out with a vulpine grin, looked "like a young offenders' block". Managing director Chris George was gung-ho: "We're the drive-thru McDonald's scenario," he boasted, proudly waving a stiff, shiny prom dress in a violent shade of violet. "Our stock has the lifespan of yoghurt."
"We'll see if he's so cocksure when I show him the secret filming," said Mary, flexing her knuckles, before presenting him with footage in which a member of staff at his Essex store bluntly declared, "I don't give a fuck."
Such customer-unfriendly epithets were speedily eradicated, as Mary – sternly pronouncing, "I"m not here to have fun" – headed to Braintree, armed with her Three Golden Rules of Retail: Smile, Speak, Serve. She transformed the shop-floor staff from a human edifice of lumpen indifference to motivated service-industry professionals; and designed some fabulous new fitting rooms themed around fashionistas such as Kylie and
Lady Gaga
, complete with a computerised mirror so that shoppers could tweet their new looks to their friends, and mobile chip-and-pin, allowing their goods to be bagged and ready for purchase when they emerged, without the need for so much as a trip to the till. "Wow! You've cracked it!" cried a delighted George.
No doubt about it, Portas knows her stuff; and George's willingness to put his faith in her made this pretty predictable TV. There was some initial resistance, some squirming and denial; but before long she had him eating out of her immaculately manicured, heavily bejewelled hand. Maybe down the line, the series will set her against some tougher opponents who will really test her mettle. In the meantime, though, if this programme lacked the zing of the best of Queen of Shops, Portas herself is still fantastically watchable. And in the retail realm, she reigns.
theartsdesk is changing
Thank you for continuing to read our work on theartsdesk.com. In September we reached our fourth birthday and feel that the time is now right, in line with other media outlets, to start asking our regular readers for a contribution to help us develop the site further. Theartsdesk has therefore moved to a partial subscription model. For unlimited access to every article in its entirety, including our archive of more than 7,000 pieces, we're asking for £2.95 per month or £25 per year. We feel it's a very good deal, and hope you do too.
Take an annual subscription now simply click here.