Loving Miss Hatto, BBC One/ Homeland, Series 2 Finale, Channel 4 |

reviews, news & interviews
Loving Miss Hatto, BBC One/ Homeland, Series 2 Finale, Channel 4
Loving Miss Hatto, BBC One/ Homeland, Series 2 Finale, Channel 4
Amazing tale of classical music fraud given heart and soul by Victoria Wood
Francesca Annis as Joyce Hatto with Alfred Molina as her husband, Barrie
Joyce Hatto achieved a rare kind of immortality for being the pianist at the centre of an audacious classical music fraud, in which her husband faked "Joyce Hatto" CDs from the work of other artists and, for a time, enjoyed considerable success with them. The Hatto goose was cooked when the Gracenote music database used by iTunes detected that one of her albums was not her work at all.
A couple of novels based on Hatto-like events have already appeared, but for this TV treatment, writer Victoria Wood stuck to the couple's real-life story, though she had clearly allowed herself plenty of creative width in the process. Joyce Hatto died in 2006, and while her husband William Barrington-Coupe (or Barrie as he was known) is still alive, he has never been terribly forthcoming with the actualité.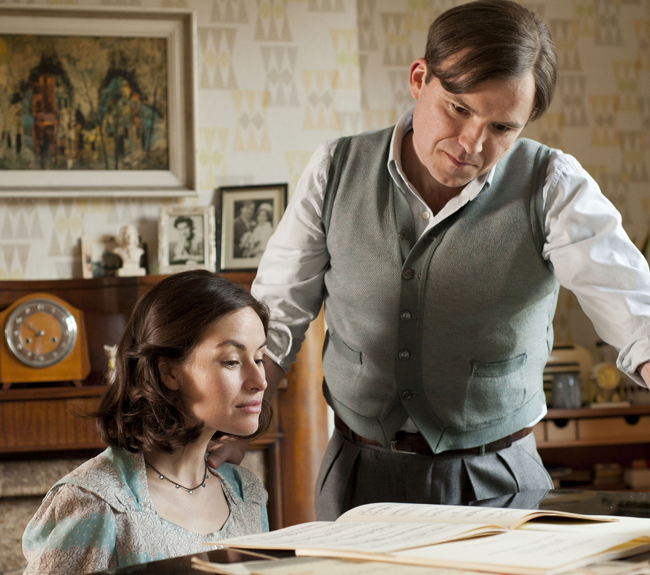 As presented here, Barrie was always a wide boy and a con man, though only in the nicest possible way. However nice that is. Wood's story was a classical game of two halves, the first part, set in the 1950s, telling the story of a talented but shy young musician who barely dared to dream of achieving any kind of success, and the classical musician's agent who vowed to make her an international star. All she had to do was play the piano, and he'd take care of all the rest.
Wood's deft writing was splendidly served by the cast. Rory Kinnear played the young Barrie with a perfect balance of cheeky charm, ambition and dodginess, while Maimie McCoy's fledgling Hatto was almost heartbreakingly naive, sincere and trusting (Kinnear and McCoy, pictured above). Her first meeting with Barrie, when he was bowled over by her as she was working as a rehearsal pianist for an orchestra, established her self-effacing character - "I'm just a rehearsal pianist, not needed on voyage," she muttered bashfully.
The fact that she was also unfeasibly glamorous wasn't lost on Barrie, though her obliviousness to such earthy concerns was drolly illustrated in their wedding night scene. While Barrie was eagerly waiting for her to slip into something more see-through ("let the dog see the rabbit," as he put it, to her bafflement), Joyce's attention wandered to the nearby piano, and she'd soon forgotten about her new husband altogether. "Oh lord!" she exclaimed, as he came back to find her. "Negligée... wedding night... I'm sorry!"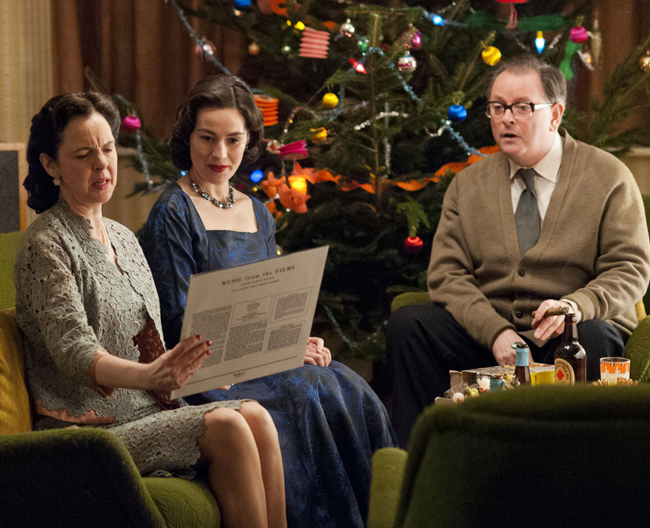 The 1950s milieu was evoked with painful authenticity, from the drab church halls where Joyce played to local music societies to the humdrum home life of the Hatto family, perhaps with Andy Stewart celebrating Hogmanay on the primitive TV (pictured left). Joyce's mother was played with shrewish impatience by Phoebe Nicholls, and her daughter was too eager to escape to heed her all-too-accurate warnings about Barrie's questionable credentials. But, try as Barrie might to launch his wife as a new classical sensation, eventually they had to face the fact that she somehow lacked the right stuff.
Then Wood fast-forwarded us to Royston, Hertfordshire in 2002, where Joyce had morphed into Francesca Annis and Alfred Molina was playing the older Barrie. Decades of disillusion had taken their toll - "living with a disappointed person is hard, it drains the flipping life out of you," as Barrie put it - and Joyce had grown cranky and resentful. Since she was also suffering from cancer, it was difficult to blame her, though the drastic change from her sweet and ingenuous younger self was poignant to behold.
Under the circumstances, Barrie's scheme to invent a fictitious Hatto who had suddenly become a reclusive recording phenomenon in her late years, although unscrupulous and illegal, was quite inspired. Wood evidently also enjoyed the idea that this odd little couple could pull the wool over the eyes of august classical critics from the Gramophone and Radio 3, who hailed the brilliant artistry of the long-lost Hatto (the critic who hailed a Hatto performance but slagged off the same recording by its true performer was, perhaps mercifully, omitted). Eventually, it was largely through the efforts of Gramophone editor James Inverne that the fakery scam was exposed.
Barrington-Coupe has always maintained that his wife was innocent of the fraud, and here it was left ambiguous, with Hatto seeming slightly detached from reality and not really grasping what was going on. Whatever the reality, it made a strangely touching slice of drama.
Homeland reviewed overleaf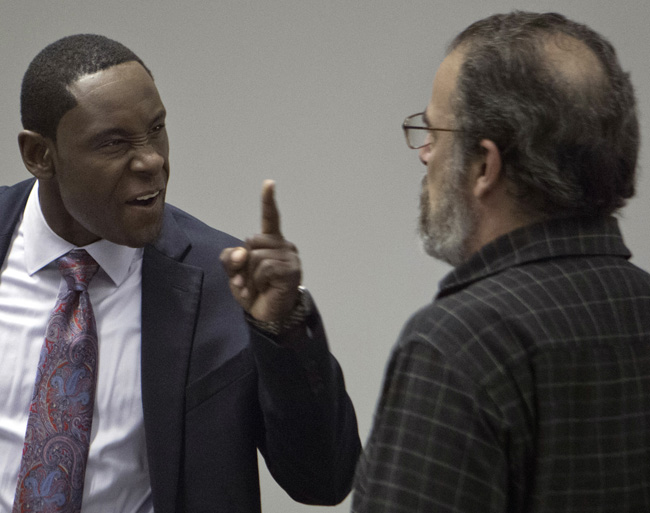 Some say that Homeland lost its bearings somewhere in the middle of series two, and last night's closing episode suggested that the show is at a crossroads and is dithering about which direction to take. I'd agree with viewers who feel that once it was clear that Nick Brody (Damian Lewis) had indeed been brainwashed into terrorism by Abu Nazir, and would have blown himself up with all the vice president's men had his suicide vest not malfunctioned, it was as if something had broken inside Homeland's machinery. Gone was the inner darkness and sense of psychological turmoil suffered by a man kept in brutal captivity for eight years (David Harewood's Estes and Mandy Patinkin's Saul fail to agree to differ, pictured above).
Instead, the show became a more routine covert-action drama (maybe there's a little too much 24 pedigree within the production team). Plausibility has taken a major hit, and series two had far too many scenes of Brody, a war hero feted by the media and a high-profile politician running for Vice President, rushing around the countryside carrying out errands for Nazir or his journalist sidekick Roya (Zuleikha Robinson), somehow without anybody recognising him. The guy is supposed to be a major terrorist asset working his way into the top echelons of American politics, not some low-grade bagman for hire.
Brody has been left hanging in a Sarah Lund-style limboRecent episodes have been turning the Brodie/Carrie relationship into a melodramatic romance, glossing over the fact that with what they know about Brody, the CIA would be perfectly justified under the draconian anti-terror laws in carting him off to jail, house arrest or Guantanamo as the whim took them. Yet here were Brody and Carrie (Claire Danes), shacked up in her family log cabin where they had their original illicit shag-fest in the first series, daydreaming soppily about clean slates and fresh starts. Perhaps he could be a builder or a teacher, mused Brody. "You're a good person," Carrie reassured him, despite having had a ringside view of how he was instrumental in bumping off Vice President Walden. OK, he was a scumbag, and Brody did it partly to save Carrie's life, but aiding most-wanted terrorists to murder the VP is not a recipe for a life of domestic bliss.
Our lips must remain sealed regarding the show's ending, but clearly a new broom and new characters are in the offing. Damian Lewis himself has said he doesn't know whether he's coming back for series three, and for now he's been left hanging in Sarah Lund-style limbo. But I reckon we'll be seeing a lot more of Saul Berenson (Mandy Patinkin) in series three. A few murky secrets there, surely.
Subscribe to theartsdesk.com
Thank you for continuing to read our work on theartsdesk.com. For unlimited access to every article in its entirety, including our archive of more than 10,000 pieces, we're asking for £2.95 per month or £25 per year. We feel it's a very good deal, and hope you do too.
To take an annual subscription now simply click here.
And if you're looking for that extra gift for a friend or family member, why not treat them to a theartsdesk.com gift subscription?