10 Questions for Actor Michael Emerson |

TV reviews, news & interviews
10 Questions for Actor Michael Emerson
Seasoned performer who found stardom through 'Lost' and 'Person of Interest'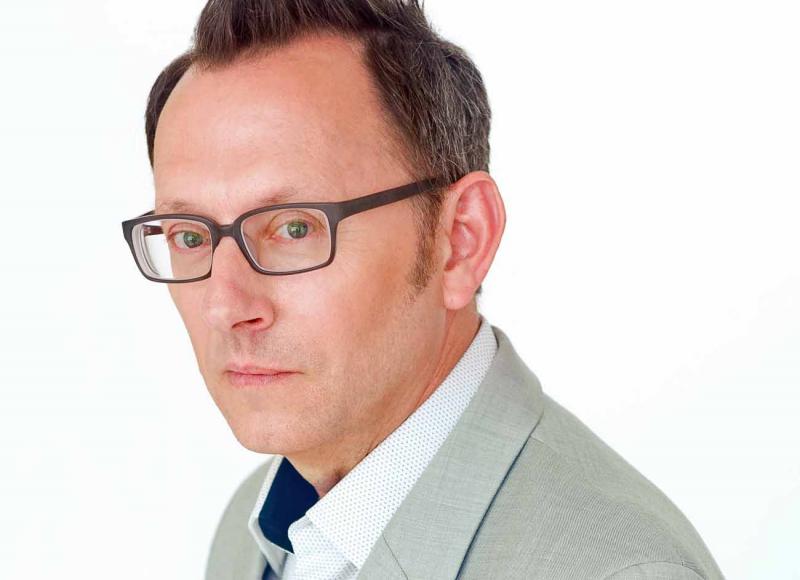 Michael Emerson: 'I'm a kind of eccentric actor'
He may not be a household name, but Michael Emerson became a household face by virtue of his role as the sinister Benjamin Linus in Lost, the leader of the group called the Others on the show's hallucinatory South Pacific island. Emerson, born in Cedar Rapids, Iowa in 1954, was already a theatre veteran with a string of intermittent TV performances to his credit. Now his ascent became rocket-assisted as he appeared in all of Lost's six seasons except the first, winning an Outstanding Supporting Actor Emmy in 2009.
Lost ended in 2010, leaving even faithful viewers bewildered by its mystical and metaphorical ending, but the following year Emerson was cast as the enigmatic billionaire Harold Finch in the mystery-drama series, Person of Interest. It was created by screenwriter Jonathan (aka Jonah) Nolan, collaborator/brother of film director Christopher, and like Lost, the series is made by JJ Abrams's Bad Robot production company. Not a bad pedigree, since Abrams's entertainment juggernaut has also launched Alias, Fringe, Undercovers and Alcatraz on TV, and the movies Cloverfield, Star Trek, Super 8 and Mission: Impossible - Ghost Protocol. The preposterously over-achieving Abrams is now about to direct Star Wars: Episode VII.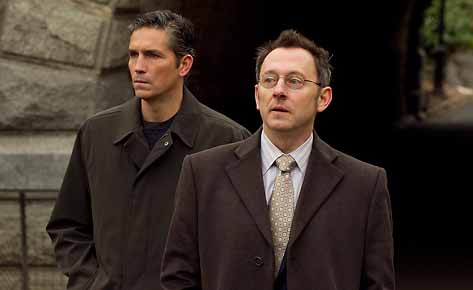 After a relatively slow start in the US, where it airs on CBS, Person of Interest has suddenly boomed in its second series, and now ranks in America's top five shows. Season two is currently showing in the UK on Channel 5 on Sunday nights, where it may not topple the likes of Mr Selfridge and Call the Midwife, but is pulling a million-plus viewers and rising.
The show centres around the eccentric relationship between Emerson's Finch and Jim Caviezel's John Reese (pictured above with Emerson), a former CIA agent who had suffered a psychological crack-up following the death of his lover, and was living as a hobo in New York. Finch has devised a computer system for the government called The Machine, able to hoover up data from all manner of surveillance sources to predict terrorist attacks. However, Finch found that it could predict "ordinary" crimes too, though it could only identify an unnamed "person of interest" who was involved, without specifying whether they're perpetrator or victim. Finch rescued the burned-out Reese from the gutter, and now sends him out as investigator and enforcer on Machine-specified missions...

ADAM SWEETING: What was your first glimpse of Person of Interest?
MICHAEL EMERSON: I read a pilot script. It was sitting on JJ Abrams's desk. Terry O'Quinn [from Lost] and I had been trying to cook up some kind of project together because we get along so well, and nothing was quite clicking. I thought come on, this is Bad Robot, and I said "what have you got?" So they gave me this thing that Jonah Nolan had written, and I thought it was exciting and I liked the high-tech, high styleness of it and its noir quality. And the fact that it was set in New York City was really appealing, though right now I'm feeling like it's a bad bargain weather-wise because it's been really a cold snowy winter here and we shoot outdoors quite a bit, so the work has been kind of tough and bone-chilling lately. I guess I was spoiled by the climate in Hawaii [for Lost], but really the island I prefer is the island of Manhattan.
Is JJ Abrams very hands-on?
No, I think JJ's role in this particular case was to be the sort of broker or bringer together of the artistic parties. I think he has bigger projects that take most of his attention. But it feels like a Bad Robot show and I'm happy to be part of what seems to be a kind of repertory company of actors who work on JJ's projects. I just like the stuff he picks. There's always an element of mystery or the thing untold or the black box into which we cannot see, and I share that feeling with him. That's where there are some similarities between Lost and Person of Interest (Emerson in Lost, pictured above). Like all Bad Robot shows it bounces around in time a little bit, it has some central questions that will never be answered, there's an air of mystery about it. Jonah tried to create a state of paranoia where no-one can be trusted which includes the conventional authorities, although we do have good cops and bad cops.
When I got on Lost I came in the middle of series two, and I think they had peaked in terms of viewership. It was never the same again after the first season, but those who stayed with the show were more fanatical than any TV viewers I've been around. I think half the people that talk to me on the street now are still watching Lost, maybe they got the box set. Everyone wants to take you to task for the ending. Finally I met someone the other day who said "I just want to tell you I think the ending was beautiful", and I said "well thank you for that, I'm glad I didn't have to make my pitch."
Surveillance, Kevin Spacey and the ancient Greeks, overleaf
Subscribe to theartsdesk.com
Thank you for continuing to read our work on theartsdesk.com. For unlimited access to every article in its entirety, including our archive of more than 10,000 pieces, we're asking for £2.95 per month or £25 per year. We feel it's a very good deal, and hope you do too.
To take an annual subscription now simply click here.
And if you're looking for that extra gift for a friend or family member, why not treat them to a theartsdesk.com gift subscription?