theartsdesk Q&A: Actress Sheridan Smith |

Theatre reviews, news & interviews
theartsdesk Q&A: Actress Sheridan Smith
From Tallulah to Titania, the new queen of the West End on her vertical rise
Sunday, 15 September 2013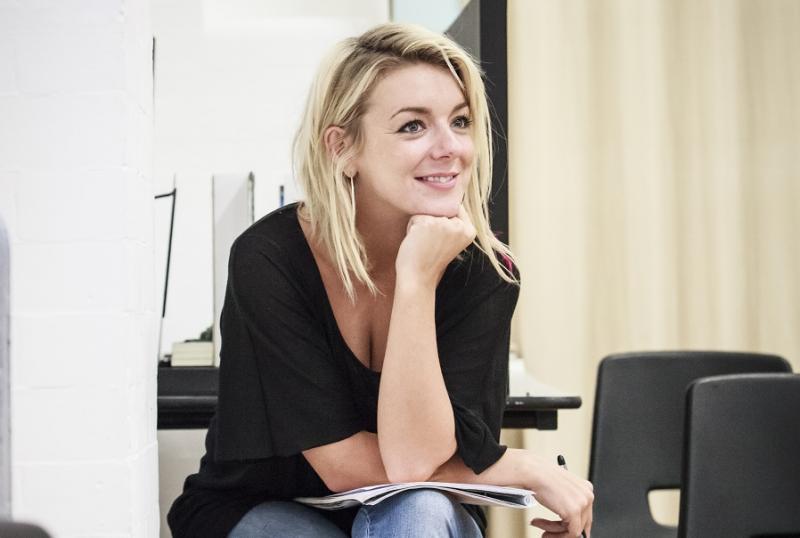 'If you think these offers are going to keep coming then you're mad'
There's a song in the musical version of Legally Blonde, in which peroxide ditz Elle celebrates her impending good fortune. "Oh my god, oh my god, you guys," she sings exultantly as she prepares to accept her beau's proposal of marriage. Since leaving the role at the start of 2011, Sheridan Smith has continued hollering the words more or less non-stop. Oh my god Trevor Nunn just texted to offer her a part. Oh my god Dustin Hoffman just left a voicemail. Oh my god look who's been cast as Titania in A Midsummer Night's Dream by Michael Grandage.
Smith can make the rare claim to have won Olivier Awards two years running followed most recently by a BAFTA. And she did so with performances that could not have been further apart: high kicks in Legally Blonde, Rattigan and repression in Flare Path, and then an epic turn as a Great Train Robber's middle-class wife in Mrs Biggs on ITV. Indeed, Smith seems to have travelled along almost exactly the same road as Elle, the good-time giggler who mutates into a Harvard hotshot. And her prize for making audiences weep as well as laugh is to be considered a classical actress. After Hedda Gabler last year, perhaps the highest alp for an actress outside Shakespeare, in Grandage's Dream she will fall head over heels in love with David Walliams' Bottom.
I got a text from someone saying they're Trevor Nunn. I thought it was a mate winding me upSmith grew up in a Lincolnshire village with country and western singers for parents. She caught the performing bug and, after a stint in the National Youth Music Theatre, was cast as gangster's moll Tallulah in Bugsy Malone, which went up to Edinburgh and then down to London. She left home at 16 to live with five other cast members in a South London flat. At 17 she came back south again to be in Into the Woods at the Donmar, then at 19 landed a role in the late-teen sitcom Two Pints of Lager and a Packet of Crisps.
For several years Smith became BBC Three's in-house rent-a-slapper, highly proficient at playing perky tarts with hearts in a variety of accents. She was all set to grow into the Facebook generation's Barbara Windsor - a loveable pocket saucepot. There were smaller roles in The Royle Family, Benidorm and Gavin and Stacey (she was the tomboyish sister of the character played by her then boyfriend James Corden). These variations on a theme could have continued in perpetuity, until Legally Blonde director-choreographer Jerry Mitchell promptly offered her the part of Elle. The rest is history, which Sheridan Smith recounts to theartdesk.
Watch the trailer to A Midsummer Night's Dream
JASPER REES: Do you ever pause to wonder how these last few years have happened?
SHERIDAN SMITH: I honestly have no idea. I do suffer quite badly with my nerves and the fear of not being good enough. I do feel like a lot of it's fallen in my lap and a lot of it's been luck. The whole of my career. I never planned on being an actress. Because I'm so lucky I never really set myself these standards. I always feel like then you can disappoint yourself. I've always thought like that.
It all started with Legally Blonde. Jerry Mitchell has said you impressed him when he saw you performing a song from Little Shop of Horrors at the Oliviers.
That's what he says he said to me but I was drunk at the time. I don't remember. I don't drink any more. People say things and you think, they're being very lovely but at these dos people are a bit luvvie. But I went after it. I'd heard it was on Broadway and knew it was coming to the West End and got my agent to get the Americans to see me for it. It was a bonus that when I walked in he did know me from singing at the Oliviers the year before. But it wasn't just him. I had to do lots of recalls. At one point there was a panel of 15. They had the composers and all the producers that had done Broadway. I did work hard. I made sure I learnt all the songs and knew everything when I was in there. I was still surprised when I got it. I was terrified leading up to that, thinking people aren't going to take me as seriously as a musical theatre performer. I stayed in it for a year and a half and had never done anything that long before. And then Trevor Nunn got in touch out of blue, texted my phone.
How did he get your number?
He was the same PR company as Legally Blonde so we had mutual friends and they passed my number onto him. He sent this beautiful text and at the end it said "Trevor Nunn" and I couldn't believe it. I thought it was a mate winding me up.
Did you text back and say, "Is this a wind-up?" (Pictured below left, Smith in Flare Path, photograph by Johan Persson)

No I rang my agent and said, "I've just got a text from someone saying they're Trevor Nunn." She said, "Yes we've just received a script, it's true. It's really him." She sent me the script straight away, I read it, cried buckets by the pool and was terrified thinking, but this is straight play, this is not a musical. I'm out my depth again. Having to prove myself again. But Trevor was so lovely about it and so wanted me to do it which I was so flattered by that I got on the plane, went straight to rehearsals and started in that. He said he's seen lots of my work over the years.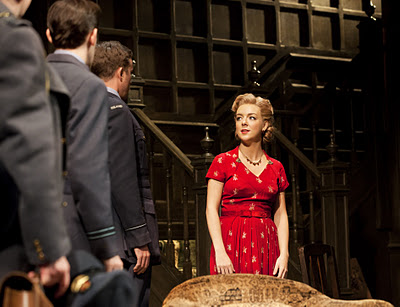 He collected my Olivier for me [for Flare Path]. I was in Australia. I asked him if by some miracle would he collect it for me and he said he'd love to. And then he said, "Email a little speech?" I thought no because I won't get it and it sounds so presumptuous writing a speech. So I threw something together, really talking about Bomber Command that the play was about. And I woke in Austria to loads of texts going, "You won, you won, you won." And someone recorded it off the telly. It just sounded so sweet coming out of Trevor's mouth and his posh voice saying, "Me mum and dad are there, say hiya."
They should have collected it for you, being used to standing up and performing.

I think my mum would have started going on about all our relatives. They are a country and western duo. They used to do it seven nights a week when I was growing up.
Were they ever at home?
They often weren't at home in the evenings and if it was a club that would allow children in then I'd go with them. My mum wrote a song about that actually. I would usually go with them and sing if I was allowed to.
What age were you when you first stood onstage and sang?
I think I would have been about six or seven. I used to stand on a school so they could see me at the back. The song I mainly used to sing with them which I do still sing when I go home with them on a Wednesday night is "They Don't Make 'Em Like My Daddy Any More." It would always be children's songs because there's nothing worse than when a kid sings about love. I love singing with my mum and dad.
Overleaf: 'If I ever had kids I don't think I'd let them do that'
I don't know what it is I'm doing. I don't have a technical way of acting like a lot of people have from drama school
Explore topics
Share this article
Subscribe to theartsdesk.com
Thank you for continuing to read our work on theartsdesk.com. For unlimited access to every article in its entirety, including our archive of more than 10,000 pieces, we're asking for £2.95 per month or £25 per year. We feel it's a very good deal, and hope you do too.
To take an annual subscription now simply click here.
And if you're looking for that extra gift for a friend or family member, why not treat them to a theartsdesk.com gift subscription?