Interview: Novelist DBC Pierre |

reviews, news & interviews
Interview: Novelist DBC Pierre
Interview: Novelist DBC Pierre
The birth of Vernon God Little and its (highly) theatrical afterlife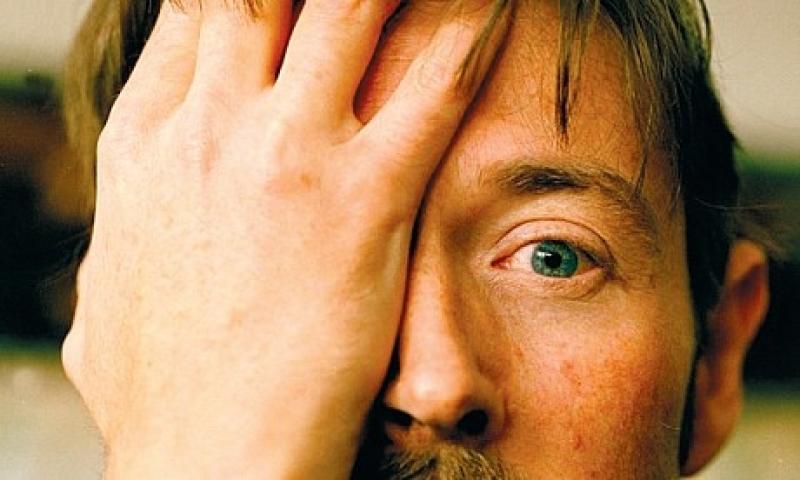 Embarking on 'Vernon God Little', DBC Pierre's ambition was 'to write the roof off the fucken world'
Very early in 2003 I went to the offices of Faber & Faber in Bloomsbury to meet a first-time novelist. At 41, he looked slightly long in the tooth to be fresh out of the traps, even a bit roughed up by life. With seasoned teeth and capillaried cheeks, he had evidently survived a battle or two. It was his first ever interview. I remember asking him if he had any idea how good his book was. To be taken on by such reputable publishers after half a lifetime of epic underachievement was fairy tale enough. But that year the story moved rapidly on when Vernon God Little by DBC Pierre won the Man Booker Prize.
In the week that Vernon God Little picked up the 2003 Man Booker award, its author was smoked out by the relative of an elderly American artist who years earlier had been fleeced by Pierre in a property transaction that went very wrong. The morning after what should have been his greatest epiphany, the new Booker laureate found such epithets as "drug addict" and "conman" appended to his name across the global media. These, it turned out, referred back to a youth misspent charming loans out of people to help him build an array of castles in the sky. Most of the money, he freely admits, went up his nose.
The book's progress was unimpeded. Sold to more than 40 countries, its title was subtly transmogrified: Vernon Dios Little, Vernonas Dievas Litlis, Jesus von Texas. "My favourite", DBC Pierre told me the next time we met, "is Vernon Bog Little." Bog is Croatian for God.
In the meantime, there came another novel, Ludmila's Broken English (2006) and then last year a third, Lights Out in Wonderland. But Vernon refuses to take a back seat. In 2007 the Young Vic mounted a raucous and atmospherically faithful stage version of the book. Adapted by Tanya Ronder and directed by her partner Rufus Norris, it now returns to the Young Vic after a surprisingly long period in abeyance, confirming the novel's status as perhaps the best-loved and most unconventional Booker winner since Salman Rushdie's Midnight's Children.
DBC Pierre reads from Lights Out in Wonderland
The media storm that was whipped up about the author's shady past was somehow appropriate to the book. Vernon God Little launched a blistering assault on the no-brow superpower that gave the world the Big Mac, The Jerry Springer Show and the high-school massacre.
What makes it so good? His hero and narrator is a stripling of 15, surrounded by adults who make his eyeballs roll the way Holden Caulfield's did all those years ago. Vernon Little, a descendant of Salinger's ur-teenager, lives in a town in central Texas. He's got a few problems has Vern, what with his mother being away with the fairies, his dad being simply away (dead, in fact) and his best friend having just picked off 16 of their classmates in one of those high-school massacres. When we meet him, Vern is being interviewed by a policewoman with several wobbling chins: he's suspected of being an accomplice, the electric chair beckons, and when you're 15 that's just not funny.
Except that it's extremely funny. It packed a mighty payload of wild sour wit, vaulting cynicism and sheer lack of British restraint. Vernon God Little unflinchingly catalogues all those things that make America grate: trial by media, the pursuit of fame at all costs, obesity, guns, the criminal justice system, the death penalty, and the way they're not very nice to Mexicans. America has already proved too much for Vern's "Mescin" serial killer friend Jesus (who's also dead by page one). Vern knows that if he can just get over the border, he can hide. He fantasises in his cell. "In the TV movie of my life, I'd be the crusty, mixed-up kid, all rugged and lonely, older than my years; dragging long shadows to hop a bus out of town… The kid's boot steps out of the dirt. His guitar swings low. A cowgirl with blond hair and Levi's sits alone, halfway down the aisle, probably wearing blue cotton panties under… Nothing crusty about her. See what I mean? It's this kind of strategic vision that separates us from the animals." He's abetted in his escape to Mexico by Taylor Figueroa, the cowgirl of his dreams who turns out rather too full of surprises, and in due course Vern fetches up on death row.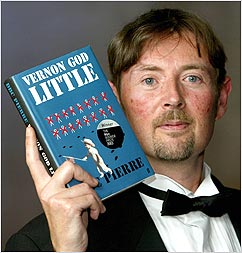 The book, he explains, was also inspired by watching Jerry Springer shows in which "these incredibly disenfranchised children were either suing their mothers or had been thrown out. We are in such a selfish generation that some of these kids are being forced to try and understand the point of view of some incredibly unreasonable people to get by in life."
Is it any wonder that, while others rushed to buy the rights, no American publisher would touch it? (The British publisher Canongate stepped in.) When Pierre began writing, he remembers fretting that the American actuality was way too extreme to be lampooned. "I couldn't write something truly realistic because absolutely nobody would believe it." But then his own back story has a similarly heightened flavour.
His real name is Peter Finlay, but friends long ago nicknamed him Dirty Pierre and it stuck. Pierre, as he encourages you to address him, is therefore privately his first name and professionally his surname. When I first met him, I was expecting a Texan, so pitch-perfect is the Lone Star twang of his narrator. His accent – to deepen the confusion about his origins - shifts rootlessly around the atlas. Pierre's resonant baritone voice ends up sounding a bit South African. But he has never lived in South Africa.
Finlay was born in Australia, but spent his early years in Durham. When he was eight his father, who worked in medical crop research, took the family to Mexico City. His rather older sister soon moved back to Australia, so Pierre was in effect an only child. It was a life of expatriate privilege – big house, servants - interleaved with grandparental visits back to Britain. When his father fell ill with a brain tumour and moved to New York for treatment, Pierre was left, aged 16, with the means and the freedom to misbehave unchecked with his rich American friends. "The opportunity came to run amok when I least needed it," he explains. Tequila, cocaine, car-smuggling, driving without plates and pretending to be a US cop – these were the footling peccadilloes of his youth. With the experience of these years, he can talk with some authority on the complex psychology of the police bribe.
I was asking John Carey, being an academic man, if I sent the Booker Prize to the fucken school board, would they send me now an A level
In the three years it took his father to die, Pierre would go up to six months without seeing his parents. Naturally his education suffered: he got an art A level, but didn't even attend his English exam. "I was so desperately useless and under-prepared and off my head that I thought it better to not even go into school." When he appeared at the Oxford Festival with Professor John Carey, the chairman of the judges who awarded him the Booker, "I was asking him, being an academic man, if I sent the Booker Prize to the fucken school board, would they send me now an A level."
Armed with the conviction that one day he would do "something of scale", he embarked on adulthood with no qualifications and, as it turned out, no profession, unless you count taking album-cover photographs for Mexican rock bands.
The unrealistic optimism was underpinned by drugs. He began running up drug-related debts but, being young and charming, he managed to conceal them. "One of the good things about being a good bullshit artist is I carried off quite a bit of my drug habit without anybody having a clue." One of the people who was taken in was Robert Lenton, whom he met in Granada. Pierre went there at 24 to recover from a motorbike accident that has left a huge scimitar-shaped scar under his floppy fringe. They became firm enough friends that when Lenton went back to America, he handed his apartment over to Pierre on the assumption that payment would come later.
"Let's say that I conned him into signing that apartment over to me. He ended up after a period of time needing the money for it, and I didn't have it. I sold the place then to another man and it took about three if not four years to get piecemeal payments from him, each of which I put up my nose waiting for the next big opportunity. I told Bob, 'I don't have it now but things are looking great just down the road. Call me next week because this thing's happening… irons in the fire.' Most things don't happen most of the time is what I've learnt." Unless, of course, they do.
Throughout his twenties, both before and after this debacle, Pierre remained in the grip of "a really all-consuming vision of immediate fucken power and success in some artistic way. And this led me into all kinds of trouble, because I borrowed money on the strength of those dreams." His biggest dream was a documentary about the remote place in Mexico where Montezuma lived at the fall of his empire. But the film fell through. (He eventually made a version of the film with the BBC, entitled The Last Aztec.)
Watch a clip from The Last Aztec
At the end of his twenties he had a catastrophic year. His debts were called in, and he started to make monthly appearances in court. "It collapsed very quickly. They talk about a house of cards. It's not too bad an analogy, except that the thing is much heavier than fucken cards when it comes. It's a house of bricks. Understand that I didn't take any money from any individual until I'd already absolutely raked banks and credit cards and shit like that. And there were at least two occasions that magistrates would say to me, 'Look, you have to bankrupt yourself, this is absurd now, you're not doing yourself any favours. You obviously haven't got the money, close it off and start again.' And I refused. The only thing I had between me and admitting that I'd set out with malice to con anybody was the fact that I didn't bankrupt myself and wipe the slate clean legally. So I never closed the chapter. It's not much of a fucken mitigation."
At the moment of collapse in 1990, two things happened. His circle of friends, most of whom had no idea about his debts or his drug use, "shrank to only those who were either really stupid or had incredible faith, or both". And as he underwent treatment for drug addiction, a psychologist gave a name to his condition: Narcissistic Personality Disorder. "I was fucken relieved in a way, because it gave me something to work with. I learnt that it wasn't a watch-yourself-in-the-mirror thing so much as being carried away with unrealistic expectations." He now explains his behaviour in terms of his disorder: "The problem was as things became more desperate, to the extent that I had a disorder I had to maintain with drugs because in the cold light of day I couldn't uphold the type of optimism that it would take to continue."
Somehow he ended up in Balham, penniless, jobless and almost friendless. Pierre carted "a CV from hell" around the fringes of the advertising industry. He went to Trinidad to advertise curry manufacturers and the Coconut Association, spurred by his therapy in Australia, which "taught me over a couple of years that my instinct was false and basically I should learn to accept a reasonable life which means that you can't go playing around with hundreds of thousands of any currency, you can't go around imagining you can do anything, you should get a job in an office, be thankful for it and have a family and whatever. And that dominated 10 years up until the moment when out of frustration I thought, is that completely wrong? I have to test it once more. Curiously, only having lost the idea that I would do something of scale was I able to do it. And the ensuing years had kicked enough discipline into me to stick with it."
These wrestlings with his conscience are faithfully reproduced in his portrayal of Vernon Little
His ambition, when he started, was "to write the roof off the fucken world". The first thing he thought about writing was his own tumultuous back story. But writing about himself presented the same problem as telling the truth about America. "Nobody", he says, "would have believed my story." It sounds like the opposite of narcissistic personality disorder: a fear of getting anyone to believe him ever again. Or believe in him. "With Vernon, there was nobody that I thought, I'll send that to them, they'll get a laugh out of that. All I knew was that it amused me and that was the best I could do. I didn't think it would be published or anything. My wildest dream was for it to be undergroundy, some small kinky publisher put out a few copies." Vernon God Little was bought by Faber on 11 September, 2001, 45 minutes before a hijacked plane singed that date into everyone else's consciousness as well.
I have interviewed Pierre on three occasions: twice at his publishers, once at his home in Ireland. When you meet him you notice an ambivalent relationship to his past. On the one hand, he sorrowfully alludes to the ineradicability of his crime. "It's a lamentable past," he says in one Leitrim pub. "And there's something really fucked and permanent about shit that you do that you know isn't going away. But in another pub he says, "I've never been pursued either by the police or by any civil action by any individual over any debt or any other wrongdoing." He is dirty, but clean.
These wrestlings with his conscience are faithfully reproduced in his portrayal of Vernon Little, another teenager who has lost his father and who spends the entire novel trying to persuade everyone else of his innocence. "I have to say, when I sat down to write this", says Pierre, "Vernon was guilty in the first instance and I had much more in common with him. But I deliberately made him innocent." That is one of the many remarkable things about his hilarious, cynical and coruscating tale. It predicts the author's own happy ending. Pierre let Vernon off. And in a way the character has repaid his creator and changed his ending too: Vernon has let Pierre off.
Is it any wonder that, while others rushed to buy the rights, no American publisher would touch it?
Share this article
Subscribe to theartsdesk.com
Thank you for continuing to read our work on theartsdesk.com. For unlimited access to every article in its entirety, including our archive of more than 10,000 pieces, we're asking for £2.95 per month or £25 per year. We feel it's a very good deal, and hope you do too.
To take an annual subscription now simply click here.
And if you're looking for that extra gift for a friend or family member, why not treat them to a theartsdesk.com gift subscription?