theartsdesk Q&A: Opera Directors Patrice Caurier and Moshe Leiser |

Opera reviews, news & interviews
theartsdesk Q&A: Opera Directors Patrice Caurier and Moshe Leiser
Opera's Gilbert and George on their unique 30-year collaboration as directors
'I am shock and awe. Patrice is reconstruction': Moshe Leiser (right) and Patrice Caurier
It is rare enough for directors to collaborate in theatre, even rarer in opera. Patrice Caurier (b. Paris, 1954) and Moshe Leiser (b. Antwerp, 1956) began their long collaboration in their 20s. They are now in their 50s, and since that first production of Britten's A Midsummer Night's Dream at Opéra de Lyon in 1982, they have never worked (or lived) apart. Cohabiting and collaborating, they are opera's closest equivalent to Gilbert and George.
As personalities they could not be more different from each other. Caurier is careful and reserved, Leiser fiery and voluble. While their work increasingly takes them across the world, the majority of it has been in France and Switzerland. While they staged La belle Hélène for Scottish Opera, their principal relationship in this country was with Welsh National Opera until they began to work regularly at the Royal Opera House. In Covent Garden they have staged Hamlet, Madama Butterfly and Hänsel und Gretel, but they are overwhelmingly identified with their triptych of Rossini operas: Il turco in Italia, Cenerentola and Il barbiere di Siviglia.
Turco returns with young Polish soprano Aleksandra Kurzak as Fiorilla (pictured below © The Royal Opera/Clive Barda), joining Ildebrando D'Arcangelo as Selim the Turk and Alessandro Corbelli as Don Geronio, both survivors from the joyous original production in 2005. Caurier and Leiser talk to theartsdesk about their unique directorial double act.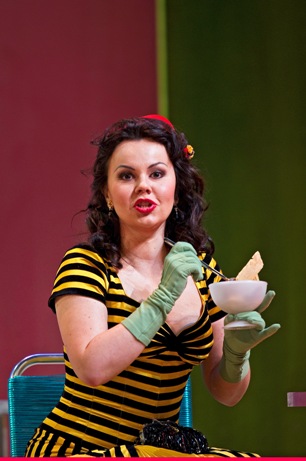 JASPER REES: You are celebrating your 30th professional anniversary in two years. How will you mark it?
PATRICE CAURIER: I hope doing a nice production with people you love. I don't know what it will be. Honestly I forgot. The only thing would be to meet with some people that we really care for that we have met in all those years.
Which production will you be directing?
MOSHE LEISER: I swear to God we haven't thought about that. We are not counting, we are too busy.
PC: We try to keep gaps because to go from one thing to the next is just too tiring and we are not strong enough.
What is a good gap?
ML: A minimum of three months. You need one month to unwind, one month to really enjoy your holiday and then one month to get back in gear and charge your batteries and your energy for the next one, but it doesn't happen often.
PC: We have three months without rehearsals but it's never three months without work.
How long did you have before this?
ML: Just the time to jump on the plane on opening night at the Met and get here the next morning. So that was zero time.
PC: Like that you're not bothered with the jetlag.
But if there are two of you does that not halve the burden?
PC: It sure helps because you know we can share the difficulties. But you still have to do the work. But it helps because we can exchange, we can speak about it and you don't go back alone to your hotel or your apartment.
Is there less work doing a revival?
PC: In advance, yes.
ML: But you know, people say, "Oh it's a comedy, it's wonderful, it's light, it's less work." That's bullshit. A comedy is always more work, because things have to be precise. Things happen fast and there is a lot of articulation and if you want to match Rossini's virtuosity you have to be as bright and sharp as he is. And that requires from the director to push the singers to go into that mode and not go into the easy mode.
You need coloratura directing?
ML: You need timing, you need them to understand that you don't play funny, you play the situation, that the only people who knows it's a comedy is the audience, not the characters - all the things that do not come as granted in the beginning. And it takes time, it takes a lot of energy. The amount of work that you need to have all the timing right and the "madness", between quotation marks, of Turco in Italia, for that madness to develop and people to follow a story, if you play the situation with the humour and the music then there is a chance that people will laugh and enjoy it. In other words the problem with comedy is to keep the horizontality of the story and not to stop with the verticality of the gag. It takes a lot of energy.
I am shock and awe. Patrice is reconstruction
One thing that was very apparent in the first version of this production was that Cecilia Bartoli is a brilliant comic actress. Did you know how brilliant she would be?
ML: No, it was the first time we worked with her.
PC: Someone who is so intelligent in her interpretation, who has so many colours when she sings, such an invention and imagination, gives you an idea that she has something to say. As Moshe said, it was the first time we met her, so you don't know how she will be, how she will react, but you know you have to deal with someone of already very very high level. And that helps.
ML: Cecilia is really a world star. When you don't know her of course you are always a little bit nervous because you don't know what the working relation will be. You admire her not for being a star; you admire her because she is s queen of interpretation. There is never an empty note in what she does. That's why we were so excited to work with her. And the great surprise was that she is the most simple, adorable, open, dedicated, collegial person. And that was a joy. Generous is always a word I would use to characterise her, because in the work there is never, "I preserve myself". It is always "I give, I give, I give, I give". It's a very open process.
People think that the director is responsible for what you see and the conductor is responsible for what you hear. I think that's bullshit. It's really the director that allows the music to exist and it's the job of the conductor to make theatre in the pit. If you don't have that you don't have opera
Share this article
Subscribe to theartsdesk.com
Thank you for continuing to read our work on theartsdesk.com. For unlimited access to every article in its entirety, including our archive of more than 10,000 pieces, we're asking for £2.95 per month or £25 per year. We feel it's a very good deal, and hope you do too.
To take an annual subscription now simply click here.
And if you're looking for that extra gift for a friend or family member, why not treat them to a theartsdesk.com gift subscription?