theartsdesk Q&A: Conductor Semyon Bychkov |

reviews, news & interviews
theartsdesk Q&A: Conductor Semyon Bychkov
theartsdesk Q&A: Conductor Semyon Bychkov
Russian conductor on his award-winning recording of Lohengrin and his mentor Karajan
Semyon Bychkov: 'The reason that I am conducting this music is because I cannot live without it'
Yesterday afternoon, Semyon Bychkov's recording of Lohengrin won BBC Music Magazine's prestigious disc of the year. Last year, The Sunday Telegraph named his recording of Eugene Onegin one of the top 10 opera recordings of all time. Proof - if proof were needed - that the Russian conductor is one of the living greats of the operatic pit. His upcoming Tannhäuser next season at Covent Garden is awaited with bated breath. His concert performances with the WDR Symphony Orchestra, Cologne, which he has headed up as chief conductor for the past 12 years, have not gone unnoticed either. None of it should surprise. Karajan spotted Bychkov more than two decades ago. He gave him permission to tour with the Berlin Philharmonic (the first outsider to do so since Furtwängler) and tipped him as a potential successor. Bychkov recalls his relationship with Karajan, his glimpses of Shostakovich in St Petersburg, the similarities of opera to football and how, in order to escape the Soviet Union, he was traded for a computer.
One of the unique things about his award-winning Lohengrin is that it is complete. Previous recordings had always cut various choral chunks and bits of recitative. This disc is, therefore, also a thoroughly pleasing restoration job. I therefore begin by asking him about the great restorer of our age, Sir John Eliot Gardiner (pictured right)...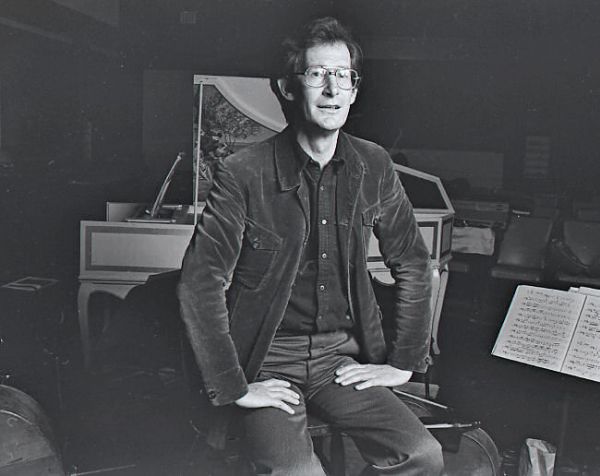 IGOR TORONYI-LALIC: What do you think of Gardiner's way with music?
SEMYON BYCHKOV: I adore it. I absolutely adore it. I admire this man no end. He has a vision of music and he has the courage to stick with this vision over his lifetime. We shouldn't forget that, until not such a long time ago, those of us from - I don't know the right words for this - this kind of a traditional aesthetic, used to consider those who work with early music and period instruments as charlatans, which was very hurtful and unbelievably false. It showed a huge, huge lack of understanding and a lack of breadth of vision. Today people like John Eliot, Nikolaus Harnoncourt, Giovanni Antonini, and many others, have proved that we have to be multilingual; that we have to be polyglots in music. We can't play all music in the same way. It's beautiful to see someone who shows a way to this music that suddenly makes it fresh. If you listen to Gardiner conducting Schumann's symphonies, you will never say: "Ah, Schumann. A magnificent composer of piano music that is really written for orchestra and orchestral music that sounds like it is written for piano." You never think that with John Eliot.
There's a similar spirit in what you did with your recording of Lohengrin. You went back to the original texts, the original score, and added all the various cuts that have been excised.
Yes, but that is a musicological decision which I already believed in anyway. It doesn't require any courage.
Really?
No - why should I need courage? I did not compose Lohengrin. Wagner did. I was fortunate enough to have Johan Botha, who sang without any compromises from the beginning to end, not only in the recording but also in the live performances [in Spain and Vienna]. I was fortunate to have a colleague like that. Whereas this other subject that we were talking about is something else. That requires the actual vision of what music is supposed to sound like and how it communicates. Do you want to speak Stravinsky in Wagner's language or Wagner in Stravinsky's or Stravinsky in Stravinsky's, Wagner in Wagner's, Beethoven in Beethoven's? This is a very relevant theme for us today because of all the information that is available to us. I listen to Furtwängler conducting Le Damnation de Faust, an old LP, which I was given 20 years ago by a friend. My God, it is practically unlistenable! But you can't criticise it because at that time the world was very disparate. The Germans were immersed in their German culture, the French in the French and the two didn't communicate as much as today. Their listening experience was much more limited than ours today. So it was OK for a German looking at a French piece to look at it through the prism of German eyes, ears, mind and temperament and vice versa. Whereas today it is not acceptable anymore. We have no excuse. We have a lot of information. In a way, we have to train ourselves to speak many different musical languages.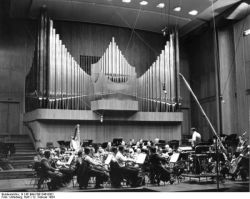 Why didn't you go down a more thoroughly period performance route for Lohengrin, period instruments etc?
That is an accident of history. It just has not been realised. It's pretty funny. In the very beginning when I arrived in Cologne the first really big project that I started [with the WDR Symphony Orchestra, pictured right] was a Beethoven cycle. The orchestra could have had period bows for the strings - the money was available - but the players didn't want it. It's amazing. Later on, when they wanted to - because the generations had changed - the money didn't exist. It tells you something. The orchestra that I inherited was a very traditional German orchestra that imagined Beethoven as something that we describe, with humour, "molto espressivo and molto vibrato". I remember reading through Eroica in the very first rehearsal as chief conductor. They played their Eroica and I played my Eroica. So I kept thinking, how am I going to start - where am I going to start? When we were done, I talked for an hour- and-a-half. I have never spoken so long in my entire life to any orchestra. I said that they will never hear me talk again. Eventually I had to explain the parameters. So, these are the parameters and this is how I would like you to play this music today and if tomorrow another colleague will come and this person will want to do it in a very different aesthetic we ought to be able to do it in that way too. It means that we must have this ability to be a chameleon and become someone else depending on what is required at that moment.
Share this article
Subscribe to theartsdesk.com
Thank you for continuing to read our work on theartsdesk.com. For unlimited access to every article in its entirety, including our archive of more than 10,000 pieces, we're asking for £2.95 per month or £25 per year. We feel it's a very good deal, and hope you do too.
To take an annual subscription now simply click here.
And if you're looking for that extra gift for a friend or family member, why not treat them to a theartsdesk.com gift subscription?