theartsdesk Q&A: Musician Lemmy Kilmister |

reviews, news & interviews
theartsdesk Q&A: Musician Lemmy Kilmister
theartsdesk Q&A: Musician Lemmy Kilmister
The unstoppable Motörhead frontman talks hippies, religion, Oasis, death and much, much more
'I must be doing something right': Lemmy ponders a life lived well in rock'n'roll
Lemmy Kilmister (b 1945) was born Ian Fraser Kilmister in Burslem, near Stoke-on-Trent, Staffordshire, but spent his formative years in Anglesey. His father, ex-RAF padre, left when he was an infant and he was raised by his mother, who worked as a librarian, and his grandmother. He was interested in rock and pop from an early age and formed various local bands, most successful of which were The Rockin' Vicars who had a CBS recording contract. Moving to London in 1967 he quickly became involved again in the music scene and blooming counterculture, acting for a while as roadie for Jimi Hendrix.
In 1971 he became bassist for space-rockers Hawkwind and in 1972 sang their biggest hit, "Silver Machine". He left Hawkwind in 1975 and formed Motörhead, the band's name a colloquial term for speed-freak, as in amphetamine enthusiast - which Lemmy vocally was. Motörhead's super-fast, extremely loud blues rock created a template for hard metal and, in their initial stable line-up ("Fast" Eddie Clarke, guitar; Phil "Philthy Animal" Taylor, drums), they had a series of hit albums and singles, including the band's signature song "Ace of Spades" (1980) and Number One live album No Sleep 'til Hammersmith (1981).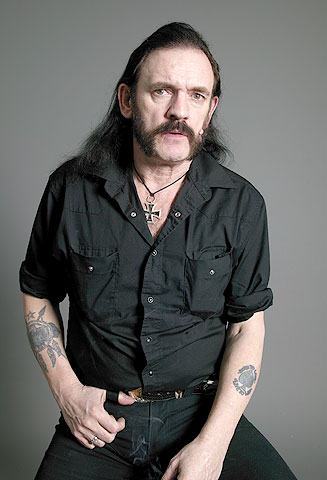 During the Nineties Lemmy moved to LA and his band developed a global reputation as a fierce live unit. The Motörhead snaggletooth symbol and logo have become iconic far beyond the world of heavy metal, as has Lemmy, who has made film cameos, including in Hardware, Airheads and The Comic Strip's Eat the Rich, and is renowned for his sturdy rock'n'roll attitude. Since the millennium there has also been an autobiography of sorts, White Line Fever, and a documentary, Lemmy. He is also known for his extensive collection of military – primarily Nazi – memorabilia.
Motörhead have had many line-up changes but for almost 20 years have remained Lemmy (bass), Phil Campbell (guitar) and Mikkey Dee (drums). They have over 20 studio albums to their credit, their latest being The Wörld is Yours, as well as a new live DVD The World is Ours Vol 1 – Everywhere Further Than Everyplace Else.
I meet Lemmy in a dressing room at Wolverhampton Civic Hall prior to a gig. He looks as he always does, in semi-military apparel and a cowboy hat. Despite recent health problems with diabetes, he looks well, if lived in. He drinks Jack Daniels and coke throughout our interview and is a gruff, lively, amused presence. For some interviewees the process consists of a question and their paragraph-length response. This is not the case with Lemmy. He is more of a conversationalist who responds somewhat stiltedly to the formal pre-prepared question/given-answer style. Thus our chat wanders around a fair bit. It starts when he spots a book I am carrying, Hunting Evil by Guy Walters, about the search for Nazi war criminals after World War Two…
THOMAS H GREEN: I didn't realise the Catholic Church had been so directly involved with sheltering them, finding them new IDs and actually assisting their escape.
LEMMY: Oh, yeah, straight through the Vatican. The Catholics were always against Communism, see, because the Communists were anti-church, weren't they, and that was the most evil the Catholics could imagine. The SS were good Catholic boys and the Catholic Church hated the Jews as well so it was two for the price of one.
[Pointing at what appears to be an old-fashioned fruit machine on the table at which we're sitting] Is that yours, that thing?
Yeah, this is a temporary replacement. Mine's being overhauled. I got given it by a German promoter about 15 years back.
I'm sorry to say this, but who's Richard Dawkins?
So what is it?
It's a German one-armed bandit.
You don't get money out of it?
Yeah, you do, it's my money anyway, it's just another device to keep the boredom off.
On your 2006 album Kiss of Death there's a song called "God Was Never on Your Side", one of many Motörhead songs that showcase a vehement atheist perspective.
Agnostic. I can find out when I die. I can wait. I'm not in a hurry.
You seem to argue the case against it, more in the camp of Richard Dawkins.
I'm sorry to say this, but who's Richard Dawkins?
He wrote The Selfish Gene and The God Delusion. He's this scientist and writer who's dogmatically opposed to people believing anything religious. He essentially thinks that if you believe in religion, you're an idiot.
I think it's a pretty thin story. A virgin got raped by a ghost, then the husband went for it. "I'm pregnant, darling, but I'm still a virgin." "Oh, OK." Even back then that's a thin story, right? And all these flaming swords and chariots taking them up into the sky with a roar of white thunder – bullshit, it was astronauts. What does it sound like to you? It's a fucking spaceship, isn't it? There were a lot of 'em too, people being drawn into Heaven by the Lord.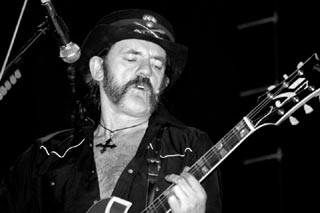 Do you think people who believe in a religion are foolish or that it fulfils a useful role in their life but it's not for you?
It's not their fault. They're fed it all their life. You never learn anything else but "the truth". When you hear it enough times it becomes the truth. It's like the Nazis. Nazism was a religion with Hitler in the place of God. Stalinism – same thing. As long as there's one above us all who knows best, then you're fucked.
People need myths, in other words?
People need a crutch to keep them from despair. But how you could believe in Stalin and not be in despair I don't know [laughs]. Yet he's still kind of acceptable compared to Hitler, isn't he? People's perceptions are weird. He killed more people than Hitler and they were all his own people: 100 million [Stalin] killed, they reckon.
We did change the world a bit, we knocked it off its axis a little
Explore topics
Share this article
Subscribe to theartsdesk.com
Thank you for continuing to read our work on theartsdesk.com. For unlimited access to every article in its entirety, including our archive of more than 10,000 pieces, we're asking for £2.95 per month or £25 per year. We feel it's a very good deal, and hope you do too.
To take an annual subscription now simply click here.
And if you're looking for that extra gift for a friend or family member, why not treat them to a theartsdesk.com gift subscription?