New Music CDs Round-Up 5 |

New music reviews, news & interviews
New Music CDs Round-Up 5
Critics' favourites for January - with Vampire Weekend as the Stinker of the Month
Saturday, 30 January 2010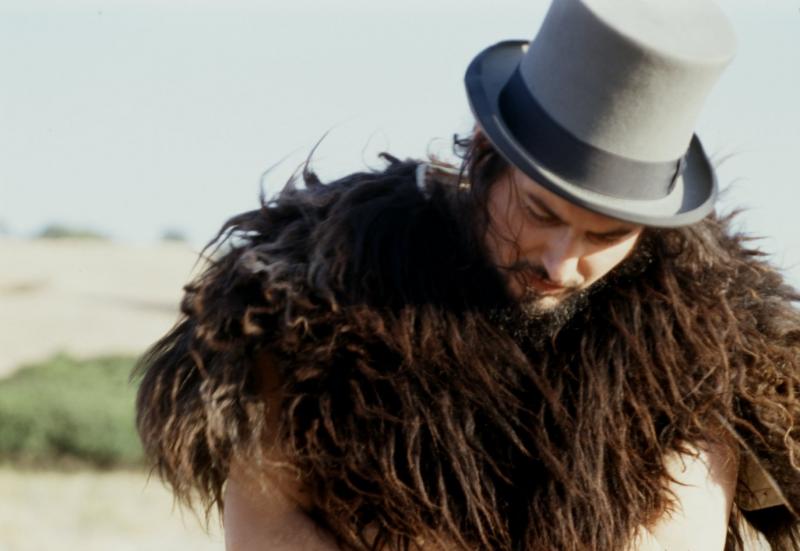 Vinicio Capossela: As if Captain Beefheart was raised by Victorian nuns in Naples
January's most riveting CDs found by our critics includes those by Malian master-musicians Ali Farka Touré and Toumani Diabaté, an Italian surrealist, an Algerian rocker, British Big Band jazz, Northern chamber folk and some sparky veterans releasing their best stuff for decades including Sade, Massive Attack and Peter Gabriel. The CD of the month is by Vinicio Capossela. Stinker: the over-rated Vampire Weekend. Reviewers this month are Howard Male, Thomas H Green, Peter Quinn, Robert Sandall, Graeme Thomson, Sue Steward, Peter Culshaw, Russ Coffey and Joe Muggs.
CD of the Month
Vinicio Capossela, The Story-Faced Man (Nonesuch)
by Howard Male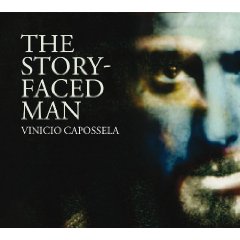 Although this Italian "visionary and songwriter" is a best-selling artist in his homeland, this 17-track compilation is his first official UK release. And what a treasure trove it is. Capossela has produced 11 albums since his debut in 1990, and on the evidence of the material here, he's reinvented himself over and over again. Firmly in the camp of other great eccentrics such as Tom Waits and Brazilian musical Dadaist, Tom Ze, Capossela seems intent on constantly reinventing the very essence of what a song is. "Non trattare" veers from pseudo-oriental chants to rumbling tribal stomp. The punky folk knees-up "Il ballo di San Vito" is very Waitsian, perhaps partly due to the presence of regular Waits collaborator, guitarist Mark Ribot. But, just like Waits, Capossela can put aside rattling, clanging, thundering things, and come up with the most exquisite and moving piano-led ballads. The haunting lullaby-like "Lettere di soldati" is one such song. But even here he manages to stay on the right side of being overtly sentimental by utilising subtly discordant orchestration which hangs like an imminent storm in the background. But then next up we have some high-speed drum 'n' bass electronica followed by a full-on romantic ballad that could have been written for a 1950s musical. Eclectic is too small a word. Wonderful stuff. Find The Story-Faced Man on Amazon
New Releases

Ali Farka Touré & Toumani Diabate, Ali & Toumani (World Circuit Records)
By Sue Steward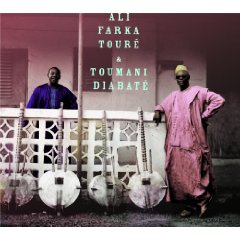 Part of the secret of the astonishing success rate of Nick Gold's World Circuit label since the Buena Vista phenomenon is his cottage industry approach. A tiny staff and family-sized artists' list creates an intimate relationship with benefits all stages of production, as evidenced by long-standing collaborations like those with the Malian master musicians, Ali Farka Touré and Toumani Diabaté. Recorded during three afternoons in Gold's London studio in 2005, Ali & Toumani is seen in video footage to be an informal, ease, family affair, the tall, upright Touré slowly dancing and hugging Gold's daughter. He gave the opening song "Ruby" its title after he and Diabaté faded their gently sensitive musical conversation. The piece establishes the album's languorous moods, virtuosic playing and an exceptional close-knit bond which exercises the stylistic differences between Touré's mutedly strident Malian blues guitar, swooping bass lines and emphatic rhythms, and Diabaté's more delicate, rippling riffs and melodies which pour from his 22-stringed harp-like kora, drenched in references to the ancient repertoires of the griots. The pair's obvious cross-communication produces some of the richest music in Mali in these albums.
Their first recording, In the Heart of the Moon, shortly before Touré's death from cancer, was compiled from spontaneous improvisations at the riverside Mandé hotel in Bamako. Startlingly successful, it won a Grammy; its spontaneity its charm. Touré's final solo album, Savane, followed (another Grammy) and became his epitaph. Produced in the knowledge of his imminent death, its beauty is profound. This new album, now posthumous, is drawn from those London sessions too good to leave in storage. The concept behind them, according to Diabaté, was a kind of retrospective of Ali Farka Touré's musical life history. From the 50s Cuban influence, Sabu Yerkoy appropriately features the Buena Vista's stunning double-bass player Cachaito (now also sadly deceased), somewhat understated. Gorgeously smoochy "Malian Salsa", as Touré called it, it's a reminder of the pan-African popularity of Cuban hits when the young guitarist was starting out. Far from the erotic excitement of salsa, it comes closer to the 30s son songs of Cachaito's old band.
In contrast, "Doudou" comes from Toumani Diabaté's Mandé tradition and is a showpiece for his briskly rippling, intricate kora playing which contrasts perfectly compatibly with the guitar weaving around it. It demonstrates the successful connection between the two musicians: Touré's guitar linked genetically to John Lee Hooker's blues but entirely Malian, its trademark camel-lurching bass lines underlying the melodies. It's a sound his son Vieux Farka reveals on several tracks, most effectively on "Machengoidi", a favourite of his father's who drives it at a characteristically stately pace and harsher tone. The son also joins the clo