Extract: Sam Bleakley's Surfing Brilliant Corners |

New music reviews, news & interviews
Extract: Sam Bleakley's Surfing Brilliant Corners
Jazz fan goes extreme surfing in Haiti
Sunday, 19 September 2010
Surfer dude rides the waves
Sam Bleakley's first book, Surfing Brilliant Corners, charts a decade of "extreme surf travel" with renowned photographer John Callahan. He is a jazz fanatic and surfer from Sennen, West Cornwall and a multiple European and British Longboard surfing champion. Surfing, Jazz, Geography and Ecology mix as he journeys to the likes of Mauritania, locked in political strife, where "landmines litter access to some of the best waves on the planet"; and Haiti, which "captures my heart and makes it race as if falling in love".
As Bleakley puts it, "Framing surfing and travel through metaphors of jazz, the book celebrates genius bop pianist Thelonious Monk's 1950's album
Brilliant Corners
. Monk's album was famed for its outrageous, groundbreaking compositional originality, and I explore how talented surfers think like great jazz musicians, using invention, complex rhythm, timing and spontaneity to turn impossible wave scenarios into beautiful but challenging music."
Here is an extract from the book (written before the recent earthquake).
In Cap-Haïtien, shutters hang on rusty hinges. Doors creak in Creole. Balconies crumble, and colour wash fades and peels, in a last gasp of colonial grandeur.Haiti's bright paint has never properly washed out. It is set by the deep stain of history. I am privileged to draw this in through my senses without fear, as one of the first visitors in years to walk around this town not threatened by violence.
Le Cap used to be described by visitors as 'Little Paris' and 'The Pearl of the Antilles'. Her charm persists, experienced as a vibrant ebb and flow of life across a thin barrier. Haiti hangs between chaos and control, making the heart race, but also capturing that heart like an unpredictable lover. (Watch video - in French - of surfing trip to Haiti)
Locals step elegantly over steaming piles of trash, goods balanced delicately on their heads, weaving past wheelbarrows selling everything from dental floss to dinner jackets. There is a raw competition for space measured in output of sweat on a deeply hot day. A basket overflowing with bicycle parts is roughly pulled aside to allow the easy passage of a huge barrow laden with ice. Perspiration flows down the hauler's back, echoing the speed of the ice-melt. A tottering pig squeals, and is strapped back into a pushcart plump with fresh plantains.
Mobile pharmacies advertise their medicines for sale through loud hailers, obviating the need for street drugs. This is no pre-modern Haitian market but a postmodern carnival. The informal economy is thriving. Someone zigzags through the mayhem on a motorbike with a highly explosive acetylene cylinder slung over his shoulder. He bumps, wobbles, nearly loses it, tweaks the accelerator, speeds on and rebalances – seemingly oblivious to the fact that he is dynamite on wheels.
Cliff-hangers pop up everywhere – rickety old pick-ups transformed into "tap-taps" thread through the crowds, pull in close to curb sides to pick up and drop off passengers, and pull out just as swiftly, without ever seeming to collide. The tap-taps are richly decorated, tattooed all over in holy signs, unholy marriages of ancient icons and advertising hoardings, praising Dieu and Don Jesus, Jesus Roi des Rois, and Dieu avant tous. The vehicle – in fact the flux of street life itself – is blessed by these icons; a fatal accident never seems to happen. Instead there is a weave with an absent weaver, a collection of knots with no centre that holds. Yet death– perhaps the absent weaver, the heart of the knot-work – is everywhere, waiting in the wing.
Photo of a Port au Prince slum - the City of the Sun, by Alice Smeets, below: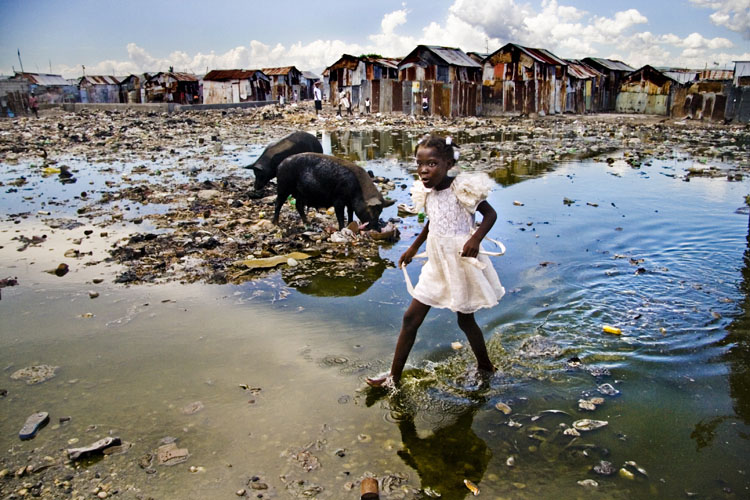 In the syncretic Catholic-Voodoo view, one must live dangerously, close to death, and invite the dead into the place of the living as a preparationfor the afterlife. Alive and kicking, groups of smiling children walk by in colourful school uniforms – blue ribbons for one class, pink for another. Laundered clothes are dried on dusty cacti. The skeleton is coaxed out, up front, scrubbed clean and worn on the outside.  Expect reversal in Haiti. Those kids are death's messengers– from birth we are born to die, and so must make a relationship with death, an early pact. A Haitian proverb says, "Après dans tanbou lou" – "After the dance, the drum is heavy."
Haiti can be heavy – blue-black – her body already bruised from history. But her skeleton is a pearl, rubbed to hard brilliance from grit. In the right place at the right intensity, her bones seem to sing. Your bones rattle back. Haiti gets under your skin. This is the antithesis to the easygoing, rum-shack stereotype. Closer to West Africa in mood, the Cap-Haïtien coast is a darker prospect than the transparent African religious beliefs through the slave trade. In a materially poor community, a rich spiritual life is vital. Voodoo touches all Haitians because it values family bonds, community interests and care for those who are worse off. Singing and dancing are of shaking away the bonds to earthly life and slipping into a spirit world, temporarily, as a sinister rinse for deepening life, and a preparation for death. There is a thin and permeable curtain between this world and the otherworld that can be crossed in ecstasy and possession. The singing becomes a loud, vibrating chorus.
Knowledge of the dead can be brought back to animate this life. We watch and listen from the unusual perspective of the surfer looking back to land. The sound is now stunning, pulsating and resonating off the hills, gathering intense flavour in the journey. Voodoo promises risk in such spirit conversations, but the great gift is that of being in rhythm and tone, of inhabiting the pulse of events so that you live elegantly, like those pure notes dripping from Miles Davis' trumpet.
Voodoo allows you to 'see through' things – to see through the lens of animal life getting close to nature, and to see through the follies of humanity. But there can be slippage, the danger of possession leading to madness or death. Wearing the skeleton on the outside of the body, as inversion, says that you accept that life sits with death. Put up your hand and say, honestly, "I am scared." Only the foolish and the vain would aim for immortality. "Seeing the skeleton" is the central vision of shamanism, which is to allow life to rattle your bones. Voodoo is a risky business, as is life.
Rhythm is a risky business, as is tone – nobody likes a bum note, a blue note that turns sour, or a honeyed note that is too sickly, and there is nothing that offends the spirits more than those who pretend rhythm but cannot keep time. Voodoo says: care for a friend, love your children, share your food with the needy and always walk the line, even where the roots rise to tangle your steps. The singing stops, I catch a wave, the curtain falls, I wipeout. The fire coral scrapes my skin with a raking burn. Curtain razors for a split-second drama, sharp as hell. Spirit fires. My bones sing out in the subsequent clatter and bounce. We all take a hit on this session. The light is golden before the sun slips behind the Bonnet mountains, as I paddle ringside, over the urchin forest, scuffing the board to save another stinging scrape. I duck through the salt-stained foliage and past the place where the ceremony happened, where the notes were true and still hang in the air.
The walk back to Cormier Plage along a twisting limestone road adds to its smooth wear, the stone now like marble, past the bearded goats and plump pigs, to the small village where the men play dominoes, the loser covered in clothes pegs as ritual humiliation. Prize cocks relax for the fight on Sunday where winner takes all. The local fishermen, however, are busy, breaking up a wrecked boat to reclaim the wood for building. Hard wood is met by hard work, and matched by worksong, the Creole chorus helping to ease the strain: "Men anpil chay pa lou" – "Many hands make the load lighter."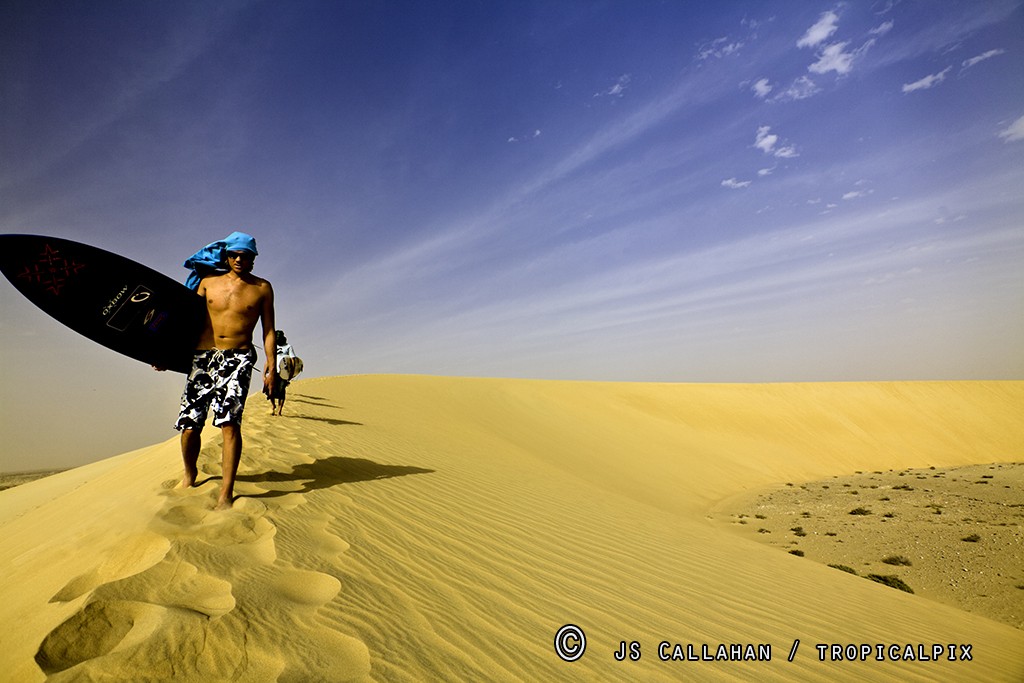 The sky turns banana-beige, then charcoal, and sparks fly from cooking pits. The spirits sit around and talk. They discuss how slaves gained control of a country in an uprising, reversing the sinister order of twisted authority, and vowed to reverse sensation, by wearing their nervous systems on the outside so that the would always be on guard, alert to the awful refrain of the master's voice. They formed a nation and further agreed that they would never harbour greed. "The giver of the blow forgets, the bearer of the scar remembers," they say. Haiti was born wild, and has remained so in the face of nervous and needy capitalists. But there is no poverty of spirit here.
In its everyday show of surface tension, Haiti is like a breaking wave. The blue face curls into white eddies over a bed of coral – a glowing skeleton and an itchingphosphor, underwater rhizomes. In the wrong spot, you will get hurt. In the pocket, with momentum, you will sing in tone and rhythm. But you have to take the leap with courage, face the taboo in the Voodoo. On an extreme surf trip, it takes a bitof grit to make a pearl. I kept my balance the best I could, got great waves and got skinned, dancing with the spirits with whom I have best communion – thoseof the sea. I am honoured to be a band member. I am grateful for getting hookedon surfing all those years ago. Peering out from the window of the plane as I leave Port-au-Prince, heading home to Cornwall, I recall another Haitian proverb that has lodged in my mind: 'Dèyè mòn gen mòn' – 'Behind mountains there are more mountains.' Under the skin, the skeleton calls. Do you recognise the tune?
In the syncretic Catholic-Voodoo view, one must live dangerously,close to death, and invite the dead into the place of the living as a preparation for the afterlife
Explore topics
Share this article
Subscribe to theartsdesk.com
Thank you for continuing to read our work on theartsdesk.com. For unlimited access to every article in its entirety, including our archive of more than 10,000 pieces, we're asking for £2.95 per month or £25 per year. We feel it's a very good deal, and hope you do too.
To take an annual subscription now simply click here.
And if you're looking for that extra gift for a friend or family member, why not treat them to a theartsdesk.com gift subscription?