The Woman in the Fifth |

Film reviews, news & interviews
The Woman in the Fifth
Kristin Scott Thomas and Ethan Hawke enjoy close encounters of a Parisian kind
Events in the "real" world duly encroach on this more internal story, with thriller elements, but to call The Woman in the Fifth a thriller, and then berate it (as some critics have) for its failings in that genre, would be as mixed-up as calling Pawlikowski's 2000 film Last Resort a study of UK immigration policy.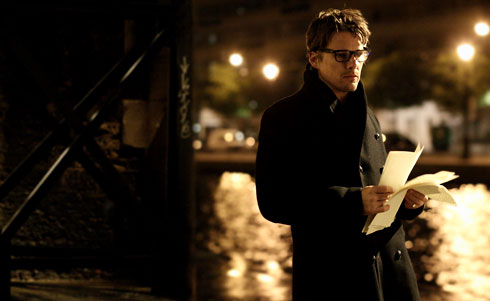 The film's vision of Paris is – with the exception of Tom's first balcony encounter with Margit, the Eiffel tower in the background – resolutely low-beat. But Polish cinematographer Ryszard Lenczewski (in his third collaboration with Pawlikowski) seeks out scenes of remarkable, everyday, somehow paradoxical beauty in the city, corners of streets and angles that a passer-by would catch only by accident. He plays beautifully with half-lights, both in interiors, and dusk and dawn scenes: it may not delight the Paris Tourist Board, but then Pawlikowski has never shot films for tourist boards (witness his Margate in Last Resort).
Lenczewski colours scenes very distinctively, with Margit's apartment (in the city's fifth arondissement, hence the film's title) emphasised in dark reds, against the dawn-blue hues associated with Ania's world. Max de Wardener's score is integral to the mood too, circling melancholy, with series of ascending chords moving almost unnoticed into more unsettling minor keys.
For various reasons neither of Pawlikowski's last two projects, one about the life of the young Stalin, reached reality. Not long ago he relocated to Paris, a move which seems to have been amenable in every sense. The Woman in the Fifth reconfirms his status as a European filmmaker (no forgetting, of course, his Polish origins), working in a style different from many of his British contemporaries. I'm not sure his new film will win him many new converts – but for those already sympathetic to his sensibility, it confirms him as a director of considerable originality, quirkier here, always independent.
Watch the trailer for The Woman in the Fifth

More Film
Share this article
We at The Arts Desk hope that you have been enjoying our coverage of the arts. If you like what you're reading, do please consider making a donation. A contribution from you will help us to continue providing the high-quality arts writing that won us the Best Specialist Journalism Website award at the 2012 Online Media Awards. To make a one-off contribution click Donate or to set up a regular standing order click Subscribe.
With thanks and best wishes from all at The Arts Desk