theartsdesk in Valletta: the 25th European Film Awards |

reviews, news & interviews
theartsdesk in Valletta: the 25th European Film Awards
theartsdesk in Valletta: the 25th European Film Awards
Dame Helen dares, Haneke wins, and the European Film Academy fret, on their awards' silver anniversary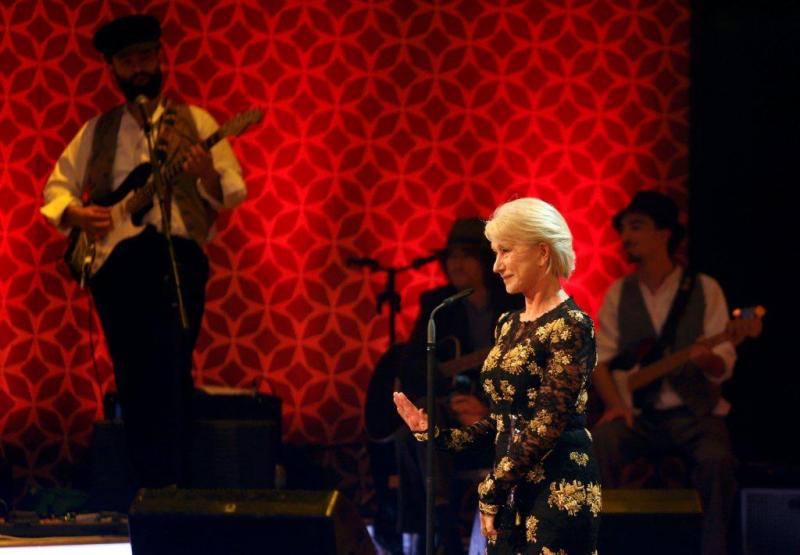 Nothing like a Dame: 'I too am a fucking whore'
Michael Haneke's Amour was the big winner last night in the European Film Awards' silver jubilee year. As well as Best Film, Haneke won Best Director, as he did for his previous two films The White Ribbon (2009) and Hidden (2005), while his veteran stars Emmanuelle Riva and Jean-Louis Trintignant were named Best Actress and Actor. It showed both the Oscars-style pack mentality of the European Film Academy voters for their favourite auteurs (shown most alarmingly with Polanski's blanket wins for his mediocre The Ghost in 2010), and a genuine conviction that Haneke is a master European director, a clear step ahead of the rest now.
Steve McQueen's Shame (Best Cinematography for Sean Bobbitt, Editor for Joe Walker) and Tomas Alfredson's Tinker Tailor Soldier Spy (Production Designer, Maria Djurkovic and Composer, Alberto Iglesias) were left with the less high-profile technical awards, and the unfeasibly glamorous Danish writer-director Thomas Vinterberg picked up Best Screenwriter for his work with Tobias Lindholm on The Hunt.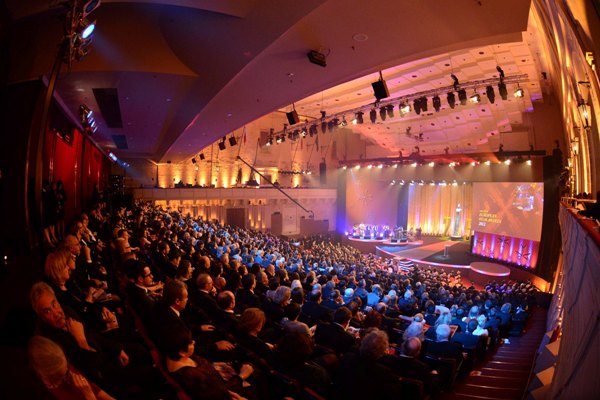 Dame Helen Mirren, receiving the honorary European Achievement in World Cinema prize, was the nominee most alive to the occasion. "Thank you for recognising that I too am a fucking whore. And proud of it," she memorably declared, referencing a line in a clip earlier in the night. Introduced as ancestrally Russian by that country's director Alexei Popogrebsky ("she likes to say her lower half is Russian," he conceded), and by Sir Michael Gambon as his co-star in The Cook, The Thief, His Wife and Her Lover ("a children's film," he purred), her heartfelt speech placed her in the European tradition the EFA is so desperate to foster. She recalled being a 16-year-old waitress in Brighton, stepping into a seedy cinema smelling of piss, cigarettes and beer "to get out of the rain", and finding it was offering not its regular pornographic fare, but Antonioni's L'Avventura: her first glimpse of European cinema, and why she might want to be a film actress. Warming to her theme, she listed the other "fucking whores" she revered: Jeanne Moreau, Claudia Cardinale, Anna Magnani above all: "I wanted to be an actor like them...I wanted to be a woman like them."
Mirren was red-eyed as she spoke, genuinely moved at her award's implication that she now belonged in that company. She at least seemed to value it like an Oscar. Come As You Are (Hasta La Vista), a Belgian comedy about three disabled virgins' trip to a Spanish brothel, startlingly beat candidates including The Artist in the People's Choice public vote. Producer Mariano Vanhoof (pictured below right) made you keen to see his film as he yelled, "God bless the European audience – sex for everyone!" then proposed to his gobsmacked girlfriend. The long kiss they shared, impervious to cameras and crowd, suggested Vanhoof had won again. A Polish actor later preceded presenting the Best Actor award by proposing to Mads Mikkelsen. The Danish star's ambiguous smirk kept his options open.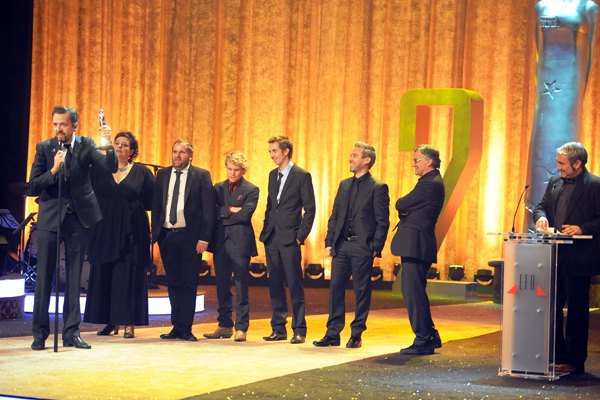 The mood in the Maltese capital Valletta's Mediterranean Conference Centre, a cavernous 16th-century building formerly a hospice for the Knights of St John, was elsewhere sombre verging on panicked at the state of the serious European cinema Haneke embodies. The ceremony was interspersed with filmed reflections by EFA members, who saw their work almost fatally embattled by plummeting box-office figures, short-term cinema bookings destroying the possibility of word-of-mouth success, and what Ken Loach called Hollywood's "monopoly". "European film is low-budget," was Stellan Skarsgård's dry definition, with themes far from Hollywood populism: "You can't hide the darkness...we're all going to fucking die, and it's not much fun." As the great Hungarian director István Szabó said still more pithily, it's cinema about "losers, losers, losers!" The bleak reality the European Film Awards attempts to fight is that such films reach audiences in decreasing numbers. The regular cries from the stage of "Long live European cinema!" sounded like desperate whistling in the dark.
Accepting this awful current truth during an awards ceremony distinguishes the EFA from the Oscars (and the BAFTAs) just as the films it favours differ from Hollywood. The regular host, German comedian Anke Engelke, continued her patchily effective mission to deconstruct the very nature of such ceremonies, and especially the EFA ("Or as some people in America call it – 'The what?'"). "If there's one thing the EFA's got a lot of, it's money," she said with withering irony, during a weekend when, like some old blues song, guests at functions were sometimes served water when they asked for champagne. Wildly promising Paris's Crazy Horse strippers and Bengal tigers would soon combine in a lavish routine, she was filmed dashing to the backstage banquet, where a director from impoverished Spain, Sergi Lopez, feigned filching food. His compatriot Alberto Iglesias's thanks for his award ominously began: "I write to you from Spain. We are alive!"
Engelke formed a too brief double-act with frock-coated, floppy-haired EFA president Wim Wenders, who was filmed giving her a jaunty tip of the sailor's hat she'd just tossed at him as she refused to host the ceremony as Popeye (the hero in one of the many movies filmed amidst Malta's remarkable scenery). Wenders, like Herzog, is becoming his own most memorable character.
Subscribe to theartsdesk.com
Thank you for continuing to read our work on theartsdesk.com. For unlimited access to every article in its entirety, including our archive of more than 10,000 pieces, we're asking for £2.95 per month or £25 per year. We feel it's a very good deal, and hope you do too.
To take an annual subscription now simply click here.
And if you're looking for that extra gift for a friend or family member, why not treat them to a theartsdesk.com gift subscription?