Interview: Film Director Beeban Kidron |

Film reviews, news & interviews
Interview: Film Director Beeban Kidron
The acclaimed director discusses her new documentary about sex workers in India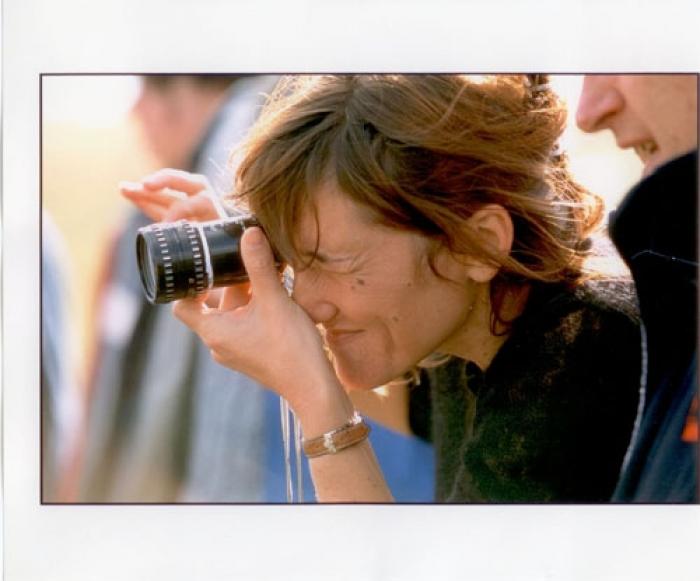 'People do not have proper witness to their lives and I am really interested so I start asking them questions'
It's a fairly safe bet that when director Beeban Kidron made her first film, the documentary Carry Greenham Home (1983), she never envisaged that 20 years later she'd be directing a whopping great blockbuster about a Chardonnay-swigging young woman's desperate quest to get a ring on her finger - Bridget Jones: The Edge of Reason (2004). But then Kidron's career trajectory has never been predictable.
Her CV ricochets from the classic television series Oranges Are Not the Only Fruit (1990) to a documentary about the sculptor Antony Gormley to the film Wong Foo! Thanks for Everything! Julie Newmar! (1995) starring Wesley Snipes and Patrick Swayze. Her most recent offering, Sex, Death and the Gods, is a film about the devadasi women of Karnataka, South India, who are ceremoniously dedicated or married to a god while they are still children and on reaching puberty are sold for sex.
This isn't Kidron's first foray into the world's oldest profession and she's certainly not one to shy away from the more gruesome aspects of her subjects. Hookers, Hustlers, Pimps and their Johns (1993) is an unflinching appraisal of New York prostitution which has a famously – literally - eye-watering scene in which a dominatrix applies a condom made of sandpaper to a client's genitals.
"When I finished Hookers", says Kidron, when I meet her in the airy production office she shares with her husband, the writer Lee Hall, "I really thought I'd said all I'd got to say on prostitution, but when I heard that it was being done in the name of God, it was like a bosh on the head, a grab of the heart. It was as if part of me was already on my way to India." (A devadasi pictured below.)
Sex, Death and the Gods isn't a comfortable film to watch – it's very painful to watch a little girl tilt her head back to prevent tears from rolling down her face as she describes the humiliation of being devadasi – and my initial reaction was to start furiously channelling my inner Christopher Hitchens.  However, as the film unfolds, one becomes increasingly conscious that this is an extraordinarily complex situation and that there are no easy answers.
"As a film-maker I had two choices," says Kidron. "One is to go, 'There's this ghastly thing, where mothers sell their babies in the name of sex, how horrible' – and to a degree, that's the attitude I had initially. But when you get there, you realise that if your world is going to be either sex work or devadasi sex work, then devadasi is a better place to be."
Devadasi is an ancient Hindu tradition that can be traced back to the 6th century when these women enjoyed a rich and privileged existence as concubines to the priests and princes of India's ruling class.  They were not allowed to marry, as they were already married to the temple, but their close association with the temple gave them enormous kudos and they enjoyed many of the same rights, such as landownership, as men. Over the years, however, their social and economic status gradually deteriorated and in 1934 the practice was made illegal, although it has far from disappeared – you don't get rid of ancient customs that quickly - and despite the Indian Government's protestations to the contrary, there are currently around 30,000 devadasi in Karnataka. Kidron believes, and it's hard to see how anyone could disagree with her, that Britain owes this community a huge debt as it was British intervention that stripped away the devadasi's privileges without answering their economic or social needs.
In some villages, the local council, the panchayat, were not happy with me wandering around with my camera - I was chased away a lot
In order to gain access to these women, Kidron flew to India and repeatedly visited various devadasi red-light districts at night, when the women were out. "We'd talk to them and they would put us in touch with people who put us in touch with other people. In the main, they weren't reluctant to talk but there were different levels of resistance. In some villages, the local council, the panchayat, were not happy with me wandering around with my camera - I was chased away a lot and I was actually told several times I really was not welcome. Other villages were more welcoming and I would sit and drink sweet tea until nightfall and then they would tell me that the person I was hoping to question was at a wedding."
The women that appear in the film are all remarkably candid. Roopa's mother received 5,000 rupees (£70) and a gold chain in return for dedicating her daughter to the goddess Yellamma and Roopa (pictured below left) is, not surprisingly, resentful that she is now financially responsible for her entire family, including her brother, sister-in-law and their children. However, when you realise that her brother earns a mere 50 rupees (65p) a day compared to Roopa's 1,000 rupees (£13), you realise just how difficult it is for these women to extricate themselves, particularly in a society which believes that the whole point of having children is to have someone to look after you in your old age.
"Someone started saying that if you dedicated your child to the goddess Yellamma, she would bless your family", says Roopa in the film, "but it's all lies. For their benefit they do this." And yet her faith is clearly unshakeable because she continues, "It's not Yellamma's fault."
However, there are also women who are proud to be devadasi, such as the redoubtable Kamala Bai, who is filmed sitting next to her boyfriend who sports a curious mop of orange hair. "I am a free bird," she announces proudly. "Marriage is a confinement. You have to do everything they say – why should I do that? I run my house, I run my business. I have the power in my hands to do everything. I want him [the boyfriend] so I'm keeping him. If I don't want him, I'll send him back to his village." She thumps her chest triumphantly: "I am the boss!"
"It's not a marriage, it's about liking each other," the boyfriend helpfully adds, just in case we were in any doubt as to what a dim view they have of marriage in that part of the world.
"It was very important to me that I humanised these women," says Kidron firmly. "You and I might agree that we share certain similarities, yet we would never consider ourselves the same and I want people to see the devadasi as individuals - they may have quite a lot in common with each other, but every one of them is unique and their experiences will be very different."
This philosophy was informed by Kidron's very first film, Carry Greenham Home, about the Greenham Common Women's Peace Camp, which she made with Amanda Richardson.
"I loved being at Greenham, it was the first time the world made sense. It was a group of people who were all completely different but we all had the same idea and we made the film as a direct attack on the media who just went from ridicule to animosity that summer [1981] and created this monstrous Greenham woman. I was as mad as hell and I just wasn't going to take it any more because there were so many different kinds of women there – Conservative women, church women, old, young, gay, straight, you name it – and we were insulted. Not because they'd lumped us all together and accused us of having a funny haircut but because we were out there making our contribution and no one was watching.
Lots of people said I'd lost my feminist stripes and that I'd sold out but I just didn't see it that way
"And I think that's really where it all comes from. I am watching. I am listening. People do not have proper witness to their lives and I am really interested so I start asking them questions and they start talking and tell me their truth. I'm not pretending I have an invisible hand – I'm always very present, you can hear me talking in this film and the women address me directly, I'm very much there – but I am their witness and that is really important to me."
Kidron's career behind the lens began precociously early when the photographer Fay Godwin, a family friend, gave her a camera. Somehow she managed to persuade her school to let her go to Godwin's to take photographs and develop prints instead of doing games – clearly a born negotiator, an essential skill for a film-maker - and in 1974, aged 13, she happened to be in Portugal when the revolution broke out. She took some photographs which the socialist newspaper Women's Review snapped up and before long she was being sent out on assignments. Her work was spotted by Eve Arnold who asked Kidron to be her assistant to which Kidron replied, "I can't! I have to go to school!" But when Arnold asked her again on her 16th birthday, Kidron said yes.
"I used to do these stories," says Kidron. "They'd be picture after picture and I'd write these captions and Eve would say, "You know what that is – that's a film!' And when I realised I was never going to be Cartier-Bresson, I decided it was time to do something else."
Kidron claims she doesn't have a career, but a series of enthusiasms and excitements and accidents – which probably explains how she ended up directing Bridget Jones: The Edge of Reason.
"I loved Bridget – she was vulnerable and she was funny and she embodied a very particular moment. Lots of people said I'd lost my feminist stripes and that I'd sold out but I just didn't see it that way. I just had tremendously good fun with those actors making a film that was part of the zeitgeist."
Sex, Death and the Gods doesn't offer any solutions - how could it possibly? - but it ends on a cautiously optimistic note. Kidron says, "Someone asked me why I bothered to make this film because it won't change anything and that may well be true, but if we are going to live in the same world as these really extreme experiences, let's not live in ignorance. Let's at least make some effort to understand them."
Sex, Death and the Gods will be shown on 24 January on BBC Four
Find Beeban Kidron on Amazon
If your world is going to be either sex work or devadasi sex work, then devadasi is a better place to be
Explore topics
Share this article
Subscribe to theartsdesk.com
Thank you for continuing to read our work on theartsdesk.com. For unlimited access to every article in its entirety, including our archive of more than 7,000 pieces, we're asking for £2.95 per month or £25 per year. We feel it's a very good deal, and hope you do too.
To take an annual subscription now simply click here.
And if you're looking for that extra gift for a friend or family member, why not treat them to a theartsdesk.com gift subscription?