Exam |

Film reviews, news & interviews
Exam
A thriller about job-seekers: does it pass the test?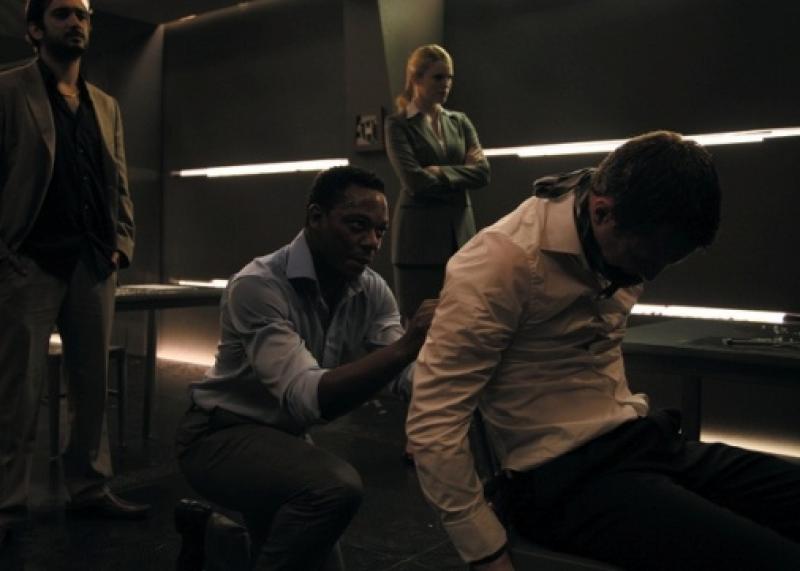 'Exam', in which 'Lord of the Flies' meets 'The Apprentice'
The list of plays that have successfully migrated from the stage to the screen is not so very long. If
Exam
doesn't belong on that list, it's not quite for the reason you'd expect. With only ten characters and one windowless set, it has the shape, size and claustrophobic intensity of something that began its life in the theatre. But unless it has kept its roots very well hidden, the screenplay by Stuart Hazeldine appears here in its original incarnation. A film which doesn't go anywhere spatially puts a whole lot more pressure on itself to perform in other areas. Does it pass the test?
The mise-en-scène is certainly intriguing. Eight applicants for a job with a major corporation gather in a room to sit an exam. The winner takes all. Those flouting the series of rules and regs spelled out beforehand face removal: no leaving the room, no spoiling the paper, and no talking to the guard. And no, he's not just pleased to see the candidates: presumably in expectation of foul play, that really is a gun in his holster.
The twist – the first of several – is that the blank sheet in front of each of them contains no question. Needless to say, the first baffled candidate who commits her thoughts to paper is instantly ejected. And then there were seven. The remaining candidates soon twig that they'll need to pool their ingenuity to get anywhere. Thus begins the hunt for the question and, when they can't find that, for the meaning of its absence. Almost any further elaboration of the plot would kill such pleasures as Hazeldine lays in store for his audience, but it gives nothing away to say that not all the candidates, eliminated one by one, are as they seem.
Having chosen to confine himself to one room, Hitchcock would have shot it in one seamless take the way he did with Rope (or at least the pretence of one: he didn't have a long enough film camera magazine for more than ten-minute takes). But then Rope really did start out as a play by Patrick Hamilton, recently revived at the Almeida. Hazeldine, directing for the first time, copes more than competently with the set of technical hurdles he has set himself. If there is any lack of daring, it's in the skewed distribution of motives among the candidates.
Though each turn out to have similar reasons for applying, they are neatly stationed along the spectrum of race, gender and personality type, and nicknamed accordingly. Jimi Mistry, the only actor among them with a longish pedigree, is thus known as Brown. It's no surprise to discover that the meanest among them is a white Caucasian male (played with stubbly menace by Luke Mably). While doffing a cap to Hazeldine's liberal politics (which are only fully revealed in a final twist), you wish he'd made at least one of the women more intriguingly manipulative, or one of the non-whites more overtly unlikeable.
It's possible to watch Exam as a perfectly competent low-budget British thriller, or something with more ambitions to lay bare the complex mesh of altruism and self-interest found in any random grouping of humans. Aesthetically, and in depth of characterisation, it's rather closer in spirit to The Apprentice than Lord of the Flies. So does it get the job? Put it this way. I once handed in a history A level essay to a teacher inclined to hedging his bets. He gave it an alpha triple minus/beta plus query plus. As a film you'd give it the latter. As a play you might have gone for the higher grade.
Exam is released on Friday. Watch the trailer here.
Subscribe to theartsdesk.com
Thank you for continuing to read our work on theartsdesk.com. For unlimited access to every article in its entirety, including our archive of more than 10,000 pieces, we're asking for £2.95 per month or £25 per year. We feel it's a very good deal, and hope you do too.
To take an annual subscription now simply click here.
And if you're looking for that extra gift for a friend or family member, why not treat them to a theartsdesk.com gift subscription?