DVD: The Last Days of Dolwyn |

Film reviews, news & interviews
DVD: The Last Days of Dolwyn
Charming Welsh melodrama proves the perfect vehicle for Richard Burton's first film
Tuesday, 05 February 2013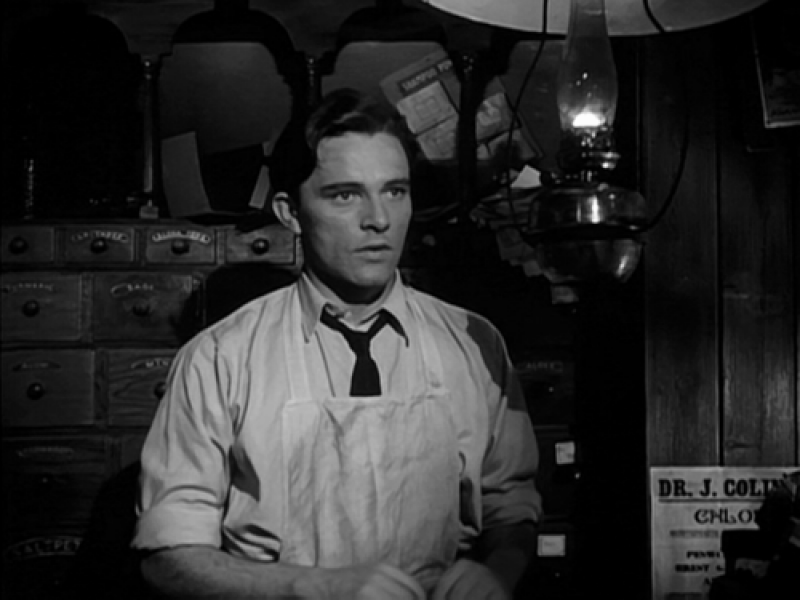 Magnetic: Richard Burton makes his screen debut as Gareth in 'The Last Days of Dolwyn'
Years before Cleopatra (1963), Richard Burton played an orphaned shopkeeper in a quaint melodrama. It was his film debut. The Last Days of Dolwyn is written and directed by Emlyn Williams, a fellow Welshman, who gave Burton his first stage role in 1944. In Dolwyn, out five years later, Burton is magnetic.
The film zooms in on a Welsh village under threat from English gentry planning to supply Liverpool with water and flooding the area in the process. Burton seems awkward at times, but lends a rich complexity to his sensitive and volatile character, Gareth. Williams, the more dazzling star, plays Rob, a weasely agent for the scheme with poise and allure. More than money, he wants revenge on residents who punished him as a boy for stealing. Gareth's God-fearing foster mother, Merri (Edith Evans) is the only one who can stop his plan.
Burton imbues Gareth with acute status anxiety, narrowly escaping the ridiculous. Having picked up the lost glove of the niece of a baronet in a field, Gareth is too scared to return it. But Burton makes the most of a line when she comes into his shop to buy a new pair, trembling: "We have not got nothing good enough to offer... even grammar." Burton does fierce better than tender, and words better than movement. As he pulls the glove out of the drawer by one of its silky fingers, after the girl has gone, he looks demonic, hinting at a later violent scene. In the climactic episode, when he gets into a fight with Rob (over the water scheme not the niece), he holds his own.
Williams gives a convincing impression of a rural idyll populated by sheep, with lingering shots of fields accompanied by flutes and violins. Special effects of a church spire nosing out of the flood are fantastic. The film is too moralistic for modern tastes, but it is especially significant for Burton. On set, he met Sybil Williams, an extra. The year the film came out they married.
Watch the shop scene from The Last Days of Dolwyn
Burton does fierce better than tender, and words better than movement
More Film
Share this article
We at The Arts Desk hope that you have been enjoying our coverage of the arts. If you like what you're reading, do please consider making a donation. A contribution from you will help us to continue providing the high-quality arts writing that won us the Best Specialist Journalism Website award at the 2012 Online Media Awards. To make a one-off contribution click Donate or to set up a regular standing order click Subscribe.
With thanks and best wishes from all at The Arts Desk