Romeo and Juliet, Royal Ballet |

Dance reviews, news & interviews
Romeo and Juliet, Royal Ballet
A couple off-stage bring Latin blood and smells to the evergreen ballet classic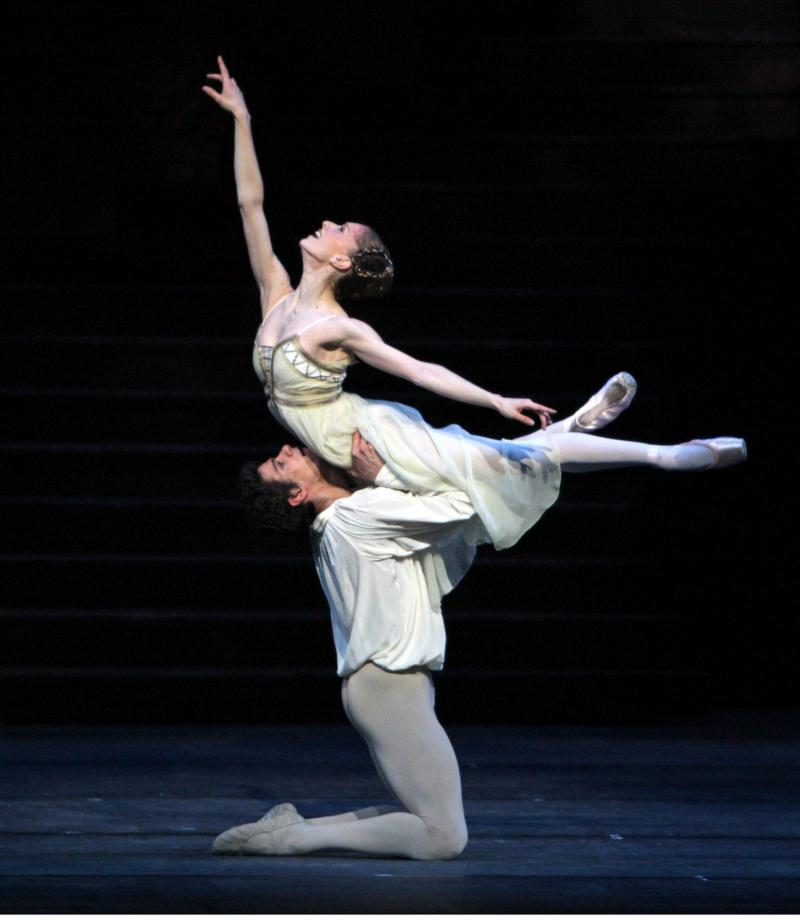 Argentina 4 Brazil: Marianela Nunez and Thiago Soares as an ideally real pair of lovers
How far would you go, if you were utterly in love? Till death you do part? Kenneth MacMillan's 1965 ballet Romeo and Juliet remains a magnet for audiences and for performers all playing that ritual game with their own feelings. Marianela Nuñez and Thiago Soares are a married couple, and brought to their single performance (unaccountably) in this new run of Covent Garden's timeless attraction an infusion of pounding blood and sensual compatibility. Nothing was studied about the pleasure with which Nuñez nuzzled Soares' neck briefly in their first snatched duet at the Capulet ball, nothing constrained about their final flights and kisses at the end of the Balcony Scene.
It's a tremendous test of artistry to deliver a long-familiar tune, or role, or symphony, or speech, as if it was the first time, and even more in this story for an off-stage couple, but this pair (sometimes overshadowed by the more famous RB item, Alina Cojocaru and Johan Kobborg) have a Latin blitheness and high blood about them that you can almost smell. While Nuñez is the finer stylist of the two, Soares is one of the most talented stage creatures the Royal Ballet has had for years, and the two of them danced it as if for the last time.
If the harlots had an offensive animal reek the entire stage would be animated whenever they appeared
Soares may well be outdanced by Ricardo Cervera's neat-lined Mercutio, but Cervera is far too well-scrubbed in a character that should be all spice, tobacco and scars; the tiresome harlots, led energetically this time by Itziar Mendizabal, also have a deodorised I'm-the-naughtiest-girl-at-school archness about them, when if they had an offensive animal reek the entire stage would be animated whenever they appeared.
But the Brazilian's Romeo has a prowling, hunter quality about him from his first entry sniffing after Rosaline. He has magnificently arrogant arms, points his chin at girls like a lion scenting gazelles, carries himself like a man who knows his entitlement, and gives every impression of smelling invitingly of hot, male sweat. This all compensates for the inferior work of his legs, exposed in the deft, prancing trio for Romeo, Mercutio and Benvolio before the ball.
Thomas Whitehead's Tybalt is even more arrestingly malodorous; a chisel-jawed, tawny dish in red, half-cut most of the time, he'd be rank with BO and wine, and clearly lost his duel with Romeo because he was pissed. He may be the best Tybalt I've seen since... Soares, who is a performer of unusual versatility.
Those two guys brought ripe, smelly, medieval Verona alive, which Act II in particular needs and doesn't always get. MacMillan adapted the story superbly for balletic treatment - the opening scene of Romeo and Rosaline and the initial lethal skirmish between gangs has a visual style and inexorabile fit with Prokofiev's fatalistic music that shows a choreographic dramatist of genius at work. By the end of the next little scene, where young Juliet is introduced to Paris, her intended husband, MacMillan has asserted the hypocrisy of this essentially gangster society, unregulated by anything more than macho posturing and status deals.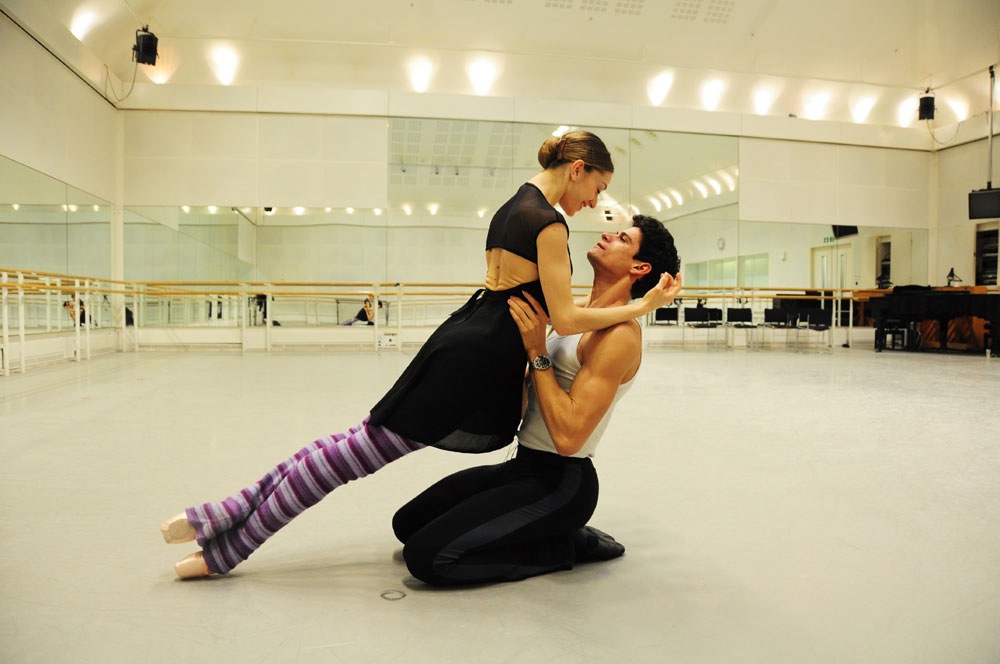 Pictured above, Nuñez and Soares in rehearsal © Zarina Holmes
What I instantly loved about Nuñez and Soares' performance was how simply and lustily they played its opening, so that after the first two scenes it looked like Romeo-4-Rosaline, Juliet-4-Paris, both couples apparently well on the way to separate existences. Even at the ball, when Soares first noticed Nuñez, and she kept looking back at him, it was for several minutes just curiosity between them, Romeo assessing the talent, Juliet loving having two boys admiring her, dishy Paris (Valery Hristov) and bold Romeo.
Soares' Romeo has a prowling, hunter quality about him, and gives every impression of smelling invitingly of hot, male sweat
Share this article
We at The Arts Desk hope that you have been enjoying our coverage of the arts. If you like what you're reading, do please consider making a donation. A contribution from you will help us to continue providing the high-quality arts writing that won us the Best Specialist Journalism Website award at the 2012 Online Media Awards. To make a one-off contribution click Donate or to set up a regular standing order click Subscribe.
With thanks and best wishes from all at The Arts Desk