Gang-Rape In Ballet: Thiago Soares and The Judas Tree |

Dance reviews, news & interviews
Gang-Rape In Ballet: Thiago Soares and The Judas Tree
Royal Ballet star talks about how he deals with the horror of his role in MacMillan's final ballet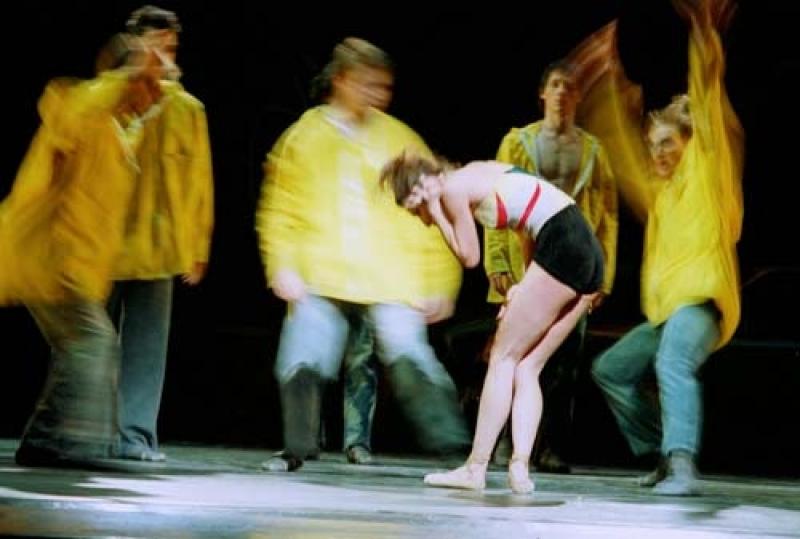 Leanne Benjamin in The Judas Tree: The choreographer said: 'There are things in me that are untapped and that have come out in this ballet that I find frightening'
In a constantly challenging output of ballets, the remarkable choreographer Kenneth MacMillan produced nothing more upsetting than his last, The Judas Tree. Baldly, it portrays gang-rape, double murder and suicide among a nasty bunch of men on a building site. Brian Elias's music slashes and bashes frighteningly around the listener's head; Jock McFadyen's gritty Canary Wharf set is the epitome of everything sinister about building sites; and above all MacMillan's choreography takes sexual confrontation to a pitch even he had never matched in the extremes of his uninhibited imagination.
He said in an interview at the time: "This ballet is my subconscious at work... I had to wait for it to happen in the room. There are things in me that are untapped and that have come out in this ballet that I find frightening. This is a dark one." In the days after its premiere, even people with time to reflect found it hard to get past its shockingly literal violence to more symbolic, layered explanations of its ideas.
But 18 years have passed - almost a generation - and when it's revived at the Royal Ballet next week The Judas Tree may well be time-warping into an era that at last understands it as a concentrated "psychological fable", as the Observer critic Jann Parry found it when she watched it in 1992. Her review struck a chord with MacMillan, and her recent biography of him, Different Drummer, expands on the idea that this was a piece of modern theatre exploring in balletic terms the opposition of masculine and feminine principles, rather than some attempt at a contemporary representation of all-too-common sexual abuse.
In fact, the impact of The Judas Tree is probably more productively understood as a happenstance - a collision of choreography, music and design that generate their own combustion, because three people were all tuning onto the same creative wavelength. Jock McFadyen, the Scottish painter, happened to live by the Canary Wharf building site, with its teeming men in yellow vests, and wanted to portray its shadowed resonances on stage. Brian Elias wrote his apocalyptic score at MacMillan's request, only loosely on the theme of betrayal. MacMillan was already firmly in harness to his own longstanding personal preoccupations when he at last got the music in the orchestrated form that he could use.
MacMillan's influences were a tumble of current media events and impressions - the constantly televised seven-week stand-off of Chinese students in Tiananmen Square, with the sole T-shirted lad facing the tanks; a 1990 film, Uli Edel's Last Exit to Brooklyn, in which men behave with great violence towards women as if substituting loathing of their "feminine" compassionate side; and, significantly, a residual association with the word "betrayal" which brought into his agnostic imagination the intense psychological drama of Judas's betrayal of Christ, and the ambivalent place in Christ's story of Mary Magdalene.
The religious allegory is strongly signalled, particularly in the final section, with the Foreman suddenly adopting Judas's trademarks, the kiss and the suicide by hanging. To me it is the least satisfactory aspect of the ballet - a dress, in a sense, that doesn't persuade me, whereas the psychological split of the human soul resoundingly does. In any case, it might be worth noting that this Christian theme was provided for a ballet whose composer is Jewish and whose original protagonist is Muslim. So whether the Judas/Jesus symbolism is more than a compromise feature on a ballet whose core of self-loathing is the more important material is up to the viewer's requirement for comfort in the lacerating 40-minute experience of watching The Judas Tree.
There was certainly plenty of ancillary material to pick up on - MacMillan, with an alcoholic, depressive, drug-addicted past, was then under weekly psychiatry, and eagerly exploring his own sense of his divided self, and particularly his interest in the guilty ambivalence of human sexuality. (The balletomane and political commentator Frank Johnson once told me that he thought 80 percent of men had a gay element inside them that they wanted to resist.) I'd suggest that another, less conscious reflection came in from the ballet studio itself: the fact that ballet is by its tradition communal, the fact that women are the precious, strongest ones with the highest skills, the ones the men must always be supporting with utmost physical care. This experience, which runs counter to the outside world (and particularly that of East London streets at night), was one that MacMillan himself would have had dinned into his training as a classical soloist. Why not turn this on its head in this ballet?
Although in 1992 I was horrified by the ingenious literalness of the violation of the sole woman by all these men, now after many viewings I no longer think that: I do not believe the creator of Juliet, of the three tragic sisters of Las Hermanas, of the sassy girls of Elite Syncopations, can have been a misogynist. Plus there was (not to be ignored) his chip on his shoulder about his working-class origins. The Judas girl, the "Magdalene", is as much posh office totty getting what's coming to her from the working-class builders whose homes she is razing, as an under-educated council estate girl wantonly inciting local men to prove her desirability to her damaged self. If that idea is shocking, it only proves the electric power of the naked thought in an artform whose lure had been built up in tulle-like layers of disguise, prettiness, elegance, grace, melancholy, fatalism, abstractness.
Irek Mukhamedov, the original Foreman of this complex ballet, has been back in London from his Greek base (where he is artistic director of the National Opera Ballet of Greece) coaching the new Foremen in this revival, Carlos Acosta and Thiago Soares.
It is the young Brazilian Soares - a man who at the Royal Ballet has rapidly come to embody an almost unparalleled range from drag character parts to princely roles - who I suspect may best relish the extremes and ambiguities of his character. He is one of the most exciting performers to have joined Covent Garden since MacMillan's death in 1992. We met this week at the Royal Opera House, only a week before the 28-year-old Soares must take on this strange ballet and show us why The Judas Tree is not gratuitous nastiness but a shudderingly strong, maybe prophetic piece of theatre that truly resounds of the way people think of themselves.
To me this man represents all sorts of men - the kind man, the rough man, the coward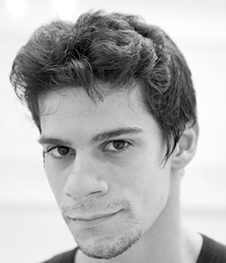 ISMENE BROWN: This is not your first encounter with The Judas Tree.
THIAGO SOARES: No, seven or eight years ago when I first came to the Royal Ballet I danced the ballet as one of the pas de trois boys from the corps . At the time I was getting to know all the rep here, the MacMillans, the Ashtons. I had been only a year and a half in the company, and I had a lot of curiosity at the beginning of my career here, I was fascinated by Kenneth's work. The first ballet of his I was in was in Mayerling, in the corps, and I was going, "I wish I could do more of that." I was thirsty for it. Then I got involved in Gloria and Judas Tree, and it was very lucky to find that Irek Mukhamedov was to perform it, the original Foreman. I got a taste of the ballet's propositions.

Were you disgusted? shocked?
No, I felt shocked in a good way - thinking how far this man, Kenneth MacMillan, could go with ballet. How far he pushed the combinations of choreography and the drama, and all the possibilities that it gave the audience - you could see so much. I felt, "Oh, my god, how much you can do with this piece, how much you can do with the body, to get into those positions." That was my first reaction. And it was telling an obscure story at the same time.
So now that I've been given the leading role, I'm really enjoying it, I'm in the moment, and I'm aware that it is very rare that you will do a role when the original cast is there, helping you to get through the journey. Irek, Jonathan Cope who also did the role, and the notator - all working with you. So I am trying to get the best out of all of this! It's very challenging, very good.
To you this is a dream role... but for the audience, this is no dream! It is a horrid experience. People still think it's ugly, untrue, misogynist.
Well, yes, there is a point of view. Obviously the new audience's point of view is here, and there are people like you who have seen it many times, done in many ways. But I don't think of that. I've just been given the role, and I'm working as hard as I can to make this possible on stage, well received, to make it look well-written, to give my best performance. It's too soon for me to think about what the audience sees, the result - because right now I'm still in the learning process, I'm still taking in information.
What did Irek say about it when he coached you? Did he have to draw something frightening out of himself on stage? Because he was very frightening in the role. And do you feel you must too?
Well, he didn't use those words. But he has been giving me the idea of what happens in that event that you see. What is supposed to be happening, as originally invented. And he is trying to get the best out of Carlos and me, trying to pass on the role to us.
What instincts do you have to draw out in yourself, in order to portray this man who leads a gang rape, and who kills not only a woman but also his friend, and then himself?
To me this man represents all sorts of men - the kind man, the rough man, the coward, there are all sorts of themes represented there about relationships of man towards woman. Also there is a base under it of Judas-Jesus-Pedro-Magdalena.
That religious part speaks to you?
Yes. I am Evangelical by my family background.
But Irek of course is Muslim! And this is a Christian story. How did he relate to that?
I think because we've been working so intensely on the piece, we haven't actually sat down, for me to hear his questions about the piece. He has been giving me information about the goal of the piece, and we are trying to achieve that.
The creator of Juliet, of the three tragic sisters of Las Hermanas, of the sassy girls of Elite Syncopations, could not be a misogynist
Explore topics
Share this article
Subscribe to theartsdesk.com
Thank you for continuing to read our work on theartsdesk.com. For unlimited access to every article in its entirety, including our archive of more than 10,000 pieces, we're asking for £2.95 per month or £25 per year. We feel it's a very good deal, and hope you do too.
To take an annual subscription now simply click here.
And if you're looking for that extra gift for a friend or family member, why not treat them to a theartsdesk.com gift subscription?