The Nutcracker 3D, Mariinsky Ballet/ The Nutcracker, English National Ballet, London Coliseum |

Dance reviews, news & interviews
The Nutcracker 3D, Mariinsky Ballet/ The Nutcracker, English National Ballet, London Coliseum
Here we go gathering Nuts in December - in cinema, on DVD and live on stage
Thursday, 13 December 2012
Russian Christmas: The Act 1 party at Clara's house in the Mariinsky Ballet's venerable production
The seasonal Nuts-fest continues (and culminates) with another two to add to the roast – live: English National Ballet's recent production, and digital: the Mariinsky Theatre's 3D film version. To the cinema we go. This is the first 3D Nutcracker ever, following the Mariinsky's 3D Giselle last year – and the screening of dance is a good thing, as few can afford to fly the world over to see a number of Nutcracker productions.
The 3D aspect makes the experience more tangible. The best moments are the aerial shots when you feel most interspersed, but as the 1934 Vassily Vainonen version was choreographed with the proscenium in mind, one loses out on the bigger picture when plonked in the middle of a snowflake circle. The production is also newly released as a DVD where the insipid use of pastels after a while makes all the differing characters meld into one.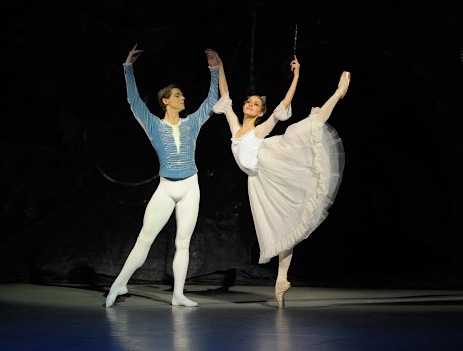 The real draw is the principal casting with the Mariinsky's bright young things featuring Alina Somova as Clara and Vladimir Shklyarov as the Nutcracker (pictured right). Somova is an incredibly able dancer, but seems lost when not executing an extraordinarily high leg-line, or an over-180degree split leap. The in-between moments that make a true ballerina, say an imperial promenade or a majestic arm movement, are still to be understood value-wise. Shklyarov is less obvious, but not in a feeble way. He still shows the audience what he's capable of technically but does so with a beautifully expressive upper body throughout.
Valery Gergiev directs the orchestra, and if you have a passion for Russian ballet, or Nutcracker in general, this venture should be seen, though the Mariinsky dancers' flat facial expressions translate as if they've been doing the same gig for years. For me the 3D aspect was beneficial at times, but highlighted the production's dated feel both choreographically and design-wise more than anything. (Official trailer below)
The screening of dance is a good thing, as few can afford to fly the world over to see Nutcracker
Explore topics
Share this article
We at The Arts Desk hope that you have been enjoying our coverage of the arts. If you like what you're reading, do please consider making a donation. A contribution from you will help us to continue providing the high-quality arts writing that won us the Best Specialist Journalism Website award at the 2012 Online Media Awards. To make a one-off contribution click Donate or to set up a regular standing order click Subscribe.
With thanks and best wishes from all at The Arts Desk