Matthew Bourne's Sleeping Beauty, Sadler's Wells Theatre |

Dance reviews, news & interviews
Matthew Bourne's Sleeping Beauty, Sadler's Wells Theatre
The third of his Tchaikovsky ballets exposes the choreographer's limits
Saturday, 08 December 2012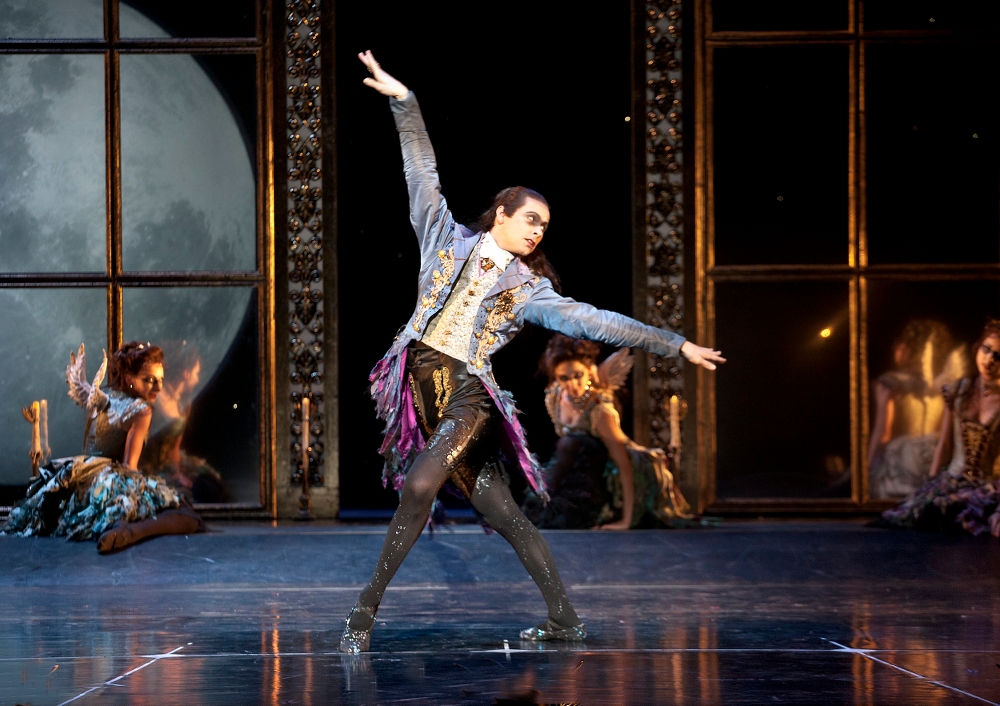 Above: Christopher Marney as Count Lilac - Bourne's rewrite of the Lilac Fairy
As usual, Bourne offers expert stagecraft and clever ideas. The baby Aurora of the opening is a cute manipulated puppet, crawling around her darkling 1890 palace, getting under the flunkeys' feet. She is much missed when she grows up to be 21 in the next scene, and is played by Hannah Vassallo as a goofy girl whom we first see waggling her legs in the air and showing us her bloomers.
A whole gaggle of references and campy recharacterisations jostle about as Bourne tries to give his rewrite frissons of Dracula and Twilight - Christopher Marney makes a suave Count Lilac but it seems to be intended that we're more interested in Dominic North's "prince" figure, a dull gamekeeper who for obscure reasons gets bitten by Count Lilac and then time-travels around with a neat little pair of wings on his back. One superb scene stands out in the inconsequentiality: where Carabosse (the imposing Ben Bunce) enacts with a masked Aurora the cursed fate lying ahead, and Bourne adds some urgent visionary drive to his pantomimic style of movement to generate a taut mini-thriller.
Nothing much elsewhere is as sexy, probably because there is no scope for gay duets, in which Bourne has always been far more evocative than in boy-girl ones - the Rose Adagio music, where Aurora's romantic readiness should reach ecstatic, awesome heights, just has two dopey youngsters fooling about like kittens playing. Without symbolic coherence, or compelling stage possession, this Aurora is a bit of a nobody.
Explore topics
Share this article
We at The Arts Desk hope that you have been enjoying our coverage of the arts. If you like what you're reading, do please consider making a donation. A contribution from you will help us to continue providing the high-quality arts writing that won us the Best Specialist Journalism Website award at the 2012 Online Media Awards. To make a one-off contribution click Donate or to set up a regular standing order click Subscribe.
With thanks and best wishes from all at The Arts Desk