Henri Oguike & OAE, Queen Elizabeth Hall / Richard Alston Dance Company, Touring |

Dance reviews, news & interviews
Henri Oguike & OAE, Queen Elizabeth Hall / Richard Alston Dance Company, Touring
Dance and music take hands with two infectiously musical choreographers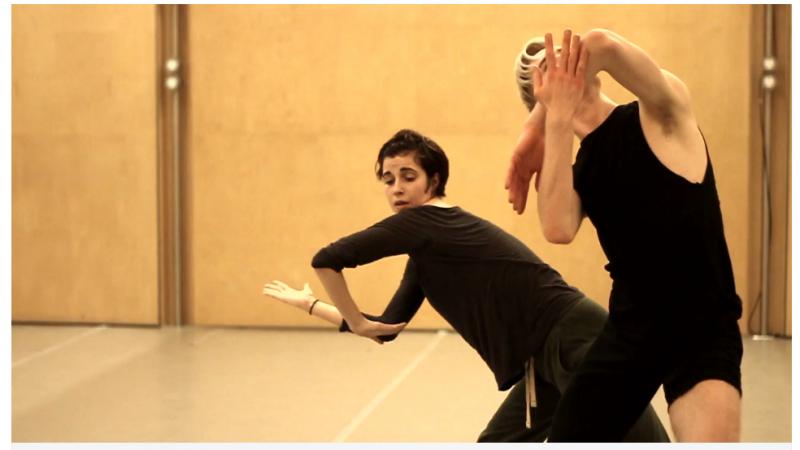 Enlightenment: Rhiannon Morgan and Edward Kitchen in Oguike's V4
Music is the food of dance - music as either an emotional language to speak back to, or an environment to set a mood or find associations in. The former is highly demanding, and Henri Oguike and Richard Alston are two who are clinging to the wreckage of British contemporary dance as art, not theatre. To see them on consecutive nights is to be reminded how ambitiously contemporary dance can aim, when the imagination reaches with a limited body language to try to link into a parallel world of utterly different definitions.
I try to think what good dance feels like to watch - and I say, "feels like", because good dance, however abstract, has a way of making your body wriggle, it catches your physical heartbeat, it sometimes jolts you in the brain, or makes the tears start up behind the eyes. But deep down, even if it is divorced from music (like Merce Cunningham or Lucinda Childs, say) good dance gets under your skin because an individual over there on the stage has hooked into your nervous system.
But it's often by tortuous means that a choreographer gets there. Take Henri Oguike, who, praise be, is back in business despite the crass axing of his Arts Council grant last year. He hooked up this weekend with the lively Orchestra of the Age of Enlightenment at the Southbank Centre for a dual-arts staging of Vivaldi's Four Seasons, in which his six dancers took over the front stage while a small clump of the OAE sat behind, and solo violinist Kati Debretzeni wandered between the two areas.
It's a bit awkward, more like a lecture presentation than a union, but the ingredients of the debate are quality. The sound of the OAE band is wiry and rustic, old in an exciting way with the full band together and the unusual middle-pinning by the theorbo, an eyecatchingly long-necked early lute strumming as vigorously as the strings are scrubbing.
The solo violin is another matter - I can't enjoy the scratchy, unwell-tempered tuning of Debretzeni's baroque violin, it grates like nails on a blackboard. Nor do I quite believe that Vivaldi's melodious ears would have been delighted by this low-calorie string sound. He lived during the golden period for violin-making - instruments were pouring out of the Stradivarius, Guarneri and Amati workshops that, even before modern adjustments, were surely being explored for their juice and poignancy of timbre.
Oguike has the most eclectic and inquisitive musicality of any choreographer I can think of in the UK
However, Oguike (who has the most eclectic and inquisitive musicality of any choreographer I can think of in the UK) took the skimpy sound as a bridge into an earthy folksiness that slapped imaginary boots and aprons on these dancers over their functional vests and pants.
The individuality of this half-Welsh, half-Nigerian choreographer is that, while you see the classical lyricism of the "British contemporary" in him (from his Richard Alston training), there's a distinctive thump, pulse and bottom-waggling swagger in the bold way his choreography seizes the whole stage space, even when not all the dancers are surrendering fully.
You unconsciously breathe more deeply, you smile with sense of well-being, when a line of Oguike dancers drive over the stage defiantly smacking their bare feet on the ground, or throw clenched fists exultantly over their heads. You could imagine the beautiful Sunbee Han as the dance's more sensuous equivalent to the violin soloist, with her airy fingers, arching body and luxuriantly splayed toes.
Good dance gets under your skin because an individual over there on the stage has hooked into your nervous system
Share this article
theartsdesk is changing
Thank you for continuing to read our work on theartsdesk.com. In September we reached our fourth birthday and feel that the time is now right, in line with other media outlets, to start asking our regular readers for a contribution to help us develop the site further. Theartsdesk has therefore moved to a partial subscription model. For unlimited access to every article in its entirety, including our archive of more than 7,000 pieces, we're asking for £2.95 per month or £25 per year. We feel it's a very good deal, and hope you do too.
Take an annual subscription now simply click here.