Kavakos, Matsuev, London Symphony Orchestra, Gergiev, Barbican |

Classical music reviews, news & interviews
Kavakos, Matsuev, London Symphony Orchestra, Gergiev, Barbican
Two master soloists help deliver a heavenly conclusion to Gergiev's Szymanowski cycle
Thursday, 20 December 2012
Valery Gergiev with Leonidas Kavakos: 'their balances in the Second Violin Concerto were often absolutely as one could have wanted'
Valery Gergiev's exploration of the music of Karol Szymanowski is one of the most vitalising series mounted at the Barbican in recent years - to compare, say, with Sir Colin Davis's Sibelius and Berlioz, Michael Tilson Thomas's tributes to Leonard Bernstein, or Gergiev's own Shostakovich and (increasingly) Prokofiev.
The first point, and Gergiev himself is in no doubt about this, is that Szymanowski belongs right up there with the best of them. An uncredited introductory note (the others, pithy and perceptive, are by Polish-Russian specialist Adrian Thomas) rightly points out that Szymanowski was born, in the then Polish Ukraine, during a three-year wunderkind period which also saw the births of Bartók, Stravinsky and Webern (he might have added Casella). As miraculous an era as the torch-passing year 1934 among English composers.
Bartók is especially relevant, for if one is going to compare Szymanowski's Fourth Symphony - a piano concerto in all but name, and composed like Bartók's last (American) works to keep the Polish composer afloat during a period of financial duress and terminal health problems - to anything, it would be to Bartók's as yet uncomposed Third Piano Concerto. The sound world is similar: the pressing, bubbling woodwind sustaining long lines in eerie double octaves, especially as hauntingly delivered here by 1998 Tchaikovsky competition first-prizewinner Denis Matsuev (pictured below right); and the sudden bursts of aggressive, then flailing, energy: other-worldly, mysterious, somehow disembodied.
The Fourth Symphony acquired an audible, intricate logic and allure, and detail galore
The last three are epithets one might expect to apply to Szymanowski's middle period - the First Violin Concerto, the Third Symphony (which Gergiev, paradoxically, rather hammered in the preceding concert) and the ravishing Songs of an Infatuated Muezzin. But that makes the point. Valid though the perception of Szymanowski's work as falling into three periods may be (Straussian and/or Regerian, exotically Ravel-like, and finally folksy, echoing (or even preceding) Bartók and possibly akin to the Stravinsky of Les Noces or The Soldier's Tale - there were splays of Firebird, too, in this LSO concert) the story is - as invariably with triple-period definitions of composers' work - insufficient: the exoticism feeds into even the acerbic elements of Symphony Four and (as witnessed here, in the wonderful hands of Leonidas Kavakos, surely the best thing to emerge from Greece since Theodorakis and Themistocles) the Second Violin Concerto. To feel this most intensely, it is worth listening to Szymanowski's late Second String Quartet.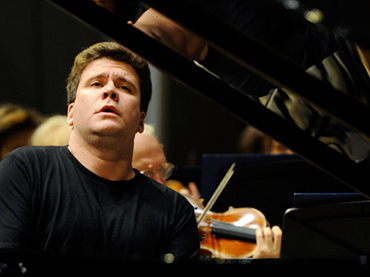 So why was Gergiev's reading of these two works, with soloists one could compare to Gilels and Oistrakh, so much more compelling than the chorus-led Symphony Three? Because Valery Gergiev, keen-eyed and keen-witted, imported into both the very qualities lacking in his "Piesn o nocy" ("Song of the Night"). Conscious of his soloists, and scrupulously accompanying them as he might in a Schumann or (more relevantly) Chopin concerto, he kept the whole orchestra restrained, nervous, on tenterhooks, allowing the piano, and in the second work, violin, to glisten and gleam, beckon or bluster: so that the whole of the symphony acquired an audible, intricate logic and allure, and detail galore - fabulous flutes, superbly mellow yet insistent clarinets, amazing flickers of bassoon (can a bassoon "flicker"?), and the piano in both works - for there is one in the violin concerto too, producing extraordinary, sometimes contradictory glints in the sensual textures, while boosting the percussive bits too - was allowed to emerge.
Here indeed was a comparison with Brahms, a composer Szymanowski (unlike Britten) admired, and whose influence is palpable on Szymanowski's piano sonatas, which remind us that Szymanowski's keyboard oeuvre defies period specification and introduces other ingredients to the heady, characterful (but absorbed, not eclectic) mix. With both composers (here it was Brahms's fourth and final symphony, a masterclass in instrumental deployment), the fascinating hinterland of external and internal detail, the phenomenal filigree of rippling woodwind, was never lost, even if the sound, albeit much less at the back than the middle of the Barbican, is still overwhelmingly immediate (give us a boomy, appetisingly reverberant cathedral anytime, or Symphony Hall's brilliant, enabling but now underused echo chamber portals), and needlessly acidic.
Kavakos's tone is gorgeous, robust, never sickly
Share this article
Subscribe to theartsdesk.com
Thank you for continuing to read our work on theartsdesk.com. For unlimited access to every article in its entirety, including our archive of more than 10,000 pieces, we're asking for £2.95 per month or £25 per year. We feel it's a very good deal, and hope you do too.
To take an annual subscription now simply click here.
And if you're looking for that extra gift for a friend or family member, why not treat them to a theartsdesk.com gift subscription?