Interview: Film composer Ilan Eshkeri |

Classical music reviews, news & interviews
Interview: Film composer Ilan Eshkeri
The man who wrote the scores for Coriolanus, Kick Ass, Stardust and Young Victoria on the tricks of his trade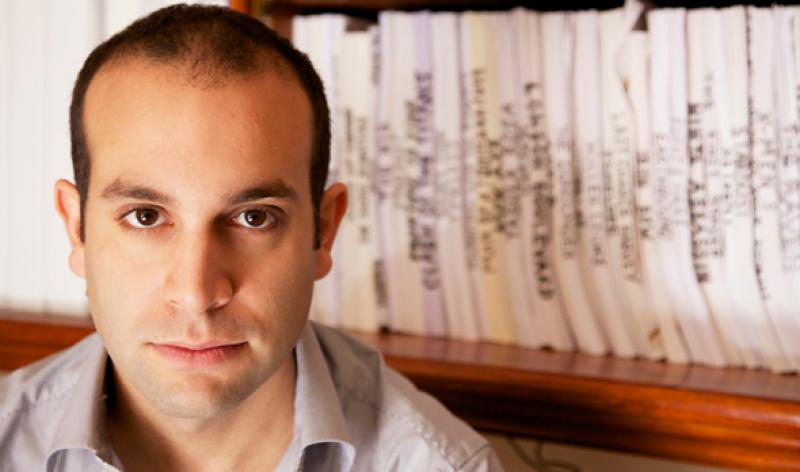 Ilan Eshkeri: 'film music is one arena when large audiences will accept quite avant-garde or bizarre music'
At his studio near White City in West London (he did say it was Notting Hill) Ilan Eshkeri's is adding a scratchy cello to a key moment in Ralph Fiennes film of Shakespeare's Coriolanus. It's the moment the inhabitants of Rome realise that Coriolanus, an exile, is about to attack them. It is, he says of the suitably ominous sound, "bent out of tune, weird – I'm getting into the sounds of breathing, I like a lot of dirt." In the studio is his producer Steve McLaughlin, and there are a couple of assistants bustling around.
Although not (yet, anyway) a household name, it's a fair bet that you will have heard some of Eshkeri's music on films like Young Victoria, Ninja Assassin, Telstar, Kick Ass, Layer Cake or Stardust. Numerous award nominations have been showered on him – from BAFTA to Ivor Novello. Unlike some film composers – Philip Glass or Michael Nyman come to mind – Eshkeri's style varies widely from film to film. "In some ways it would be good to be instantly recognisable – good for business in that it's an obvious brand. But I don't think I'd like to find myself going over the same things over and over." He adds modestly: "Of course, Glass will go down as one of the most significant composers of our time and I doubt very much that I will." He says that for that "film music is really just helping telling the story. The ideal thing can be to be invisible – although maybe have them humming it when they leave the cinema."
He'd love to do a thrash metal score. 'You're talking to someone who was a big Metallica fan'
He suspects the virtue of originality at all costs may in any case be over-rated, recalling an A-level teacher's advice "I was worried the music I was writing wasn't original enough. He said that a lot of people spent so much time trying to be original that they forgot to write any music." Eshkeri's music is certainly distinctive and eclectic, and reflective of period and ambience. One of the most enjoyable aspects for him is researching the background for the films; for Young Victoria, he explored the history of waltzes of the time. "We had to give the idea that Victoria wasn't this dowager dressed in black but was a mischievous, cool, beautiful young woman. The waltz was the fashionable dance of the time".
For Centurion, Neil Marshall's film about the ill-fated Ninth Legion's attempts to wipe out the Picts in Caledonia in the second century, Eshkeri researched ancient Scottish music, going up on a jaunt to the Highlands where he discovered the Carnyx, an old instrument made of a pig's head "that made the kind of scary sounds you might have heard through the fog".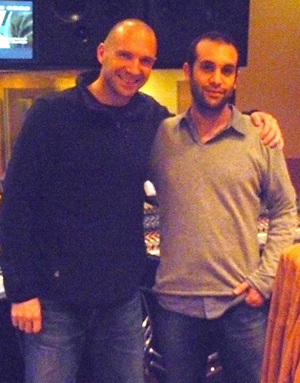 Eshkeri's compositions reflect his own wide musical background. From being brought up in a classical music household (an Israeli father and French mother who loved to play the piano music of Chopin) he got into Public Enemy and NWA in his teens. Then he "completely shifted and got obsessed with grunge from Seattle" and was briefly in a school rock band before getting very interested in film music. He studied both English literature, which came in handy for discussing Shakespeare with Ralph Fiennes, and music at Leeds University. By the time he was 18 he was already acting as assistant on films for composers such as Edward Shearmur, who wrote the score for Miss Congeniality and Johnny English. He recalls "making tea in Abbey Road" and "having some real world experience, which was more valuable than my academic education".
While some of his teachers at university were advocates of atonal, 12 tone music, it was also a time were "more tonal composers like Arvo Pärt and Henryk Górecki were being rediscovered". Of the more hard core modernist composers like Pierre Boulez he says: "I wouldn't listen to them for fun, but now I see a lot of value in composers like that – film music is one arena when large audiences will accept quite avant-garde or bizarre music such as quite a lot of the music I'm composing for Coriolanus, for example. Think of the music in films like The Shining."
Apart from "obvious choices" like Ennio Morricone and John Williams, Eshkeri's favourite film composers include John Corigliano, who provided some memorable scores, notably for The Red Violin, and his student Elliot Goldenthal, who wrote the claustrophobic music for Alien 3 and Titus. Eshkeri rates Goldenthal's "mad ideas – he does things like have four people with scissors around a mike, and records that. He's an inspiring figure."
Film music is one arena when large audiences will accept quite avant-garde or bizarre music
Explore topics
Share this article
Subscribe to theartsdesk.com
Thank you for continuing to read our work on theartsdesk.com. For unlimited access to every article in its entirety, including our archive of more than 10,000 pieces, we're asking for £2.95 per month or £25 per year. We feel it's a very good deal, and hope you do too.
To take an annual subscription now simply click here.
And if you're looking for that extra gift for a friend or family member, why not treat them to a theartsdesk.com gift subscription?