Classical CDs Weekly: Bach, Berlioz, Michala Petri |

Classical music reviews, news & interviews
Classical CDs Weekly: Bach, Berlioz, Michala Petri
Funereal Bach, Byronic Berlioz and a Danish fairytale for choir and recorder
Saturday, 18 February 2012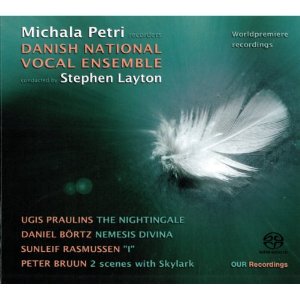 The Nightingale: New Nordic Music for Recorder and Choir Michala Petri, Danish National Vocal Ensemble/Layton (OUR Recordings)
You don't find many discs of music for recorder and a capella voices. Veteran Danish virtuoso Michala Petri joins forces with a crack Danish choir in a fascinating selection of new works. The delight lies in hearing just how well the unadorned clarity of Petri's tone blends with the vocals. Perhaps it's less of a surprise when you're reminded of the recorder's purity – no valves, reeds or mouthpieces stand in the way of sound production. The main attraction here is Latvian composer Ugis Praulins' English setting of Andersen's The Nightingale. Praulins' eclectic compositional style is readily accessible, encompassing fierce dissonance, speech-like chant and warm diatonic simplicity, over which Petri's lyrical nightingale song can effortlessly soar, contrasting with the shrill staccato squeaking of the bird's mechanical replacement. Wonderful stuff, with a radiant conclusion.
Daniel Börtz's Nemesis divina sets words by an 18th-century botanist. Most effective is the close, with the text reduced to hushed detached syllables punctuated by chirruping recorder. Faroese composer Sunleif Rasmussen's "I" is harder to assimilate, though it's impossible not to marvel at the fearless accuracy of the Danish National Vocal Ensemble's singing. Peter Bruun cites his first musical influences as Spandau Ballet and Duran Duran. There's little trace of either in his Two Scenes with Skylark, a contrasted pair of poems by Gerard Manley Hopkins. Petri excels when playing a softer-toned tenor recorder accompanying The Caged Skylark. Stephen Layton directs with style, and the disc is spectacularly engineered.
Explore topics
More Classical music
Share this article
We at The Arts Desk hope that you have been enjoying our coverage of the arts. If you like what you're reading, do please consider making a donation. A contribution from you will help us to continue providing the high-quality arts writing that won us the Best Specialist Journalism Website award at the 2012 Online Media Awards. To make a one-off contribution click Donate or to set up a regular standing order click Subscribe.
With thanks and best wishes from all at The Arts Desk