Britten 100: Death in Moscow |

Classical music reviews, news & interviews
Britten 100: Death in Moscow
Outstanding countertenor Iestyn Davies chronicles Russian premiere of Britten's last opera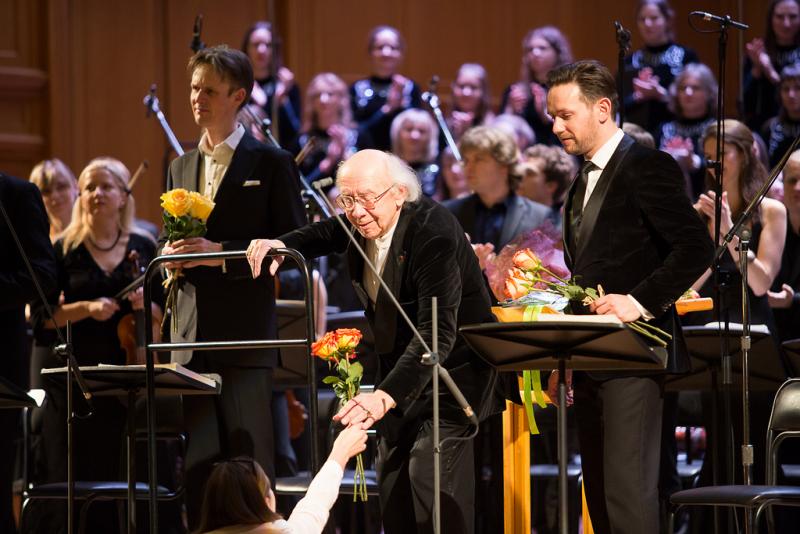 The great Gennady Rozhdestvensky receives Russian roses while Ian Bostridge and Iestyn Davies look on
"A cold coming we had of it," grumble the three kings in T S Eliot's poem "The Journey of the Magi" later set by Britten as his Canticle IV. "Just the worst time of year for a journey," they complain, carried onwards by the ungulate bass notes of the piano. Barely 48 hours after having stepped foot on the harsh, wintry Russian soil my two travelling companions (Ian Bostridge and Peter Coleman-Wright) and I lined up on the stage of the Small Hall of the Moscow Conservatory and delivered Britten's five Canticles, weary eyed and journey worn. One could say this was life imitating art, save for the absence of any dromedaries.
Outside, the snow had begun to fall, rapidly covering the huddled passers by buried in all manner of furs, evidence of the sudden decline in temperature. Yet the warm glow of the Conservatory lights began to swell as the evening's concert drew to a close and back on stage we took our bows to the applause of an audience experiencing this strange, haunting and beautiful music, many for the first time. A sea of faces beamed appreciation in our direction, some familiar, some less so. To our left were the welcoming faces of the British Council and Britten-Pears Foundation and to our right, mouth agog and eyes glazed over with an equal combination of pure joy, age and worldly experience, was the face of Gennady Rozhdestvensky the Russian maestro who had himself met Britten and amongst other things given the first Russian performance of A Midsummer Night's Dream in 1965.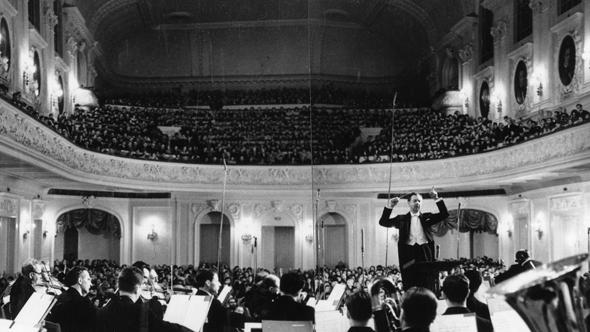 This notable gathering was now to give the Moscow premiere of Britten's final operatic work Death in Venice some forty years or so after the composer's own excursions to this country. His relationships with Rostropovich (the composer conducting the Moscow Conservatory world premiere of his Cello Symphony in 1964 pictured above) and Shostakovich are well documented, but his music has enjoyed a less significant conference with the Russian ear. So with winter encroaching all around us and the last fruits of summer a distant memory, the scene was set for the first telling of this tale of ambiguous death. But this was an occasion for birth and of new beginnings: every bit a Venetian voyage of trepidation in a country where middle-aged men engrossed in the beauty of young Apollonians is hardly en vogue.
Yet it was the mission of the British Council and Richard Jarman, General Director of the Britten-Pears Foundation, to celebrate Britten's work and connections with Russia, for as Jarman has said, "I got the impression that there was a keen and curious audience for all sorts of music in the city [Moscow] and that Britten's name and reputation were still familiar. Seasons of Benjamin Britten in Russia is an opportunity to refresh the audience's knowledge and to present some new and unfamiliar works."
No greater evidence of this sort of work was needed than at our first rehearsal. Framing the stage were ranks of student singers making up the chorus. Similarly desks of student instrumentalists jostled for elbow room with the occasional professor from the Conservatory and the opera school's elite crowded somewhere in the middle, eager to make an impression with the odd line here and there: "Signor, would you like a chair?", "Buy my beautiful lace!", "Stampa…Newspapers!", and so on. Last time I visited Venice it was indeed this crowded. And at the front we three stood awaiting the maestro. This was not about us peering behind the curtain and pointing at our hosts but about them taking something unfamiliar from us and making it their own.
My English-speaking colleagues and I were lending the helping hand, bridging the gap between this performance and our own experience of this music begun in Deborah Warner's 2007 ENO production (the author pictured left as Apollo in a Milan staging of Warner's production). The hard thing for anyone performing this opera is that everything that happens revolves around one man and so you need a strong Aschenbach from the off. Ian Bostridge is just that. Tall and commanding in the role, he had to establish a crucial unspoken connection between himself and the large throng of musicians behind him (Bostridge and Rozhdestvensky during the performance, below).
Yes, we were all facing Gustav von Aschenbach and working our way around his troubled mind but we also faced Britten and his legacy. It reminded me of what that great Britten scholar Donald Mitchell has written about this opera: "that there is no verbal communication between the two principles in Death in Venice certainly creates a situation ripe for music". The second principal, of course, being the dancer Tadzio. However, this was a concert performance without a dancer, without the very linchpin around which Aschenbach hangs out his desires and fears. Mitchell continues: "music can do everything that cannot in this case be spoken". And there it is, the music was central to this performance, central to the whole year of the Britten celebration in Russia.