South Asian Literature 1: Romesh Gunesekera Q&A |

Books reviews, news & interviews
South Asian Literature 1: Romesh Gunesekera Q&A
The prize-winning Sri Lankan author on the rude health of subcontinent literature
Saturday, 16 October 2010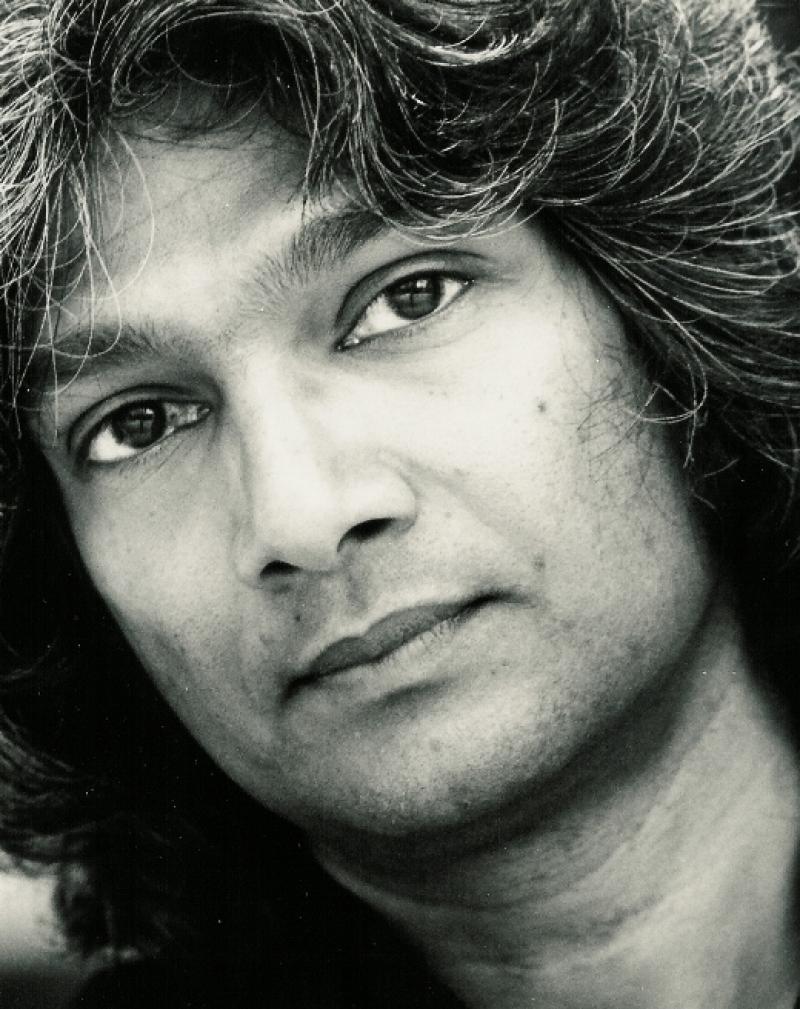 Romesh Gunesekera, the Sri Lankan-born British novelist: 'Usually we don't have to identify ourselves in 15 words'
The inaugural South Asian Literature Festival takes place in London over 10 days. It has drawn authors such as Amit Chaudhuri, Fatima Bhutto, Kenan Malik and Mohamed Hanif, as well as publishers, translators and artists (performance and graphic) connected with the region. Over and above events relating to tribal art, oral culture, travel writing, cultural offence and the literary divide (if such there be) between India and Pakistan, the festival will also feature the announcement of the shortlist for the inaugural DSC Prize for South Asian Literature, a $50,000 award recognising "writers of any ethnicity writing about South Asia and its diasporas", the winner of which will be declared at the Jaipur Literature Festival in January. Theartsdesk speaks to prize-winning Sri Lankan author Romesh Gunesekera, about the festival's ambitions and the rude health of subcontinent literature.
ASH SMYTH: Does the line-up for the DSC festival reflect an interest in the literature of British-based Asians as much as of South Asia itself?
ROMESH GUNESEKERA: Yes, I think it does. Their interest is in focussing on South Asia geographically, but definitely on the diaspora as well.
And what events are you involved in?
I'm doing a fiction workshop in the British Museum, using the museum itself as a starting point. And I'm doing an event on cricket and writing – largely because of my last novel, The Match – on how my interest in sport might lead into fiction.
Do you play?
No, I'm not a sportsman; but I have an interest in cricket – like everybody else in Sri Lanka! My interest was in how to use the cricket experience in Sri Lanka to explore the issue of identity.
Given the diaspora/identity 'issue' in literature, how do you refer to yourself?

"Sri Lankan-born British writer". Though I must say it's not something that troubles me a huge amount (and if we're being technical then London is where I've been for the last 20 years). It's more about how people define an identity… and usually we don't have to identify ourselves in 15 words. If you write fiction then you're primarily a novelist. I'm sure the places you live have an effect on your fiction. The Match for example has a lot to do with the Philippines I lived in. But does that make it a Filipino book? Or do you have to be a Filipino to write a book about the Philippines? The reception suggests that you don't have to be a Filipino to be true to Manila. That fits the DSC prize ideas.
The festival involves a lot of writers who live outside South Asia. How does that influence the flavour of things?
I think the organisers wanted a festival in London that promoted writing – and not just writing – to do with South Asia. It is trying to be broad and experimental, mixing different themes and art forms.
Is the London festival an off-shoot of Jaipur? I mean, with the set-up for the DSC prize…
The London festival is only connected to Jaipur through DSC's sponsorship. The organisers [producers Bhavit Mehta and John Slack] have visited the Jaipur festival, of course, but there's no formal link. And the London festival has a very different line-up. Britain has hundreds of literary festivals – 300-and-something, one for every day of the year. There are other, very different, literature festivals in London; and London has had other South Asian festivals – to do with art, for instance. So this, in theory, might be pushing two or three different strands together. But I hope it becomes a fixture.
How did the festival come about?
About 18 months ago Bhavit came to speak to me about it. There was no sponsorship or funding. There was just an idea to try to get the funding. But the organisers have talked to as many people as they can and been to as many literature festivals as they can, and I'm sure they've given it the best start they can. If it's successful there's no reason why, in the future, it couldn't broaden out.

Is it fair to point out that the vast majority of the festival guests are connected either to India or to Pakistan? How realistic is it to expect a range of festival-goers (speakers or punters) from Bangladesh, the Maldives or Afghanistan, which are all listed as South Asian for the purposes of the DSC prize?

Well, it's not that there's a lack of a broad range of countries; it's just to do with their being small. But then look at Ireland, or Trinidad. Sri Lanka is a very interesting example, having a literary tradition in all three of its languages [Sinhala, Tamil, English], and yet it languished for many years. I remember when my first book [Monkfish Moon, a collection of short stories] came out, writing in English was seen as nothing much. But now people know about these writers.
People within those countries?
Yes – and they are keen on them. In India people see writers paving the way. But in the case of the DSC festival, and it's a case of what can you manage to do and who is available? One year it may be all Pakistani or Indian; the next not.
Let's talk about the prize. There will inevitably be talk of what constitutes "a South Asian novel"; but is the prize open to the accusation that it has one foot out of the Asian door? The 16 longlisters are a highly internationalised bunch. Amit Chaudhuri, Ru Freeman, Neel Mukherjee – almost all expatriates, now or at some point in their lives.

Well, in one sense it's wide open: the process is merely a function of the judges. Most prizes in this country work that way – the taste of the people on the judging committee (unlike in France, for instance, where they're often voted for by publishers, assessed on reputation). But it would be quite interesting to look at the other big prizes – the Orange, the Booker – and do the analysis you've done. Ian Jack, the former editor of Granta, and one of the DSC judges, did this a few years ago, and found that 80 per cent of the Booker longlist were Oxbridge graduates.

I'm not really thinking about the status of the authors so much as the seemingly purposeful hunt for a certain kind of book – a book spanning "both" existences, Western and South Asian. Siddharta Bose's festival blurb, for example: "His poetry mirrors his experiences as an Indian immigrant and citizen of a globalised century."It's rare to find yourself wishing literary attitudes were more insular; but I'm wondering if the prize actively encourages a literature of what you might call "voluntary exile".

I don't think that's true on various counts. It makes it sound like all you have to do is move… and then look back. Always, always, always, writers have written from some place of movement. You didn't sit in the French provinces; you don't write from a remote village. Shakespeare moved to London and wrote. And if there's no geographical movement of any kind then there's the distance travelled emotionally or psychologically. That's what happened. No one wants a cabal. But there will always be people who win prizes simply because they come to the attention of the prizes. And publishers are there to publish somebody who's living in the region: they'll be putting writers forward for these kinds of prizes. What would be interesting is to see what sort of novels were put forward in total.

Amongst other criteria, to be eligible for the prize submissions have to be in English, either originally or in translation. Obviously that makes top-flight subcontinent literature more accessible, globally – but surely only in areas, geographically and culturally, where it's already embraced?

Well, it's a practical issue, really. It would be great to have translation into other languages. One of the things that prizes achieve is that certain writers do become more well known overnight. But those prizes serve less of a purpose if they can't be international. One very good thing with the DSC prize, though, is that the translators get equal credit. And even having something open to translation is good – many prizes are available only to a book in one specific language.

DSC say that South Asian literature is at a "crucial standpoint". Is it? Or is it now, specifically?

I think it means people outside of India are beginning to realise that this is happening. And there's much more publishing in India, too – that is a change. More writers in their traditional publishing industry have flourished. Sri Lankan writers, likewise, who are now "outside" Sri Lanka. But it's obviously a moveable feast. It must be 10 years since The New Yorker said that Indian writing had come of age. You could say that was the tipping point. A tipping point. And, generally, writing from the wider world has become better known at a faster pace than it used to.
Technology?
No, education, actually. Look at a country like Britain. Education has changed a lot over the last 50 years. Historically, the emergence of the novel coincided with the explosion in education; before that, literacy was a very isolated habit.
So the readership is also coming of age?
Yes, and it's huge. Arundhati Roys are very rare, of course. But your middle-class reader changes: the demographic changes. And publishers don't know where they are yet. Good or bad, that's what's happening.
Always, always, always, writers have written from some place of movement. Shakespeare moved to London and wrote
Share this article
Subscribe to theartsdesk.com
Thank you for continuing to read our work on theartsdesk.com. For unlimited access to every article in its entirety, including our archive of more than 7,000 pieces, we're asking for £2.95 per month or £25 per year. We feel it's a very good deal, and hope you do too.
To take an annual subscription now simply click here.
And if you're looking for that extra gift for a friend or family member, why not treat them to a theartsdesk.com gift subscription?