Taylor Wessing Photographic Portrait Prize 2014, National Portrait Gallery |

reviews, news & interviews
Taylor Wessing Photographic Portrait Prize 2014, National Portrait Gallery
Taylor Wessing Photographic Portrait Prize 2014, National Portrait Gallery
Affectionate family portraits, subtle references to the history of art, and a worthy winner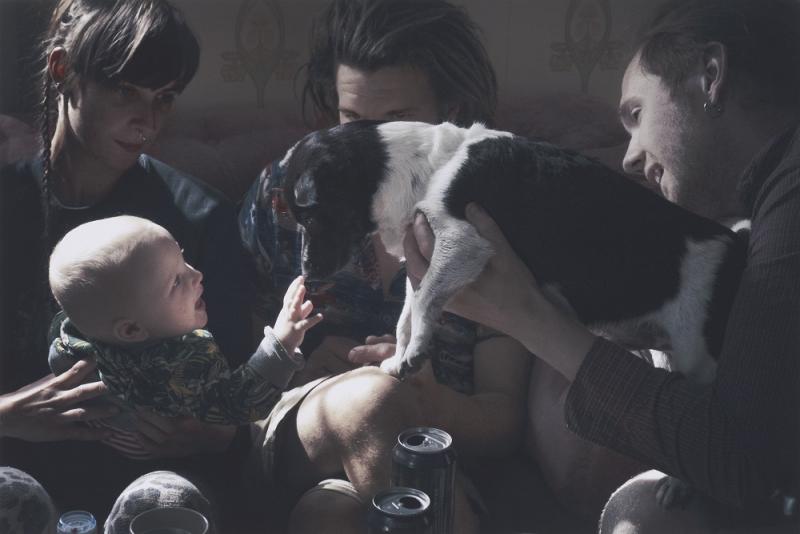 Winning portrait: Konrad Lars Hastings Titlow by David Titlow, 2014
It is hard to know whether the thematic and stylistic threads running through this year's Taylor Wessing Prize are evidence of some general shift in approach, or simply reflect the judges' tastes. In any case, where last year's shortlist featured stark portraits highlighting the tricky power relationships between photographer and subject, this year's competition tends towards something gentler and more empathetic – an altogether homelier sort of photography.
Submitted by over 1,700 photographers from all over the world, including amateurs, students and well-known professionals, many of the most successful images, including the winner, are group portraits with an emphasis on family and friends.
Amongst the 59 entries selected for the final exhibition, there is a welcome departure from the camera as an interrogative tool, with a definite whiff of nostalgia in the frequent nods to a more domestic sort of photography that belongs in family albums or framed on mantelpieces. Laurence Cartwright's Dog and boy, 2013 (Pictured below), shows the photographer's son crouched next to a dog he befriended while on a family holiday. The boy is mimicking the dog's posture, still and alert, waiting to jump into the water after a stick or ball. It is beautifully composed, the symmetry of the two forms emphasising the bond between them, while the knowledge that in a minute, or even a second, one of them will move and this perfect scene will be lost forever, lends the scene an elegiac quality. It is an affectionate and humorous family picture, but in its wholesome depiction of a boy playing outside, immersed in nature in an endless summer, it expresses a wistful, universal idealism.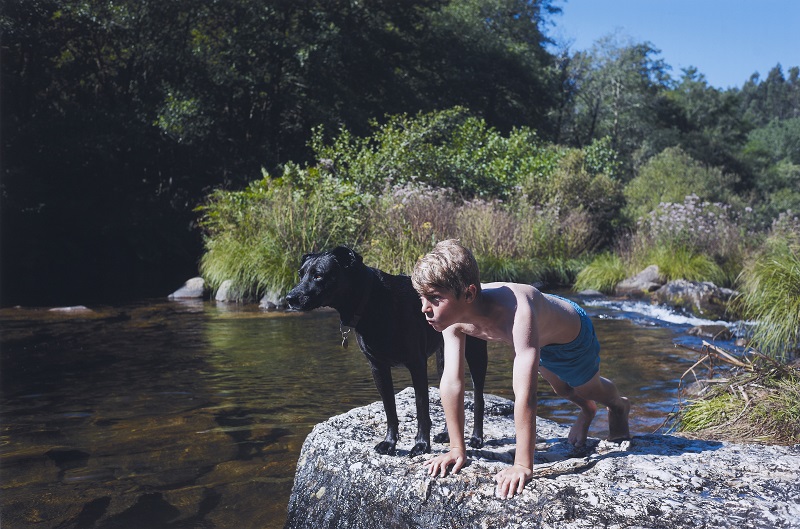 Sian Davey's family picnic hints knowingly at art historical antecedents, invoking the rich western tradition of paintings depicting people en plein air; like so many 18th-century images of figures at leisure in a pastoral idyll. The adults, absorbed in their game of backgammon, are oblivious to the bawling, naked child disrupting the centre of the composition, recalling the chubby putti so often present in Arcadia.
A number of photographs here have a real painterliness about them, with Ben Stockley's Ángel Nieto, 2013 an arrestingly beautiful portrait of a woman who, eyes downcast, has a face like a Raphael madonna. Photographed at work in what must be a noisy and busy kitchen, the portrait envelops her in stillness, recalling Vermeer's women absorbed in domestic duties.
David Titlow's winning portrait is also reminiscent of a Dutch genre painting, both in its depiction of a group completely absorbed, and in the wonderful light that bathes the photographer's baby son as he is introduced to the family dog (Main picture). The narrative of this central encounter, and the reactions of the adults seated around is made all the more legible and dynamic by the light falling from left to right, guiding our eye across the piece and emphasising the main compositional elements. While this lovely chiaroscuro effect emphasises the image's painterly quality, and suggests a degree of artfulness in its construction, we are told that this picture is an example of true photographic serendipity, a moment captured in the blink of an eye. In fact, Titlow's approach is touchingly old-fashioned; in the era of digital photography where images can be endlessly scrutinised and retaken he says, "You never really know what is going to happen – it's pure magic."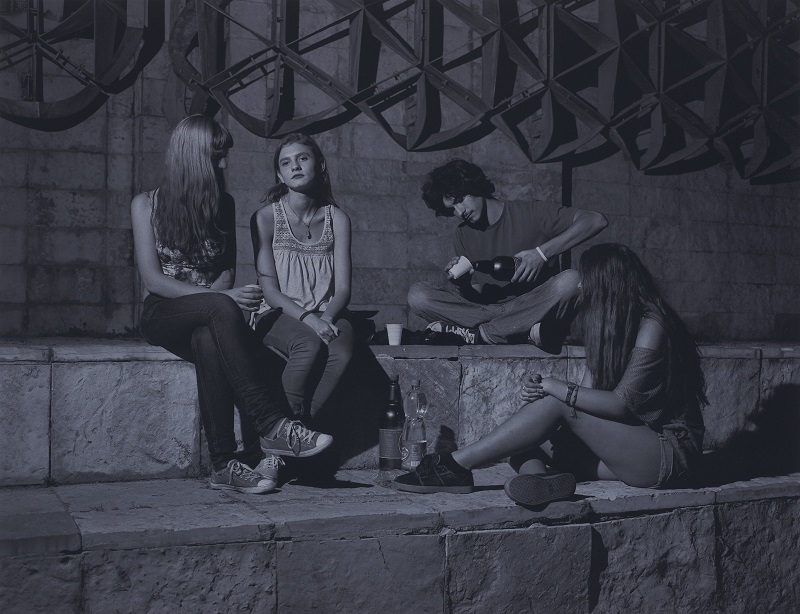 David Titlow's perfect photographic moment might well have earned him a degree of approval from legendary Magnum photographer Henri Cartier-Bresson, who coined the now ubiquitous phrase "the decisive moment" to describe his practice of making a picture "in the camera", at the moment the shutter clicks, with minimal adjustments made in the dark room. Interestingly enough, the most problematic image in the exhibition pays a sort of anti-homage to Cartier-Bresson. Horribly underexposed, and dispensing with mid-tones to highlights, Blerim Racaj's Indecisive Moment, 2013 is a curiously effective image, although its merits as a portrait are less certain (Pictured above).
Racaj's group of disenfranchised Kosovan youths drinking in the street was photographed over a long period, with the whole process heavily stage-managed to achieve the desired effect. Racaj simultaneously wanted to realise his own fully formed concept of how the picture would look, while intervening as little as possibly to minimise his subjects' awareness of the camera. Sure enough, there is a troubling disconnect between the photographer and his subjects, and the lack of any upper tonal register has a deadening effect – it is as if a fog has descended, isolating the subjects from the viewer. The effect of orchestrating the image over time also shows, with the action appearing more slowed down than frozen in time – the difference, perhaps, between a film still and a photograph. Does it say much about these individuals? I'm not sure. But as an attempt to portray a generation of young Kosovans facing a bleak and unpromising future, trapped in their own Indecisive Moment, it is both ambitious and disconcerting.
David Titlow's perfect photographic moment might well have earned him a degree of approval from legendary Magnum photographer Henri Cartier-Bresson
Share this article