The spooky and the bold in the art of contemporary China |

reviews, news & interviews
The spooky and the bold in the art of contemporary China
The spooky and the bold in the art of contemporary China
Asia Triennial Manchester showcases the biggest exhibition of contemporary art from south of the Great Wall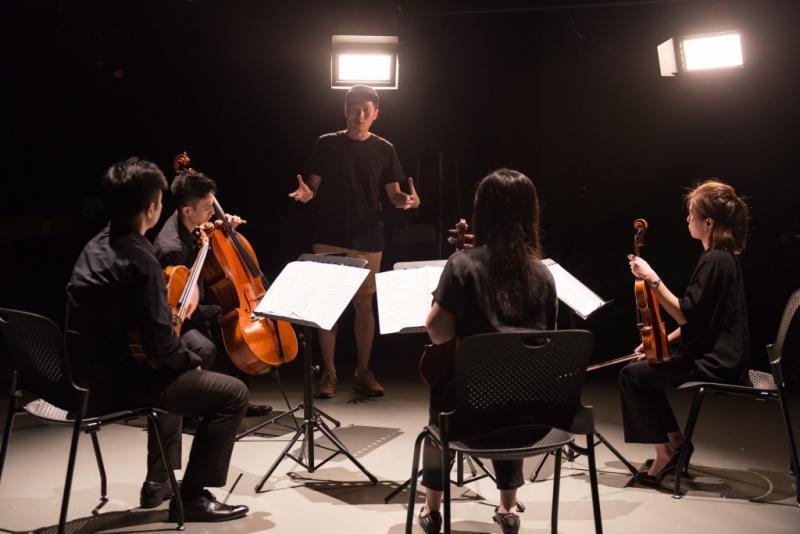 Samson Young's Muted Situations: the only sound is fingers pinching strings
In China there are more than 100 million fans of Manchester United. At least that's what I'm told when I get to the the city's National Football Museum. And in a sartorial decision unusual in the art world, we are greeted by artist Chen Wenbo wearing an Arsenal football scarf. In sport, as in contemporary art, the Chinese are often playing the same game as us.
The Asia Triennial Manchester hosts the UK's largest exhibition of contemporary art from south of the Great Wall. Harmonious Society, who make up the bulk of the triennial, has a display co-ordinated by the Centre for Chinese and Contemporary Art (CFCCA). Given China's record on censorship and the current situation in Hong Kong, this could mean "harmony" at any cost.
But it turns out that contemporary art, with all its ambiguities and oblique strategies, can say as little or as much as you want to hear. More than 30 major artists are represented in Manchester, with about half of those responsible for new site-specific commissions. If you were looking for irony in the title of this colossal show, you will find it in Wang Shishun's 270-kilo brass cylinder, also called Harmonious Society. Eight technicians were needed to heave this piece into place and it now stands at a 30-degree angle, threatening to fall at any moment. It's a miraculous feat, perhaps on a par with representing a state of a billion people.
There are bold, simple and poetic gestures at every turn
Exhibits are as confident as you might expect from nationals of the world's most expansive superpower. Whether lining the wall of a warehouse with animatronic flags, reconstructing library books in silicon, or growing turf in a gallery space, there are bold, simple and poetic gestures at every turn. Zhang Peili's monochrome flags have a monolithic appearance in dusty warehouse ArtWork. And the section of pitch, which TOF Group has installed at the National Football Museum, is evocative and transportive thanks to the smell of earth and grass.
But if a national characteristic emerges from this show, it could be a certain uncanniness. The Chinese appear to love a ghost story. By pulsing air through replica books (modelled from silicon rubber) in a reading room at John Rylands Library, Wang Yuyang makes the volumes breathe or even whisper. Just as spooky was Chen Chieh-Jen's piece filmed in HD black and white on the site of a leprosy hospital in Taiwan. The camerawork is beautiful, the pace dreamlike, and the result elegy rather than ruin porn. The sanitorium is due for demolition, much to the dismay of the remaining residents and the anger of many in the wider community.
This work can be found in the Museum of Science & Industry (MOSI) along with Chang Huei-Ming's haunting, ephemeral sculpture, The Last Rose. The plinth of this eponymous white rose sends vibrations up the stem as if a train is passing overhead. This apparently speeds up its decay. The Museum will replace the rose with a new one each morning.
Li Wei is another artist who appears to channel the supernatural. His installation would be a bit weird anywhere, but installed in Manchester Cathedral A Decorative Thing (pictured below) could certainly freak out some of the faithful. The artist has created a metallic two-sided mirror with a sculptural border of real and imaginary beasts, such as winged apes. Both as a comment on evolution, and an evocation of the stuff of nightmares, it's an intelligent response to the building's medieval surrounds.
Another ArtWork piece is more Bladerunner than Wizard of Oz. Here too are the neon pictograms which comprise an inspired sculpture by He An. The Chinese characters have been stolen to order from advertising hoardings and recombined to give us a statement of philosophy rather than marketing. The blazing red letters tell the viewer that, It Is Forever Not. One only wishes a Western artist could have thought of this and produced an English language version.
But so many works in this revelatory exhibition can work in any language. Samson Young is the second artist whose visit to the John Rylands Library has inspired new work. Through his interests in both studious silence and deafness, Young presents Muted Situations, a series of films with the expected soundtrack circumvented at source. For example, his string quartet, in full flow, don't connect with their bows – the only sound is fingers pinching strings. This work, about disability, also flags up the passion which many Chinese hold for Western classical music.
The take out from Harmonious Society is that China is not as insular as you might imagine. And we're told the country's "most expensive" painter, Liu Xiaodong, spent four weeks in Tel Aviv, where he painted approachable locals from both sides of that particular conflict (pictured below: diptych from the series In Between Israel and Palestine, 2013). The results can be seen now at the Centre for Chines Contemporary Art (CFCCA), which is at the hub of this citywide display of Chinese art.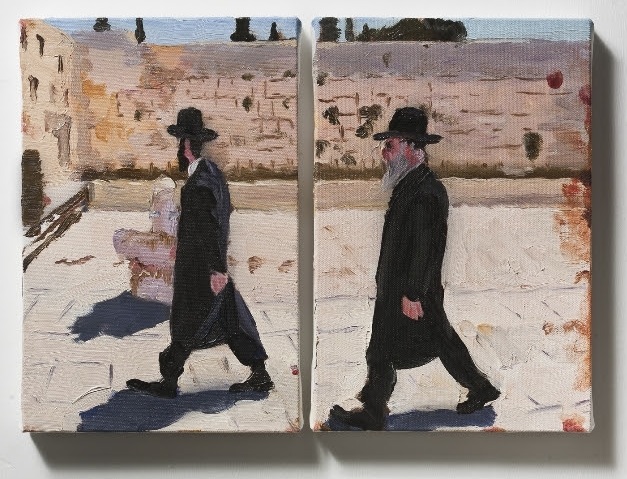 Liu Xiaodong's personable, neutral gaze is what brings the wider exhibition of Chinese art together with the triennial's overarching theme: Conflict and Compassion. If there is a criticism to be made of Harmonious Society, it would be the show's indirect approach to war. In 2014, after Syria, Gaza, and the Ukraine, the quiet poetry of, say, Chang Huei-Ming's trembling rose, might seem a little passive.
But on the whole China stays out of trouble. The intrepid painter at CFCCA is also an avid diarist and we read in one of his entries that, throughout the disputed territories: "They like Chinese people. I could tell by their smiles".
Whether peaceable envoys to the Middle East or to England's North West, artists surely make better ambassadors than retired prime ministers. They are specialists in finding common ground, after all. This year may have seen the UK-Russia Year of Culture run into difficulties, but renewed hope is offered by this show from further afield, despite events of the past year.
Compared with the Chinese fanbase of a seasoned Premier League football club, visitor numbers to this eye-opening show may be small. But Harmonious Society promises a lot more than 90-minutes of entertainment; it offers to bring two cultures together in a deeper, less tribal way.
Exhibits are as confident as you might expect from nationals of the world's most expansive superpower
Explore topics
Share this article
Subscribe to theartsdesk.com
Thank you for continuing to read our work on theartsdesk.com. For unlimited access to every article in its entirety, including our archive of more than 10,000 pieces, we're asking for £3.95 per month or £30 per year. We feel it's a very good deal, and hope you do too.
To take an annual subscription now simply click here.
And if you're looking for that extra gift for a friend or family member, why not treat them to a theartsdesk.com gift subscription?