Lumiere Festival 2013, Durham |

reviews, news & interviews
Lumiere Festival 2013, Durham
Lumiere Festival 2013, Durham
Artichoke's spectacular four-night event lights up the city
Saturday, 16 November 2013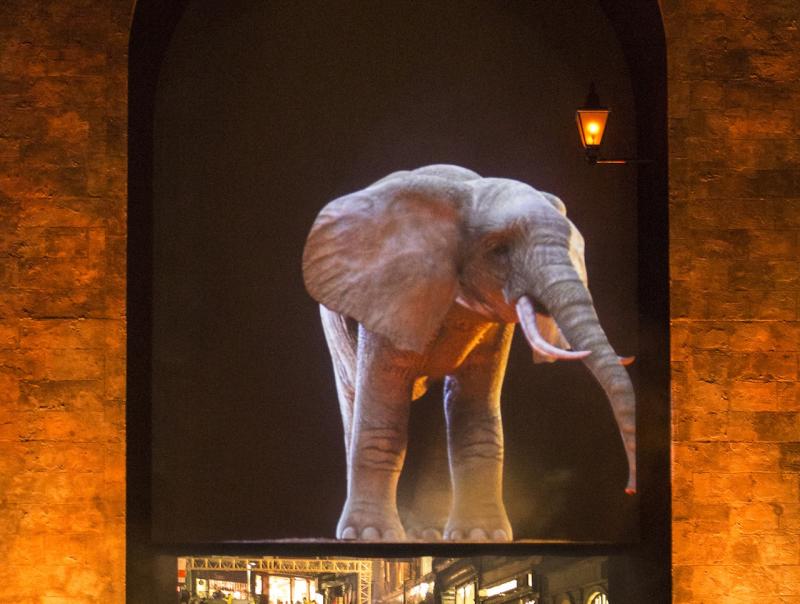 Elephantastic, a giant 3D projected elephant, located on one of the city's bridges
The trumpeting of a lone elephant can be heard all around Durham city centre, blasting across the River Wear. The organisers of Artichoke's Lumiere Festival, now in its third biennial year, have been turning up the volume as the evening's progressed. The 3D elephant, which is the work of French design group Top'là, is a magnificent optical illusion projected onto a replica medieval fortress arch on Elvet Bridge, complete with thunderous audio.
It's one of several light works currently dotted around the city centre, which is known as The Peninsula – the river wraps around the old part of the city like a horseshoe – and its environs (27 installations in all). The elephant is attracting huge crowds, but the centrepiece of the evening still has to be Durham Cathedral. Onto the edifice pages from the Lindisfarne Gospels are projected in a 15-minute display, accompanied by music. It's the work of UK artists Ross Ashton, Robert Zeigler and John D'el Nero. Inside, illuminating the nave which otherwise remains in complete darkness, delicate filters of light flicker and dart like fireflies, while the sturdy Norman columns and east and west walls, are encircled by weaving and dancing loops of light. The work is by French duo Atsara, and sitting in one of the pews, away from the hubbub, feels incredibly peaceful.
It would take a determined individual to get to see all the works in one evening
Ephemeral outdoor artworks which are this ambitious are inevitably dependent on the weather. On the night I attended there was too much of a high wind for one particularly spectacular work: Rafael Lozano Hemmer's Solar Equation, the world's largest helium balloon, and a stunning fiery orange replica of the sun, albeit 100 million times smaller. Still, it would take a determined individual to get to see all the works in one evening, and this year the decision was taken to spread the artworks right across the city, helping to ease crowd congestion. This has its downsides, but the popularity of the event is testament to its success.
Back in 2009, Durham put in its bid to become the inaugural UK City of Culture, and Artichoke, the charitable arts trust behind The Sultan's Elephant, the giant mechanical elephant that paraded the streets of London's West End for three days in 2006, were invited to create an event that would help the bid. They lost to Derry-Londonderry, but Durham County Council has kept the festival going. Now, for its City of Culture year, the Northern Irish city, which is hosting the Turner Prize 2013, will also host the festival – in a slightly slimmed-down version with many different works – later in the month.
Overleaf: a gallery of some of the works on view over the rest of the weekend in Durham
Click on the images to enlarge

The popularity of the event is testament to its success
Explore topics
Share this article