Beatriz Milhazes: Maresias, Turner Contemporary review - the taste and sight of Brazil |

reviews, news & interviews
Beatriz Milhazes: Maresias, Turner Contemporary review - the taste and sight of Brazil
Beatriz Milhazes: Maresias, Turner Contemporary review - the taste and sight of Brazil
A retrospective of the Brazilian artist's career transports us to Rio de Janeiro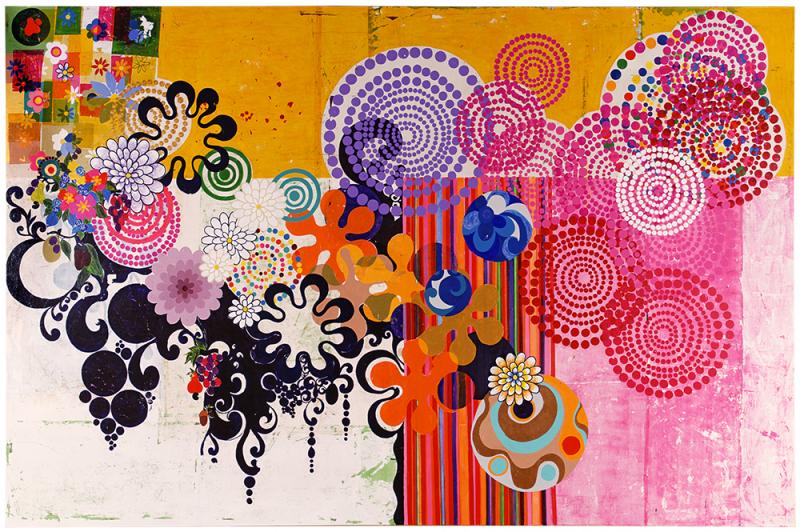 Beatriz Milhazes, 'O Diamante', 2002, Acrylic on canvas
For those unable to travel to far-flung places this summer, look no further than Turner Contemporary. Featuring the work of Brazilian artist Beatriz Milhazes, the exhibition transports you to the sandy beaches, vibrant streets and candle-lit cathedrals of Rio de Janeiro, Brazil.
Aptly titled Maresias (a reference to the sea breeze of the coastal region), this rapturous foray into Milhazes' decades-long career positions you in the everyday life and environmental fabric of Rio. There are multi-coloured beads of paint reminiscent of Catholic rosaries, and lace ruffles suggestive of flotilla carnival costumes and Eucharist garb. There are exuberant bursts of flora and fauna typical of the lush mountainous environs. And there are the characteristic fizzing Catherine Wheel-like circles, which entrance whilst enveloping concepts and memories deeper than the surface of the paint.
Touring these five rooms, then, gives you more than a taste and sight of Brazil in all its colourful multiplicity, vitality and abundance. Looking at these expansive and expressive paintings, we voyage through a country's complex cultural and colonial history, and embrace the artist's own evolving practise.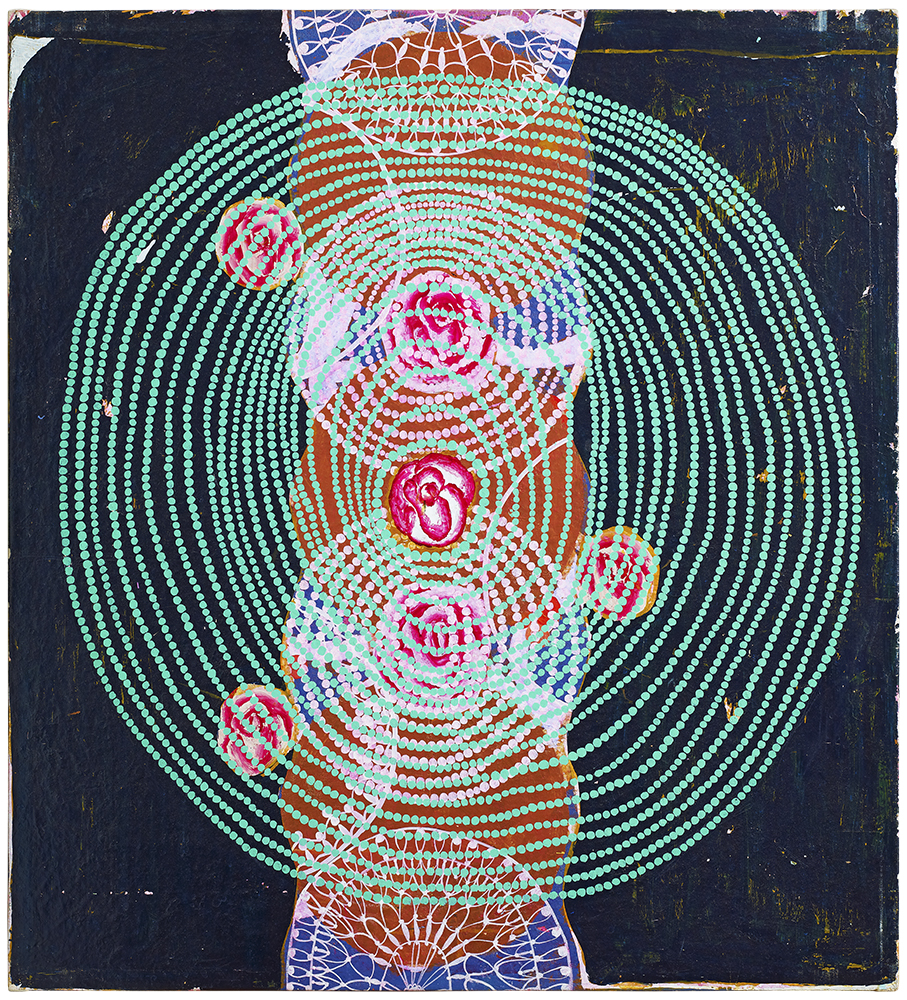 It starts, nevertheless, with the literal material paraphernalia of Brazilian life. Breaking away from the conceptual art of the period, Milhazes' early paintings from the 1980s and 1990s are a clever and, at times, anarchic celebration of Brazil's cultural history.
Gathering together an assemblage of decorative items and motifs from Baroque architectural and sartorial design through to contemporary market fabrics, Milhazes revels in the very "stuff" of which Brazil is made. In A Flor da banana, 1993-94 (pictured right), a spherical mass of sea-green beads lays atop smaller pink mandalas, necklace-like motifs and interlacing rosettes, which in turn are set against an austere black backdrop.
These infinite strings of bead-like paint are employed to affect a more than ocular illusion, and would become a staple in Milhazes' paintings; a surface "patternment" upon which she would hang other circular motifs, symbols and curlicues of significance.
Here, however, they attract our gaze in and of themselves, encircling and ensnaring the eye, creating layers of allusion and illusion whilst quite simply signifying beads, stones, embellishments and threaded strands found in markets and shops and sewn onto clothes.
Unboundedly colourful and deceptively decorative, Milhazes' early works could be seen as exactly that: mere decoration, a delight for display and painted for the carnivalesque joy of it. But she goes further than initial appearances and assertions. Each circle spirals and spins into another, intersecting with new rotating forms and overlaying delicate cylindrical webs of sense and time. Thus in Fleur de la passion: Maracujá, 1995-96, the dark flourishes and ruffled collars of the baroque, details of Portuguese colonialism, interconnect with flowering and finely woven nets that are more evocative of indigenous visual vocabularies and forms of craft.
Symbolically as well as visually resonant, Milhazes' painting holds these multiple eras and the politics which inflect their aesthetics in tandem. Her early works don't so much as harmonise the inherent tensions and contradictions of these cultural and colonial histories, as allow them to speak and compositionally converge, one with the other. We hold, therefore, these historical narratives, as told through symbolic ones, in our line of vision too.
This layering and pastiching of Brazil's eclectic historical landscape onto that of her works is done through a technique of "monotransfer". Akin to collage, this printing technique sees the artist paint and draw onto plastic sheets which are then transferred onto canvas. Layers accrue and surfaces crack, forming part of the play of depth and surface, feeling and meaning. Though personal to her and ever redolent of the multilayeredness evident in Rio's spaces and traditions, Milhazes' painterly and compositional practise also looks outwards, beyond the local surroundings, to European influences. In these early compositions we see, therefore, the impact of Wassily Kandinsky as much as we espy the influence of Henri Matisse, Sonia Delaunay and Bridget Riley in later creations.
Yet residues of artistic influence resurface only to enhance and redirect our attention to the eclectic eye and palette of the artist herself. If in O Leme, 2002, Milhazes' kaleidoscopic vision is offset by a Rileyesque striped background, then in O sol de Londres, 2003, this influence is virtually obscured by the polychromatic blocks of colour behind the surfacing images.
In fact, despite both these paintings referencing British sites and artistic styles, they still revolve around a rhythm of brushwork and perspective all of Milhazes' own. O sol de Londres, 2003, takes its cue from psychedelia, hippie culture and Pop Art, but its generative composition, where flourishes of fleur and filigree give way to others, is idiosyncratic the artist. Central to this explosive sight is a core floret, the nucleus from which this charged cosmos of hearts, petals, stars and peace symbols spins. Burning brightly, O sol de Londres explodes into animation before your eyes, whilst its central flower has the gravitational and mesmerising pull of a miniature sun.
Milhazes describes herself as a scientist, and these two paintings certainly set up a kind of compositional equation whereby atomically charged circular forms react to produce a repeated chain of other spherical shapes and swirls, all of which are so lavishly and liberally applied to vaster, bolder, brighter canvases of this period (such as O Diamante, main picture, and Maresias, both 2002).
With this we come full circle, via the later works of Milhazes. Inspired by organic forms, these paintings take us back to the predominant influence of Rio, to Brazil's ecological and architectural structures and figures, and to how they intersect and interact upon the painted plane. In O desfile de leques, 2023, daubs of acrylic combine with broader strokes to create ovular and fan-like shapes that dip into rotating and wave-like sections; a reminder of how the decorative and synthetic motifs in her earlier works are now natural ones.
Sarará, 2010, similarly reimagines earlier elements to draw us close to the environmental, by having bubbles of solid colour flow fluidly through watery lines and crescendo into lengths of wave. Such works exude unrestrained confidence, the virility of the natural forms from which they take their name and are inspired. But they also look to that quietly present force, the show's original theme: the sea. For once we walk out of the gallery and look towards the window – which is transformed into an organic vista of contoured yellows, greens and blues, a sublimated cornucopia of vines, orbs and stars – the English coastline moves into view, intersecting with that titular Brazilian ocean breeze, so readily and generously bestowed on us, travellers of a kind, through Milhazes' Maresias (pictured above left).
Each circle spirals and spins into another, intersecting with new rotating forms and overlaying delicate cylindrical webs of sense and time
rating
Explore topics
Share this article