World Without End, Channel 4/Blandings, BBC One |

reviews, news & interviews
World Without End, Channel 4/Blandings, BBC One
World Without End, Channel 4/Blandings, BBC One
Ken Follett and PG Wodehouse offer contrasting visions of the English shires
Stodge: Cynthia Nixon wears brown in 'World Without End'
Recipe for Follett Without Finish, a popular broth. Ingredients as follows. One History of Medieval England. One crown, preferably tarnished. Axes, in abundance. Similar quantities of sword. Drawerful of knives. Much rope. A couple of dozen pieces of timber (human). Some French accents. One patch of Hungary. Goodly supply of Saturday night primetime.
First, dress Hungarian patch to look like muddy, woody shire. Plant timber (human). Next, rip up History of Medieval England and replace with codswallop supplied by Follett. Wrongfoot audience by showing funeral of Edward II but tastefully not showing sticky end of said monarch. Place crown on dastard, or bastard, or if possible both. Mix in French accents for added villainy. Using axes and swords, crack heads and break legs of lords, yeomen, peasants, wenches etc. Sever, where necessary, limbs of same. With rope, hang indiscriminately. Using knives, slice and/or dice. Where no metal implements to hand, fists will do. Or simply plunge in water and drown.
The BBC have sensibly positioned Blandings as an entertainment for all the family
Meanwhile, take several female bits of timber and penetrate with male lumps of wood - forcibly and repeatedly. Lob in dog-eared mumbo-jumbo concerning monks, medicine and witchcraft, then mix with ingratiating if entirely bogus feminist agenda. Sprinkle smattering of quite well-known actors (in this case Ben Chaplin, Miranda Richardson and that coppernut off Sex and the City) and give almost nothing to do in return for blood money. Decorate with well-scrubbed eye candy. Say "fuck" a lot because they, you know, did back then. Important: be sure to boil off all nuance and other subtle flavourings. For best bludgeoning impact, allow the full two hours to turn to stodge. Or, for preference, switch off early.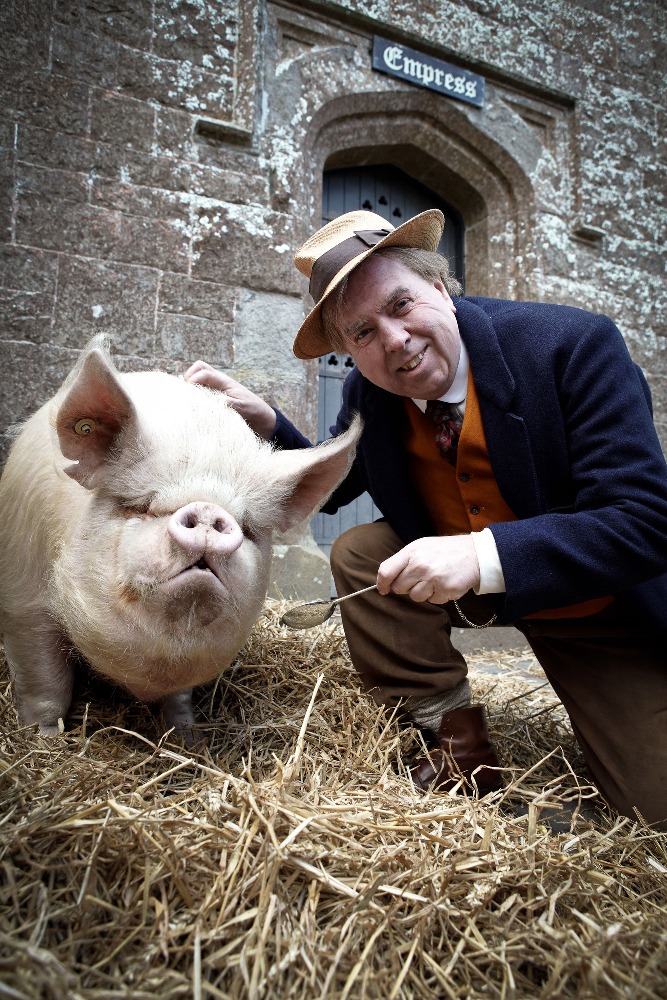 Fast forward to a jollier English shire. The last time PG Wodehouse was a hit on the small screen was a good couple of decades back when Fry and Laurie slipped into the apparel of Jeeves and Wooster. Bally good fun it was too. Since then, the frightful cads and dishy heiresses of Wodehouse's world have had to carry on flapping in print. Here, however, comes Blandings, adapted from Wodehouse's series of rural capers set in prelapsarian Shropshire.
Rather than lavish oodles of budget on a spiffing primetime rival to Downton, the BBC have sensibly positioned Blandings as a Sunday early evening entertainment for all the family. From the moment the Empress, Lord Emsworth's prizewinningly sizeable pig, unleashes her first flatulent fanfare, the scheduling looks (and sounds) vindicated. Cast as his Lordship is Timothy Spall (pictured above right with cast member), suggesting just a whiff of the maxim that all pigs look like their owners. As Connie, his termagant of a sister, Jennifer Saunders often threatens to harrumph off to her room if she doesn't get her way. Deprived of the jaunty, silken music of Wodehouse's prose, we are yet to find out why this dire warning is quite such a bad thing.
With Lost in Austen, Guy Andrews has already proved a dab hand at paying tribute to much loved literature while luring it towards the present day. Sometimes here he meddles a little too assertively. When Freddy Emsworth (Jack Farthing) was busy getting the Old Bill drunk in order to break ex-cowboy Jimmy (James Norton) out of jug, pleasing strains of rag and Charleston made way for anachronistic boogie-woogie. Meanwhile some jokes are going to sail over the heads of a younger audience. Freddy alluded – a touch too louchely for teatime – to the Pink Pussy Club. And nowadays not everyone is going to laugh at this one: "Harrow? Yes I guessed he'd known corruption in his youth." But it's fun and, unlike Follett's folly, doesn't think the world of itself.