Women in Love, BBC Four |

reviews, news & interviews
Women in Love, BBC Four
Women in Love, BBC Four
A new adaptation does not get over The Rainbow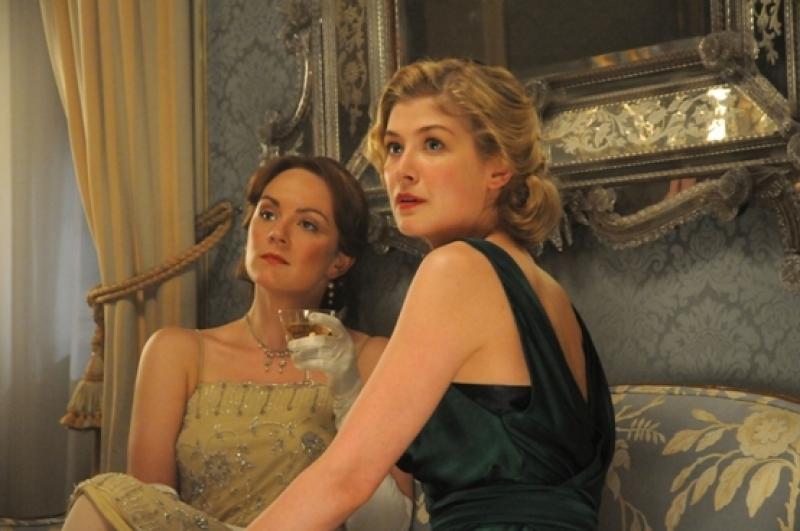 Sisterly feelings: Rachael Stirling and Rosamund Pike play the Brangwen girls Ursula and Gudrun
As preparation for this new account of Women in Love, I conscientiously picked up a copy of the novel for the first time since studying it at university. Big mistake. By half an hour into the drama I was in a state of some discombobulation. His adaptation may be called Women in Love but William Ivory has dipped back into The Rainbow, the novel's preceding companion volume. At some point he seems to have lobbed both books into a cement mixer.
The question is - why can't he? After all, once upon a time they were both meant to be part of the same volume called The Sisters. You can't muck about with Jane Austen and not expect to walk the plank. But DH Lawrence doesn't have a huge sorority of avid readers primed to spring to his defence, not these days when the battle for female sexual self-expression is so over - much more than it was when Ken Russell had a go at Women in Love in 1969.
Just to establish what Women in Love so far isn't, it isn't about the love affair of the two Brangwen sisters, Gudrun and Ursula, with two young men, the mine-owner's son Gerald Crich and the schools inspector Rupert Birkin. Nor does Birkin inspect schools any more - he preaches - and Ursula doesn't teach in one (or not yet). Gudrun is an artist who has thus far spent much of her time gallivanting in London not doing any art but pursuing a racy love affair with a failed painter. Gerald's father still owns a mine, though as the drama was shot in Cape Town there's not much evidence of Nottinghamshire soot. (Hats off to director Miranda Bowen: this exotic England looks ravishing, and reasonably English, though be warned that part two was shot in Namibia.)
Meanwhile, the Brangwens' mother Anna, whose story is told in the middle third of The Rainbow, has been given a day pass to the 1910s, where her marital anxieties are now contemporaneous with the exploratory bumpings and grindings of her daughters. And for one final extra dollop of infidelity, the Brangwen girls are meant to be in their mid-twenties. Who are these thirtysomething MILF sophistiquées they've morphed into thanks to the exigencies of name casting?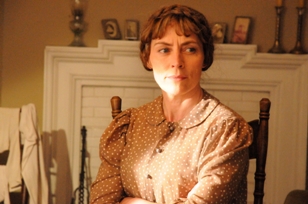 So, confused? I'm wondering if those who've never gone near Lawrence's tremulous quasi-religious prose stylings will count themselves any less so. Having ripped up what counts in Lawrence for plot, what Ivory seems to be striving for, at least in this first part (of two), is a kind of dramatised triptych which portrays the evolutionary stages of female sexuality. In one panel is Anna, played by Saskia Reeves (pictured above), unfulfilled with a husband (Ben Daniels) who is incapable of giving vent to his feelings (no doubt it's all sublimated into the motorbike Ivory has given him). In another is Ursula (Rachael Stirling), fresh from a brutalising relationship with the officer Anton Skrebensky, whose child she has miscarried. And then there's Gudrun (Rosamund Pike), predatorily hunting down her married man.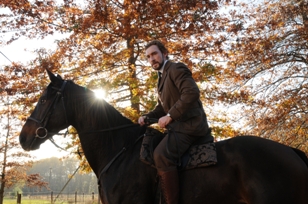 And because they haven't been let into the lives of the sisters yet, Gerald (Joseph Mawle, pictured left) and Rupert (Rory Kinnear) are left to jaw to each other about progress, modernity and the Lawrentian concept of blood-brotherhood. "I'm getting on, Rupert," said Gerald. "The spirit of the age, isn't that what you said? Like an exploding shell. A machine." (He said this, by the way, over the corpse of his drowned sister, whom he had just dragged from the lake at a country house party. There being the best part of two novels to cram in, this exchange evidently couldn't wait.) By the end of the first episode it was as if the boys had got bored hanging around for their dates to turn up. We found Gerald shagging a pick-up from behind in his motorcar; meanwhile, on a train full of soldiers off to the front, Birkin's latent homosexuality was retrieved from the cutting-room floor where Lawrence consigned it.
Although his plays are almost never performed, Lawrence wrote very fine dialogue. He just didn't put it in the novels. Ivory, like other adapters, is left to stitch together some exchanges you can actually listen to without biting your fist, while the actors do their considerable best to believe in the attitudes they are required to embody. "I refuse to be bound by the weary sickness of pedantry and tradition," declaimed Gudrun like some metal-breasted Amazonian (the line is actually a lift from one of Lawrence's letters).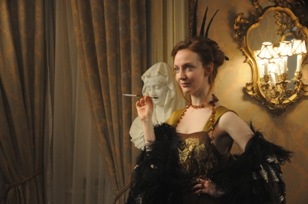 The portrayal of post-Edwardian girls in pursuit of liberty is given an extra turbo thrust here and there. Gudrun played a quick burst of Also Sprach Zarathustra, though one doubts whether the Brangwens had a phonograph on which to play it (or indeed such a very nice house to live in). By the end Arvo Pärt's Spiegel im Spiegel was weeping on the soundtrack. Meanwhile, people said "fuck" a lot, as if they're halfway through Lady Chatterley's Lover. Particularly potty-mouthed was the frightful Hermione Roddice (Olivia Grant, pictured above), the ex-lover of Rupert who survives more or less intact from Women in Love.
As for the sex, well, there's a lot of it, most of it punishingly unerotic. There was no sign of Ursula's sapphic noodlings most recently revisited only the other day in Celebrity Naked Ambition. Instead she was taken by Skrebensky in various positions – a beach, a hotel, against the inevitable apple cart – but felt nothing. Goodness, she even had to pleasure herself. "I broke with Anton because he did not feed that animal side of me," she told her mother. I'm not sure girls say such things to their mums even a century on, but let's not split hairs. Anna wisely replied that "we must keep the flame crackling in the grate". She was as good as her word. In my notes I was just about to write "not much nudity :-( " when Reeves and Daniels as the senior Brangwens played out a beautiful and very simple act of marital rapprochement.
The scenes featuring Reeves feel like the most emotionally honest in the adaptation. But the subtlest moment of dramatic truth came when Gudrun, back from a broken tryst on the coast with her married artist, was confronted at a London party by his betrayed wife. That she'd dragged her children along felt ridiculous. Not so the long close-up on Pike's face as Gudrun tried to pass off her public humiliation with a smile that wouldn't quite rise. Lawrence is nothing if not alive to annihilating emotions which his characters cannot find words to express. And here, for once, the picture did all the talking. I'm still wondering whether to carry on with the series or go back to the book. Probably both.
THE BEST OF ROSAMUND PIKE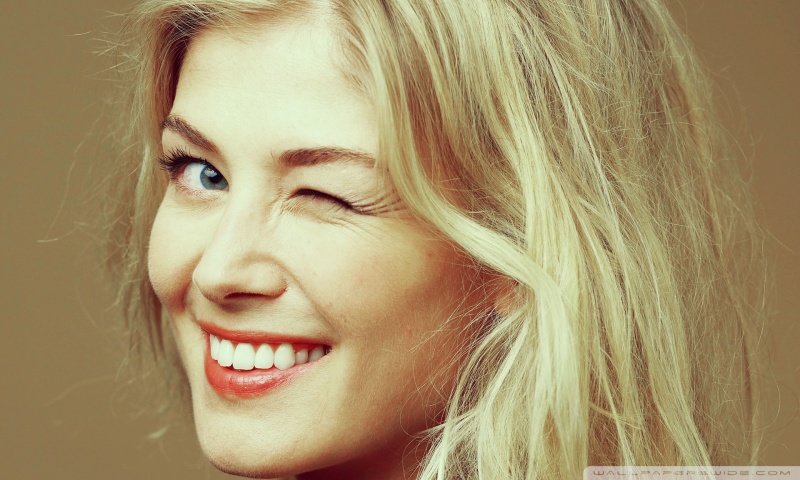 A United Kingdom. Love, race and power politics under African skies

Barney's Version. Pike plays the third wife as novelist Mordecai Richler makes a mostly welcome return to the screen
Gone Girl. Pike compels in unfilmable book triumphantly brought to the screen by David Fincher
Jack Reacher. Pike survives the famous curse of Cruise
Made in Dagenham. Pike almost steals a warm-hearted comedy about ladies striking for equal pay

PLUS ONE TURKEY
Thunderbirds Are Go. Pike voicing Lady Penelope cannot save the day for ITV reboot
The Brangwen girls are meant to be in their mid-twenties. Who are these thirtysomething MILF sophistiquées they've morphed into?
Share this article