Trom, BBC Four review - there's something fishy in the North Atlantic |

reviews, news & interviews
Trom, BBC Four review - there's something fishy in the North Atlantic
Trom, BBC Four review - there's something fishy in the North Atlantic
Murder, conspiracy and ecological awareness in a cold climate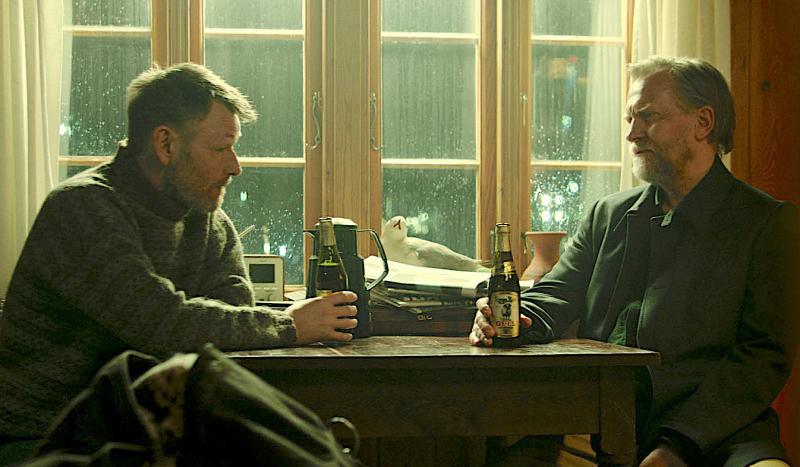 Hannis Martinsson (Ulrich Thomsen, right) with his brother Haraldur (Hans Tórgarð)
In the middle of a pavement-cracking, railway-melting heatwave, what could be more refreshing than a visit to the bleak but bracing landscapes of the Faroe Islands? This 18-island archipelago midway between Norway and Iceland is where BBC Four's latest Nordic drama is situated, and its themes of murder, conspiracy and ecological awareness strike a topical note.
A Danish-German-Faroese-Icelandic co-production, Trom doesn't display the schizophrenic (or quadrophrenic) characteristics that might imply, but instead is a methodical thriller deftly played by a cast which is always unflashily plausible. At centre stage is investigative journalist Hannis Martinsson (Ulrich Thomsen), an introspective character who wears a permanently puzzled frown as he picks his way through what turns out to be a knotty tale of skulduggery and malfeasance.
His involvement in the story begins when he receives an unsolicited video message from Sonja (Helena Heðinsdóttir), an activist living in the Faroes who's involved with the Guardians of the Sea protest group. The Guardians are campaigning to prevent the traditional but gruesome Faroese practice of slaughtering whales – and dolphins – by driving them ashore and massacring them on the beaches, a ghastly spectacle guaranteed to appal most onlookers. Nonetheless, screenwriter Torfinnur Jákupsson lets one of the whalers put the other side of the story, that at least the Faroese whale cull is sustainable and doesn't leave the oceans fatally polluted by chemicals, pesticides, plastic etc.
In her video, Sonja reveals not only that she has a story she thinks would interest Hannis, but also that she's being threatened and is concerned for her safety. Oh and by the way, she tells him that she's his daughter, thanks to his affair with her mother Aurora many years earlier. All this is more than enough to persuade the stunned Hannis to abandon any other plans, head back to his native Faroes, and get on the case. But we're not even at the end of episode one when events take a tragic twist, as Sonja's body is found floating in the sea as the whalers prepare to practise their grisly trade.
As the drama develops, it unravels a murky conspiracy involving the Iktus fish processing factory, one of several fishing-related companies owned by local business tycoon Ragnar (Olaf Johannessen). The cold, creepy Ragnar portrays himself as a philanthropic and self-righteous white knight to the local population, even offering a 500,000 kroner reward for information about Sonja's death, but all the threads in the investigation seem to lead back to him.
But what keeps Trom – which apparently means "cliff edge" in Faroese – consistently watchable is the breathtaking and atmospheric Faroese landscapes, coupled with the detail about the relationships between the characters in this strange, open-to-the-skies yet claustrophobic society. In some respects it's reminiscent of BBC One's long-running Shetland series.
Hannis, so estranged from his own family that he didn't return to the islands for his parents' funeral, is now forced to re-establish contact with his brother Haraldur, who's part of the whaling fleet. Bergur, the local car mechanic, is a three-time loser with a long criminal record who insists it really wasn't him who sabotaged the cars of Sonja and her colleague Pall Hansen. Local police chief Karla Mohr (Maria Rich, pictured above with Olaf Johannessen) finds her commitment to catching Sonja's killer compromised when she discovers evidence that her son Gunnar (Magnus Reinert Gasadal) was with her shortly before her death, and takes the potentially career-terminating decision to erase some incriminating surveillance videos. It's well worth an iPlayer binge.