Strike Back, Series 6, Sky 1 review - more stories for boys |

reviews, news & interviews
Strike Back, Series 6, Sky 1 review - more stories for boys
Strike Back, Series 6, Sky 1 review - more stories for boys
Gung-ho special forces yarn charges back into action
Wednesday, 01 November 2017
Warren Brown as Mac, Daniel MacPherson as Sam Wyatt
Laughable though it frequently – oh go on then, always – is, Strike Back is obviously a target-rich environment for those of a thespian persuasion.
The likes of Richard Armitage, Andrew Lincoln, Robson Green and Michelle Yeoh have passed through the
show
's bullet-spattered portals over its previous five series, and for series six Warren Brown gets the gig as the special forces maverick out for retribution.
The source of these vengeful sentiments was revealed in the opening set-piece, stylishly shot in panoramic high-def. A Black Hawk helicopter thudded purposefully across the hot, sandy wastes of the Syria-Jordan borderlands, carrying Brown (aka Sgt "Mac" McAllister) and his squad to a rendezvous point where they would pick up a prisoner, the notorious terrorist Omair Idrisi (Don Hany). All hush-hush and below the radar, of course. The handover was going terribly well until a bunch of "insurgents" appeared over the horizon and started firing rockets at our brave lads. Amid a barrage of gunfire, McAllister's comrades were massacred and Idrisi was whisked away in a jeep. Only the fact that Idrisi's gun ran out of ammo had saved Mac's life.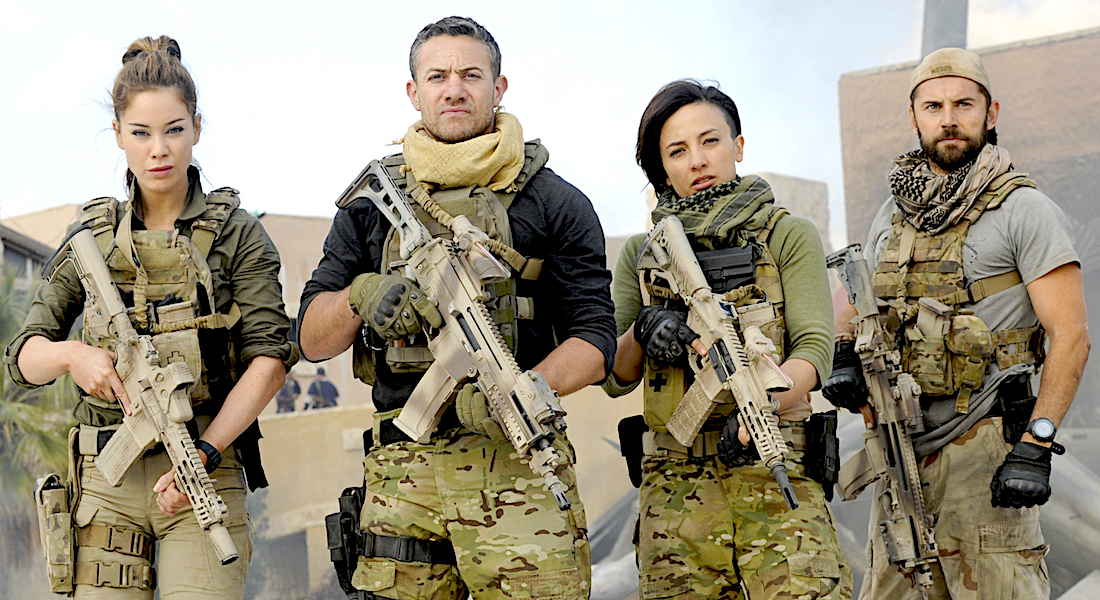 Back at base, Mac was about to be court-martialled for punching the officer he blamed for his mission going belly-up. Happily however, his career was resuscitated by the arrival at his door of Colonel Adina Donovan (a stern Nina Sosanya), who was looking for bellicose soldiers with an attitude problem. "Dangerous soldiers for dangerous missions" was what she craved, and she'd come to the right place. She was offering Mac the chance to hunt down the murderous Idrisi, a one-man basket of deplorables, and Mac signed up without a second's hesitation.
Strike Back thrives on back-slapping buddy-hood, so they had to find a chum for Mac. Step up Samuel Wyatt (Daniel MacPherson), an American Special Ops guy who Mac first encountered being waterboarded by the Libyan National Army. Mac was shocked to find that Sam was a bit of a liberal, who told him not to kill his captors since they were, in theory at least, on the same side. "Why don't we just all join hands and sing 'Kumbaya'?" snarled the exasperated Mac.
Anyway, soon the boys found themselves on the same team, because Wyatt had been peremptorily assigned to Colonel Donovan's command, presumably because co-producer Cinemax wanted an American in the cast. The mixture was further enriched by the addition of petite but hard-boiled trooper Gracie Novin (Alin Sumarwata, from Australia) and Canada-born (but Australian-accented) Roxanne McKee as Captain Natalie Reynolds. In her skin-tight minidress, lip gloss and white stilettos, there's somehow something un-military about Captain Reynolds, and her fake-seduction of terrorist financier Prince Khalid in a swanky Tripoli nightclub looked like a Pussycat Dolls video.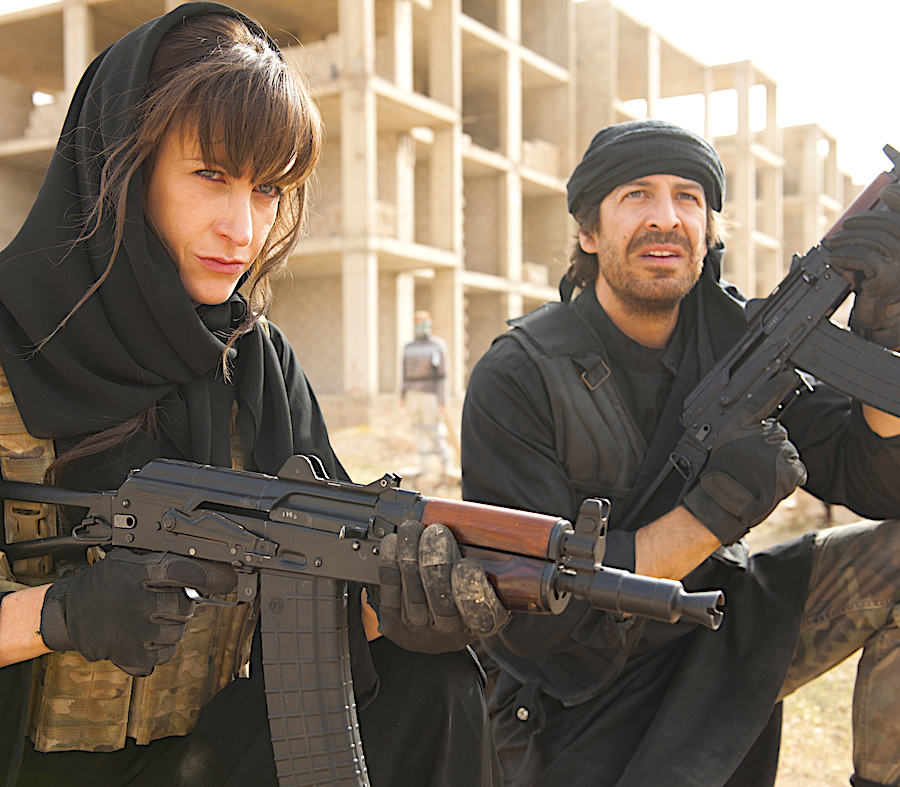 But this sort of thing happens in Strike Back. Having survived a terrorist massacre at the nightclub, our exotic squad were soon back on the trail of Idrisi, as well as his British wife Jane (Katherine Kelly, pictured right with Don Hany), strangely transformed since her days as Lady Mae in Mr Selfridge.
And in the final frames we suddenly came face to face with Trevor Eve, who's playing unscrupulous arms dealer Morgan Ives. "I really do love the money," smirked Ives, much as Vincent Price might have said it. It's odd how murder, terrorism, murky geopolitics and the arms trade are considered the ideal ingredients for glossy international entertainment co-productions, but that's where we're at.
Enjoying The Arts Desk? To access all our coverage of TV, film, theatre, art, new music, opera, classical, dance, comedy, books and gaming, updated daily, buy an annual subscription for only £30