Perry Mason, Sky Atlantic review - low life and hard times in Depression-era LA |

reviews, news & interviews
Perry Mason, Sky Atlantic review - low life and hard times in Depression-era LA
Perry Mason, Sky Atlantic review - low life and hard times in Depression-era LA
What Perry did before he became a courtroom superstar
Matthew Rhys as Perry Mason
Rather like David Suchet's Poirot, the world will always think of Raymond Burr as the doughty defence lawyer Perry Mason, whom he played in nine TV series and 26 TV movies between 1957 and 1993. But Burr's Mason existed before the age of the prequel, which now brings us HBO's impressively-mounted back story of the battling attorney (showing on Sky Atlantic).
The original Perry Mason novels by Erle Stanley Gardner told readers next to nothing about Mason's history and background, so creators Ron Fitzgerald and Rolin Jones had a huge canvas to splash about on when they devised their new show. This Mason (played by Matthew Rhys with gritty soulfulness) isn't even a lawyer yet, and is scuffling to make ends meet as a private investigator in a grimily unglamorous early-1930s Los Angeles. We learn that Perry's nine-year-old son Teddy lives with his estranged wife, and he has inherited a decrepit family dairy farm outside LA which is partly occupied by an airfield playing host to joyriders and stunt flyers. The man looks like an unshaven derelict, and his one and only tie has an egg stain on it.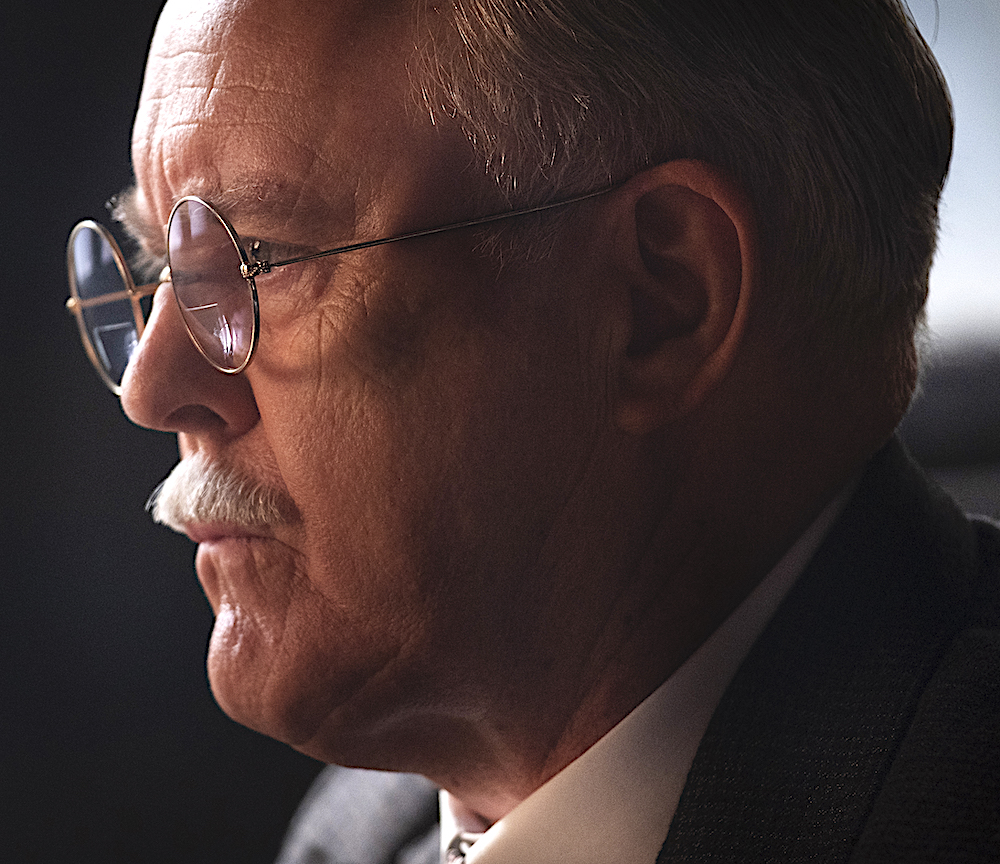 If TV's Perry Mason was a place where the righteous guys won, this version is more reminiscent of a James Ellroy novel, where there's no such thing as innocence, merely different shades of guilt. There was also an echo of LA crime writer Michael Connelly in the plot set-up, where a kidnapped baby was supposedly being returned to his parents by riding on the Angels Flight funicular railway, the setting for one of Connelly's Harry Bosch thrillers.
However, the baby (his eyes ghoulishly sewn open) was found dead on arrival, throwing his parents, Emily and Matthew Dodson, into paroxysms of grief. The LAPD naturally pounced on the case, but Mason was brought into action at the behest of legal veteran Elias Birchard (portrayed with great pomp and fussiness by John Lithgow, pictured above). Birchard had been hired by wealthy businessman Herman Baggerly (Robert Patrick), a pillar of the Radiant Assembly Church of God at which the Dodsons were regular congregants. Birchard's secretary Della Street (Juliet Rylance, pictured below) is a name which should strike a chord with old-school Mason fans.
Of course, the baby-kidnapping isn't as straightforward as it seems, and serves as a lure to pull the viewer into an increasingly murky labyrinth of lies and corruption. The sneeringly unsentimental detectives Holcomb (Eric Lange) and Ennis (Andrew Howard) waste no time in trying to find the parents complicit in the kidnapping, and wonder how Matthew Dodson could have managed to raise the ransom for his child if he, a mere grocer, didn't have some secret source of income. Meanwhile Ennis, at least, knows a lot more about the case than he's letting on, as we discover as he metes out some .45-calibre punishment to the kidnap gang. Having peeked at future episodes, I will merely say that you'd be a mug to trust anything anybody tells you.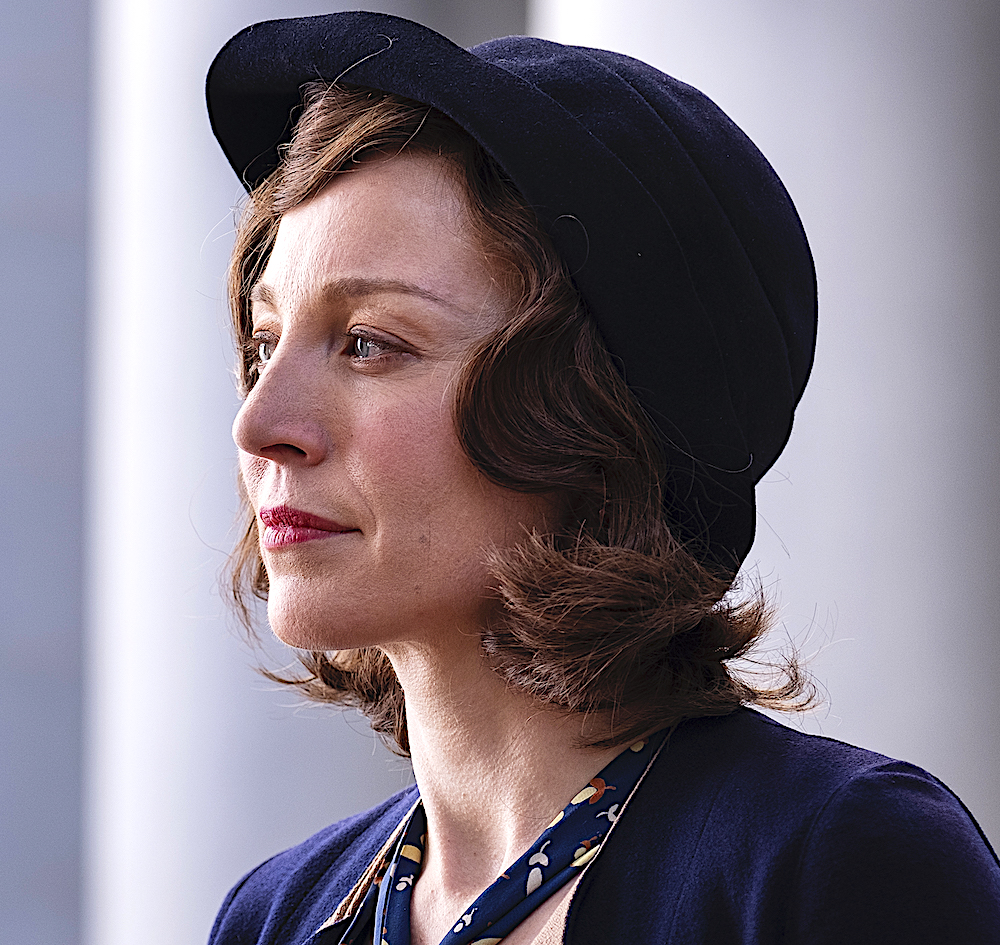 It's all shot in sumptuous, movie-like widescreen, with a rich, painterly colour palette and fanatical attention to period detail in clothes, buildings, vehicles and interior décor. The writing is taut and peppered with black humour, while Terence Blanchard's jazzy score evokes a down-beat period feel without specifically referencing musical styles of the era.
It's all going to get heavier and nastier, but initially the kidnapping case seems to be just another squalid little episode in the low-rent life of Perry Mason, as he scuffles around town with his cynical assistant Pete Strickland (Shea Whigham). He suffers a painful lesson about where the power really lies in Tinseltown when, having taken scandalous snaps of celluloid funny man Chubby Carmichael in flagrante, he tries to leverage more money from Hammersmith Pictures with his candid photos of their up-and-coming starlet, Velma Fuller. Perry's reward is a painful beating from a couple of hired goons.
Corruption, extortion, racism and Depression-era poverty form the backdrop, and Perry's own fragile mental state is illustrated by horrifying flashbacks to his experiences on the Western Front in World War One. "Everybody's got an angle and everybody's guilty," snarls Perry, drunk and desperate on New Year's Eve, 1931. It's hard to see where the upswing in his fortunes is going to come from.
This version is reminiscent of a James Ellroy novel, where there's no such thing as innocence, merely different shades of guilt
rating
Explore topics
Share this article