Lifeline, Channel 4 review - Spanish sci-fi drama on speed |

reviews, news & interviews
Lifeline, Channel 4 review - Spanish sci-fi drama on speed
Lifeline, Channel 4 review - Spanish sci-fi drama on speed
'Walter Presents' what-if transplant drama from Madrid hits the accelerator pedal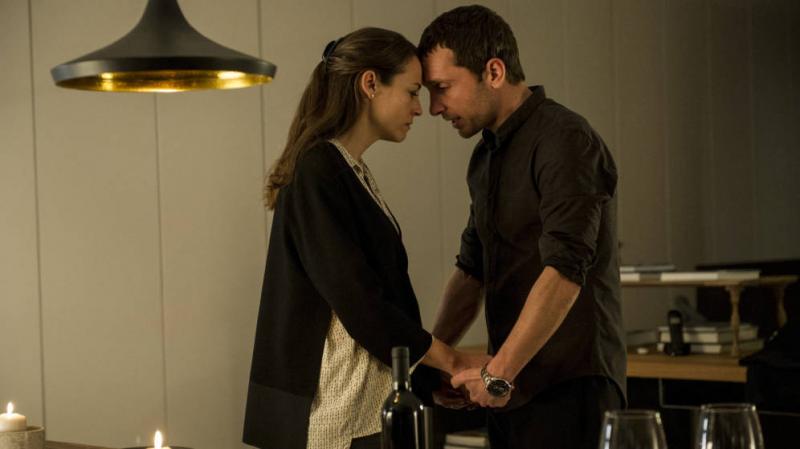 Leonor Watling and Pablo Derqui in 'Lifeline'
It is with some trepidation that the globe-trotting viewer embarks on a new drama from Spain. Last year in BBC Four stole the best part of 20 hours of some lives with its split-series transmission of the maddening I Know Who You Are.
Lifeline
(
Channel 4
) – original title:
Pulsaciones
– comes with a "Walter Presents" kitemark of quality. And with a
sci-fi
twist, it asks a what-if question about the transplant industry: what would happen if the recipient of the titular lifeline were to inherit more from the original owner than a mere organ?
It opened generically, with a soon-to-be-murdered victim running for his life through the dark. This one was naked, and being chased by a car into a container park where he was duly shot, but not before handing over a crucial piece of criminal evidence to a nearby vagrant. The vagrant just happened to be a source for Madrid's most committed undercover journalist, Rodrigo Ugarte (Juan Diego Botto), but even he was sceptical. "When he's not seeing Martians he's seeing green fairies," he told his young sidekick Lara Valle (Meritxell Calvo, both pictured below).
Naturally the tramp was soon murdered and Ugarte sniffed a big story about unsolved disappearances, promptly disappearing himself for three months to build up one of those obligatory photo wall charts with arrows linking victims, suspects and motives. This vastly annoyed Lara, who wasn't a fan of his maverick ways. "Ever since you got divorced," she said like a dramatic irony drug mule, "no one knows if you're alive."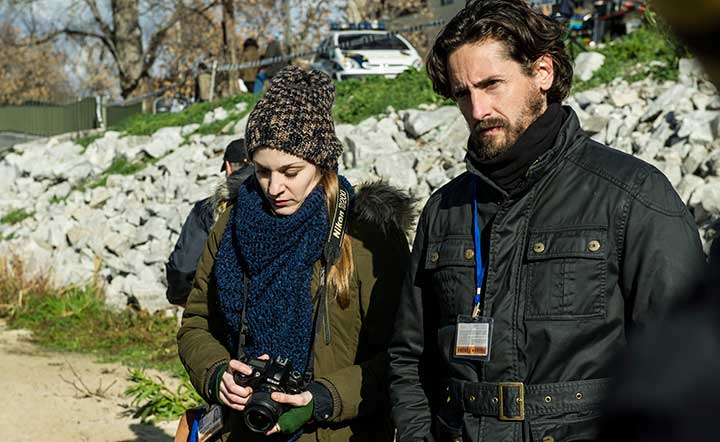 Meanwhile, in a parallel plot strand, thirtysomething neurosurgeon Dr Álex Puga (Pablo Derqui) was on a hot streak. He was so good he was able to feed his ambition by accepting the top job at a swanky private clinic, and insult his boss on the way out: "Unless you have a stroke, you're not going anywhere." Easy with those medical insults, young man. Álex was able to reassure his wife Blanca Jiménez (Leonor Watling), who working alongside him witnessed his prodigious workrate first-hand, that rumours of his addiction to amphetamines were entirely unfounded despite the copious stash lurking quietly under the floorboards. This she unaccountably discovered, triggering much self-righteous wrath. Sure enough, Álex promptly had a heart attack at the operating table.
Happily, Rodrigo contrived to have a fatal motorcycle accident, riding straight into a wall and careering spectacularly into the water below. There was a determined look on Rodrigo's face suggesting this was no accident. Indeed he'd taken precautions to hand information over to Lara, who was soon being spooked by the murderer we met in scene one. At the same time, Álex went under the knife to take delivery of Rodrigo's donated heart. Bianca, as happens in dramas if not the real world, attended the transplant operation, having falsified his blood test reports.
Lifeline, created by Emilio Aragón, is certainly moving at quite a lick, and for those who want to follow it at binge speed all 10 episodes are on All 4. It has glammed up both the medical profession and journalism, staffing each sector with pleasingly good-looking people. Without ploughing through the whole lot, at an educated guess Rodrigo has worked out that there's only one way to investigate the disappearance of murder victims whose bodies have been harvested for transplants. And that is to engineer his own death and, with the help of his tigerish colleague Lara, continue post-transplant inside the body of another, who just happens to be a surgeon. Written down that sounds bonkers. But anyone who sat through I Know Who You Are is in no position to be judgemental.