Last Tango in Halifax, Series 3, BBC One / Homeland, Series 4 Finale, Channel 4 |

reviews, news & interviews
Last Tango in Halifax, Series 3, BBC One / Homeland, Series 4 Finale, Channel 4
Last Tango in Halifax, Series 3, BBC One / Homeland, Series 4 Finale, Channel 4
The past bites back in Halifax, and there's still trouble ahead in 'Homeland'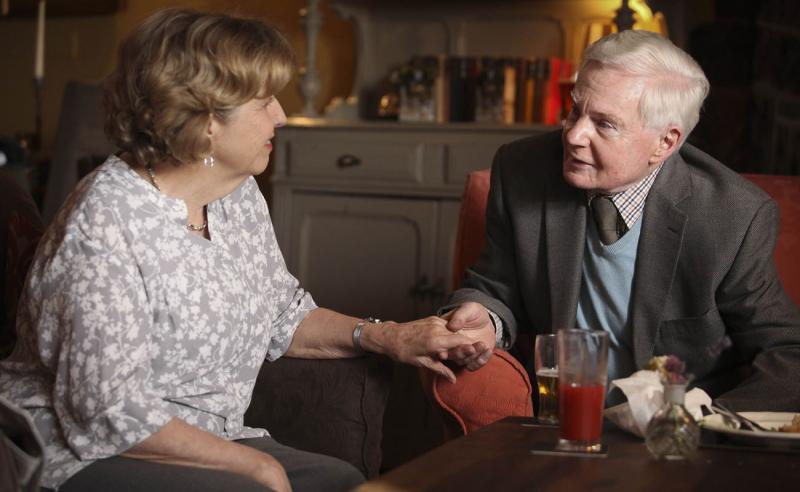 Love in an old climate: Anne Reid as Celia, Derek Jacobi as Alan in 'Last Tango in Halifax'
Back for its third series [***], Sally Wainwright's saga of Yorkshire folk continues to tread a precarious line between syrupy soapfulness and a family drama with sharp little teeth. Its excellent cast helps to carry it over the worst of the soggy bits, and its best moments have a way of catching you unawares. You'd have to guess that it also scores strongly by not being crammed with serial killers, paedophiles and corrupt cops.
It's a sign of the confidence that healthy ratings bring that they dared to open this new season with Alan (Derek Jacobi) and Celia (Anne Reid) sitting at a restaurant table on Valentine's Day, as Alan narrated a long, leisurely and eventually funny joke about trying to defy the ageing process. Alan is so lovely and fluffy and gentle and nice that you want to whack him with a plank, but the joke was fairly apt, since among Last Tango's chief concerns is the way personal entanglements reach across generations and how you can sometimes get what you want, however belatedly.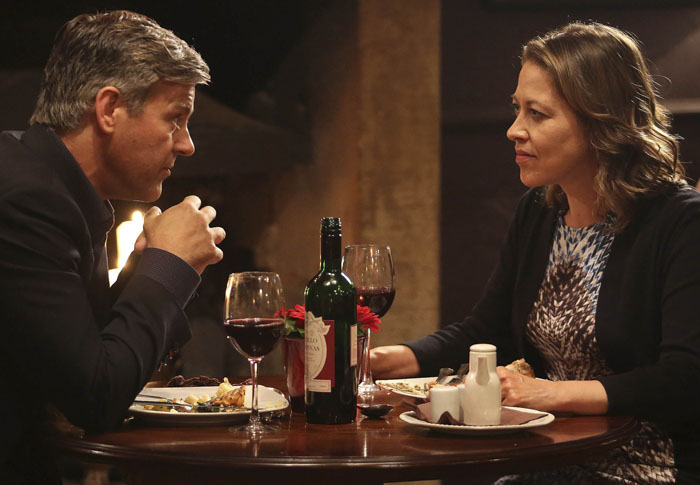 One of the themes set to dominate these new episodes is the long-buried secret of Alan's son Gary (played by Rupert Graves, so bound to turn out a bit dodgy). It seemed at first that his unexpected dinner invitation to Gillian (Nicola Walker, pictured right with Graves) on Valentine's Day might presage an éclat d'amour, but his motive was less than romantic (he hadn't even realised what day it was). In short order he progressed from potential paramour to Gillian's half-brother. Walker played the vertiginous trip from expectantly sparkly-eyed to winded and flabbergasted with the panache that is hallmarking her as a thespian secret weapon.
In further news, head teacher Caroline (Sarah Lancashire) has taken the plunge into wedlock with her pregnant partner Kate (Nina Sosanya). This has raised the hackles of her mother Celia, who believes robustly that "parents" means one woman plus one man, while a crude schoolyard jibe to Caroline's son Lawrence about his mother's sexual orientation has prompted her to invoke the school's official anti-homophobia apparatus. Lawrence, who'd rather be one of the boys than head teacher's pet, is finding her high-minded bureaucratic response more excruciating than the original offence.
Homeland [****] ended its fourth series in a kind of shellshocked daze, with Saul (Mandy Patinkin), Carrie (Claire Danes) and the remains of her bedraggled CIA team back in the States trying to come to terms with the blood-drenched shambles they'd just survived in Pakistan. Carrie also had to steel herself to get through her father's funeral, while summoning up a new-found determination to be a proper mother – or any kind of mother at all – to her baby daughter Frannie.
With Carrie also re-bonding with her sister Maggie and meeting the mother she hadn't seen for 15 years, this was a calculated change of tone and perspective from the ferocious scenes we've witnessed in recent episodes. The terrorist attack on the US embassy in Islamabad a couple of shows back ratcheted the adrenaline up to 24-esque levels (Homeland's co-creator Howard Gordon wrote large chunks of 24), gave Peter Quinn (Rupert Friend, pictured above) the chance to show what a great Jason Bourne he could be, and left plenty of unfinished business between the CIA, jihadist bogeyman Haissam Haqqani, and the anti-American elements within the Pakistani security forces.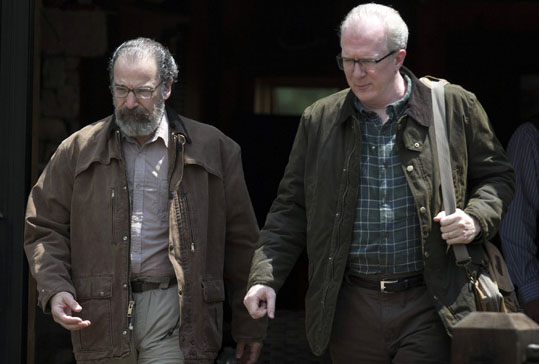 Despite some gaping plotholes and non-sequiturs, this has been a storming comeback from a series that seemed to have outlived its usefulness. While there's a danger of the "War on Terror" turning into Hollywood's latest version of the Wild West, Homeland has managed to strike a balance between being critical of US foreign policy and its propensity to bring instability and chaos while acknowledging that some of the people involved in it believe they're doing the right thing for honest reasons. The thread concerning American ambassador Martha Boyd (Laila Robbins) and her weak, treacherous husband Dennis (played almost too well by Mark Moses) became a bleak little tragedy of its own as Martha saw her carefully-crafted career going up in smoke.
On the other hand, there was a nice little gesture of forgiveness last night for Senator Lockhart (Tracy Letts, pictured above right with Patinkin), the impetuous and incompetent CIA chief who made a catastrophic screw-up during the embassy siege, but at least did it for understandable humanitarian reasons. And it wasn't him who's been making sneaky secret deals with the murderous Haqqani either. Bring me series five, and step on it.