I Know Who You Are, Series 2, BBC Four review - get on with it, por favor |

reviews, news & interviews
I Know Who You Are, Series 2, BBC Four review - get on with it, por favor
I Know Who You Are, Series 2, BBC Four review - get on with it, por favor
Interrupted crime melodrama grinds on with mounting implausibilities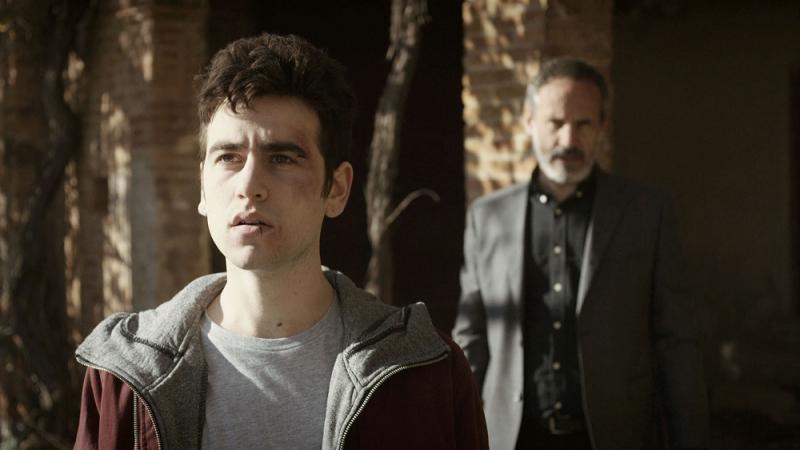 A fake Elias? Álex Monner and Francesc Garrido return in 'I Know Who You Are'
Here we go again then. The "first series", as the BBC are calling it after the fact, of I Know Who You Are slammed the brakes on and juddered to a bewildering halt back in the middle of August. Almost everyone who'd sat through the plot dodgems of those 10 episodes will have had the same reaction: eh?
With no information to indicate otherwise, it looked as if the hatchet-faced
procedural
melodrama featuring the Elias-Castro axis of evil had chosen to commit hara-kiri in the middle of an uncompleted plotline. It was like Schubert's Unfinished or
Edwin Drood
all over again, only less so.
In the comment stream under our series finale review (see sidebar) some threw up their arms and took the view that with this act of vandalism the BBC had tested their patience for the very last time. Which seems a bit OTT. But a lot of bafflement was voiced. The BBC eventually coughed and spluttered and explained that in Spain the drama was always designed as two series and then broadcast as one. So they were simply keeping faith with the original concept. Hence the mix-up, or something.
Read theartsdesk's review of the I Know Who You Are series 2 finale

Like anything that comes out of Juan Elias's mouth, you didn't know whether to believe this. Maybe they just forgot, also like Elias. More likely BBC Four didn't have quite enough confidence in the show, nor eight spare Saturday nights, to broadcast the thing in one whopping run. It devours a goodly chunk of the schedule. No episode runs to just a standard hour. They bang on for 70 more or less gripping minutes and in this "second series" are now starting to shoot up into feature-length territory. Episodes one and two (AKA 11 and 12) demanded 155 minutes of your attention. If Marta Hess didn't rattle on at warp speed, we'd have all been here way past midnight.
In the interim detox period, things have been changing at quite a lick in the real-life Barcelona. It's business very much as usual in alt-Barca. No one's smiling much nor showing their charming side, everyone is switching allegiances like a cohort of indecisive five-year-old football fans, and as things stand almost anyone – apart from, maybe, Julieta – could fetch up in prison. (Please please let it be Marta.) Even the gruellingly sanctimonious Eva Duran is coaching her client Santi Mur to play the system and lie through the other side of his awful moustache (pictured above right: Marcel Borrás and Aida Folch).
Is the transmission caesura messing with anyone else's head? Three months is a long time to hold the precise architecture of a cat's cradle in your memory. A couple of times you may well have found yourself thinking, well actually, I Don't Know Who You Are. Lola the marsupial-eyed student is a very hazy memory now looming into some sort of focus, while various walk-ons from the undercard are trading up - the secretary from the Elias-Heredia law firm, an aspiring lawyer Elias met in the supermarket aisle - while there were late entries for hairy newbie detective Martin Barros and Carlos the scarfaced somebody or other.
The by no means exhaustive ticklist of randomly generated implausibilities from a clusterfuck plot, to go with what we can't quite work out already, would include (1) Alicia being grilled by the judge as she was going into cardiac arrest, (2) Elias's rock'n'roll torture routine, (3) the continuing mystery of Ana's subterranean sanitary arrangements, (4) Ramon's cash withdrawal of Silvia's entire fortune without so much as a signature, (5) the press acting like massive prats with a 12-year-old. "Can't they see we're suffering?" asked the pitifully naïve Julieta.
With Alicia hors de combat in a coma, it was a chance for the kids to get stuck in. Since the 10th episode, and a mere 24 hours on in terms of plot time, Ana has transmogrified into a zombie from Night of the Living Dead, the conflicted Pol looks like he's about to drown in a barrel of his own tears, and Marc is the latest character whose actions seem to be remotely controlled by the Thane of Cawdor. Luckily his mum's got his back (pictured above left: Mar Sodupe and Martiño Rivas).
With only four more episodes to go, we know pretty much who did what and why, but some critical mysteries remain unsolved. What, for example, does Eva keep in that rucksack of hers? What is the precise judicial function of Spain's face-to-face courtroom encounters? Exactly how bored is Francesc Garrido, who plays Elias, of staring at people when they ask him a question and then walking round to the other side of them as he answers? It's perhaps worth adding that his legal counsel meeting with Marta Hess in the disused swimming pool was jolly silly.
But mainly, can't they just effing well get on with it? Elias, in his bathroom encounter with Heredia (Antonio Dechent, pictured above right), asked for two to three weeks to win Ana around to his baroque scheme for keeping them both out of jail. Heredia, who is the only humourist in a dramatis personae of lugubriously long faces, generously granted him four. Four weeks! This story's been unfurling for 12 days and the characters are all cracking up. Some viewers may soon follow.
Enjoying The Arts Desk? To access all our coverage of TV, film, theatre, art, new music, opera, classical, dance, comedy, books and gaming, updated daily, buy an annual subscription for only £30