Hacks, Prime Video review - what's so funny about a career in comedy?
Hacks, Prime Video review - what's so funny about a career in comedy?
Jean Smart sizzles in caustic Sin City drama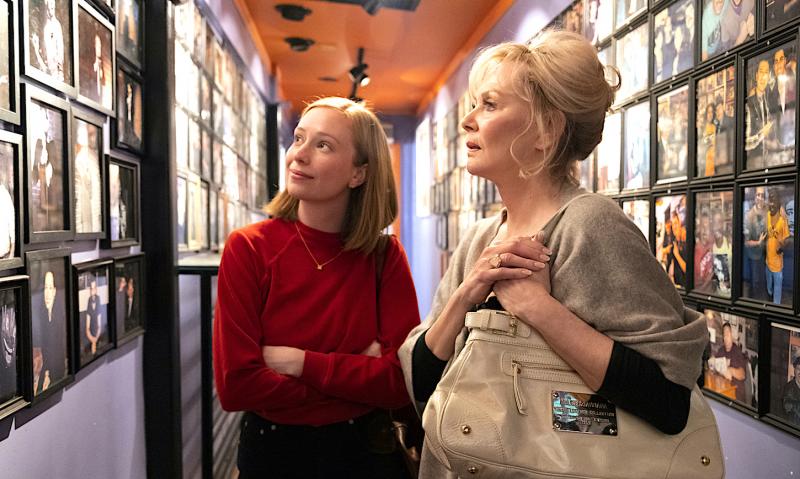 Generation gap: Ava Daniels (Hannah Einbinder) and Deborah Vance (Jean Smart)
Acidic showbiz drama Hacks premiered on HBO Max in the States a year ago, and subsequently won a hatful of awards including three Emmys. Now, here it is on Prime Video, so we can get to see what all the fuss is about.
Most of it is about Jean Smart's sizzling performance in the central role of Deborah Vance, which won her the Emmy for Outstanding Lead Actress. Smart, who has delivered splendid turns in Frasier, Fargo, Mare of Easttown and many more, plays Vance like she's known her all her life. She's a revered veteran comedian now plying her trade in a long-term residency at the Palmetto Casino in Las Vegas. However, unwelcome events begin to impinge on her gilded but somewhat jaded lifestyle. She learns that her ex-husband, who swapped Deborah for her younger sister decades earlier, has died. Far worse is the news that the Palmetto's CEO Marty Ghilain (Christopher McDonald, pictured below with Smart) has decided, amid displays of bogus regret, to shunt Deborah out of her prestigious weekend performance slots so he can bring in new, younger talent.
Jean's slimy LA-based manager Jimmy (Paul W Downs, who created the show with his wife Lucia Aniello) sees a way in which he can kill two birds with one stone. Another of his clients is aspiring young comedy writer Ava Daniels (Hannah Einbinder), whose professional progress has hit a brick wall after a tweet she sent about a gay politician and his son's conversion therapy has seen her un-personed by the hair-trigger guardians of Hollywood rectitude. Maybe, he reasons, Ava can hook up with Deborah and re-ignite her flagging career.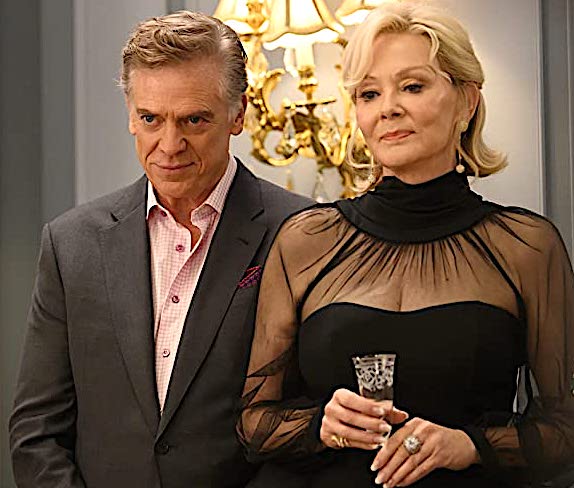 The story's development is perhaps a mite predictable in the way that the two women at opposite ends of the showbiz see-saw are at first united only in their bile-spitting hostility towards each other – Ava can't even be bothered to do a minimum of homework on the illustrious career of her potential new partner, while Deborah can only see Ava as a spoiled, judgmental "zillenial" who expects to be spoon-fed a free ride without putting in any of the required hard slog – only to gradually find they have more in common than anyone might have imagined.
There are some delicious comic detours along their bumpy trail, like a preposterous road-trip so that Ava can help Deborah to outwit a hostile antique dealer and purchase an antique pepper-shaker, or some scorching exchanges between Deborah and her petulant wastrel daughter DJ (Kaitlin Olson). The scene where Deborah throws a giant spanner in the works of DJ's proposed wedding to mixed martial artist Aidan is enough to make the viewer throw on some fireproof clothing and hide behind the sofa.
Smart's performance evokes an odyssey of career triumphs and humiliating lows, alongside the catalogue of personal pitfalls that inevitably accompany a life lived on the road or on the stage. The private and the professional are irrevocably entwined, illustrated by the way Deborah cunningly blackmails Marty (played with back-stabbing cynicism by McDonald) into giving her her weekend slots back. Marty's revenge is to seduce Deborah, then tell her that her contract has been terminated anyway.
The way that Deborah gets her mojo back with a fiery, feminist-flavoured tour-de-force at a small comedy club, peeling away the lost decades with liberating abandon, is worth an Amazon Prime subscription on its own. Meanwhile the show's insights into the compromises and heartache required to survive in showbusiness, a sewer of lies and hypocrisy, cut straight to the bone. Series 2 is already in the works, but can lightning strike twice?