Ghislaine Maxwell: Epstein's Shadow, Sky Documentaries review - the iniquitous fall of the tycoon's daughter |

reviews, news & interviews
Ghislaine Maxwell: Epstein's Shadow, Sky Documentaries review - the iniquitous fall of the tycoon's daughter
Ghislaine Maxwell: Epstein's Shadow, Sky Documentaries review - the iniquitous fall of the tycoon's daughter
Squalid saga of the socialite who became embroiled with sex offender Jeffrey Epstein
Toxic: Jeffrey Epstein and Ghislaine Maxwell
Last year, Netflix released Jeffrey Epstein: Filthy Rich, a four-part documentary about the notorious financier and convicted sex offender.
Now, here's a
Ghislaine Maxwell: Epstein's Shadow
(Sky Documentaries), a three-parter about the woman accused by Epstein's victims of helping him entrap them in his sordid pit of vice. She faces charges of complicity with Epstein in the sexual
abuse
and trafficking of under-age girls, and is due to be tried this autumn. Her name is pronounced "Gillane", apparently.
The story exerts a sickly fascination, its toxic allure intensified by the conspiracy theories that have sprouted around it. Epstein supposedly hanged himself in prison, but almost everybody seems to believe he was murdered, probably by one or more of the people whose squalid secrets he was in a position to reveal. The FBI is in possession of a huge stash of photographic and video evidence seized when they raided Epstein's Manhattan townhouse in 2019, presumed likely to incriminate any number of politicians, businessmen, celebrities and what have you.
Epstein had already been convicted in Florida in 2008 and given a suspiciously lenient sentence, after which Maxwell tried to distance herself from him by reinventing herself on the celebrity philanthropy circuit. Eagerly assisted by moneyed New Yorkers evidently indifferent to her dubious associations ("if you're indicted, you're invited," as the saying goes), she was reborn as the frontperson of The TerraMar Project, supposedly a non-profit environmental organisation aiming to establish a "global ocean community". Judging by footage of Maxwell delivering a hesitant and implausible sales pitch, she was having trouble convincing herself, let alone her listeners. After Epstein's 2019 arrest, TerraMar was closed down. Maxwell went into hiding, but was eventually tracked down to a house in Bradford, New Hampshire and arrested.
No doubt there'll be a movie about it one day, and while Epstein's Shadow contains plenty of raw material to base it on, it suffers from the same pitfall as Filthy Rich, which is making all kinds of tantalising suggestions but not offering anything in the way of fresh facts or conclusions. There are lots of people with noisy opinions, but there's little here you couldn't have discovered from a conscientious trawl of the internet.
Given the weight of the evidence arrayed against Maxwell, it's quite difficult to imagine a Not Guilty verdict, and it seems her former friends have reached the same conclusion. Lady Victoria Hervey, one of those nebulous celebro-toffs feted for doing almost nothing while being perpetually photographed by Tatler, professes to have been aghast at claims that her ex-pal had been a trafficker of under-age girls, but mostly just looks rather bored by the whole topic.
Similarly stricken by theatrical grief is Christopher Mason, a flamboyant TV host and Manhattan-based satirist, who was initially won over by Ghislaine's vivacity and wit, but is now "deeply sickened and horrified" by revelations of this satanic side of her character. Anna Pasternak, who knew Maxwell at Oxford, gets plenty of space to denounce her as a sick and twisted "daddy's girl" whose upbringing with the monstrous Robert Maxwell as her father left her fatally addicted to brutal, bullying billionaires. It sounds like Sigmund Freud ghost-written by Meghan Markle.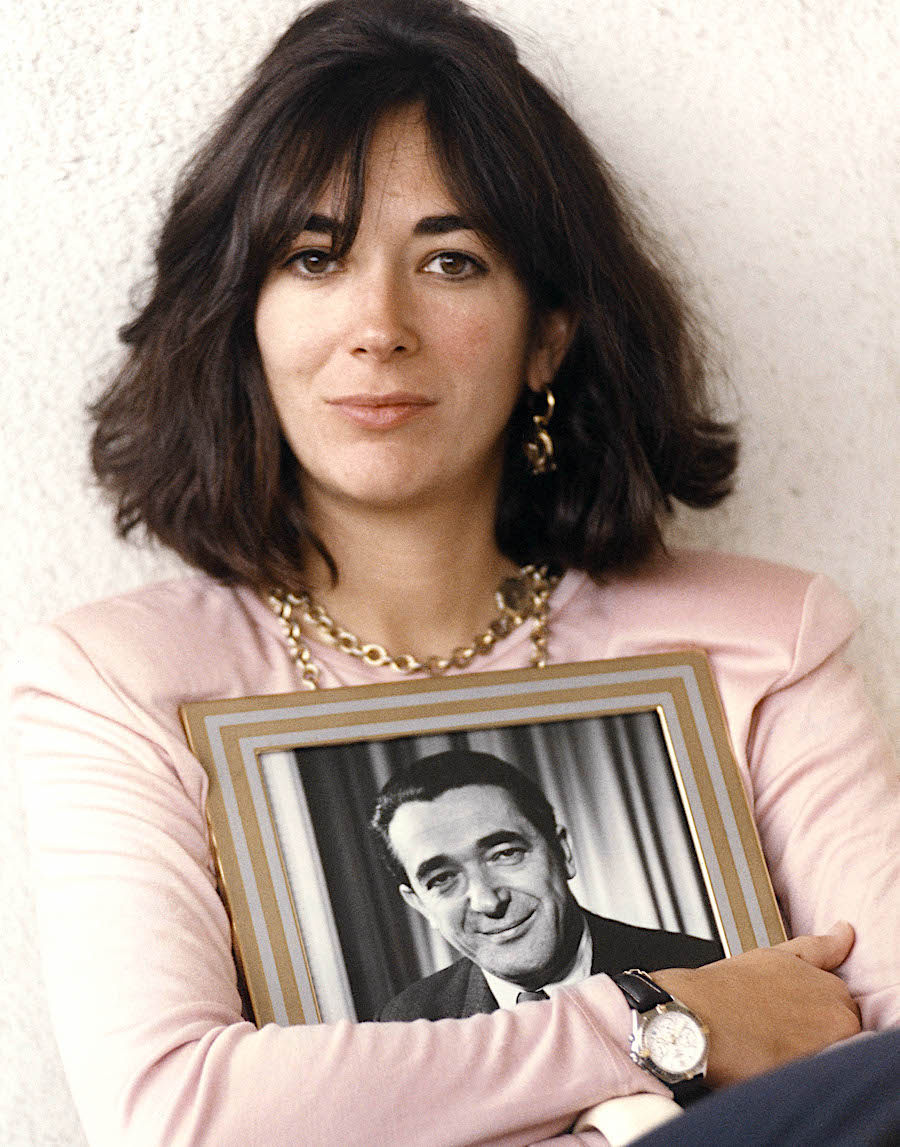 The "fruit of the poisoned tree" thesis is given a more interesting twist by passages exploring Robert Maxwell's exceedingly fishy past as a collaborator with Israel's Mossad – he was given more or less a state funeral in Israel – and perhaps also with the KGB. Israeli intelligence veteran Ari Ben-Menashe describes how he'd been Maxwell's handler for the Israelis (arms smuggling may have been among his varied accomplishments), while ex-CIA man John Kiriakou suggests that Ghislaine may have been "continuing to do daddy's work". The waters are muddied further by suggestions that Epstein had been working for the CIA, perhaps in some sort of "kompromat" sting operation (pictured above, Ghislaine with picture of Robert Maxwell).
Thrilling stuff for fans of a good conspiracy theory, but it does begin to feel more like a long-lost Jason Bourne script than a documentary film. Of course, all of this might prompt any number of suggestions about who wanted Epstein dead, and who might now want to bury the story and square away any loose ends.
The case is pithily put by Maria Farmer, one of the women preyed upon by Epstein/Maxwell and in the mood for vengeance. Not only does she make the impish suggestion that Maxwell is not, as advertised, being held in Brooklyn's brutal Metropolitan Detention Center but perhaps in Trump Tower, but she also reads the tea-leaves for Ghislaine: "Either she gets away with everything or she gets killed."
Ghislaine Maxwell: Epstein's Shadow is available on NOW
It starts to feel more like a long-lost Jason Bourne script than a documentary film
rating
Explore topics
Share this article