Game of Thrones, Sky Atlantic review - The Battle of Winterfell |

reviews, news & interviews
Game of Thrones, Sky Atlantic review - The Battle of Winterfell
Game of Thrones, Sky Atlantic review - The Battle of Winterfell
Excitement, horror, pathos and almost unendurable tension as GoT pulls out the stops: a spoiler-free review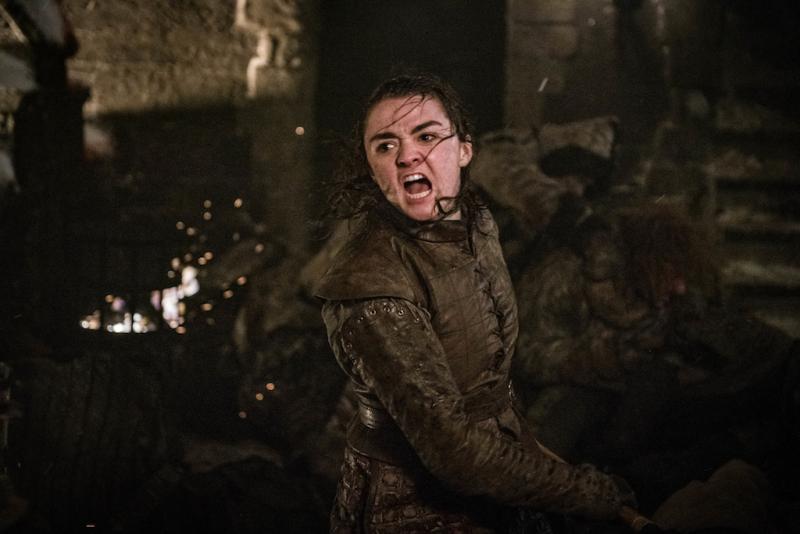 She's been training for this: Maisie Williams as Arya Stark in 'The Long Night'
It's been a memorable few days for audiences – big-screen and small – who happily invest years of their lives in epic storytelling. With the dust still settling on Avengers: Endgame, the final season of Game of Thrones has reached its mid-point with one of the most extraordinary episodes in its impressive history.
The eagerly anticipated Battle of Winterfell, in an episode formally and aptly titled The Long Night, was terrifying, emotionally gruelling and at times exhilarating. Taking up most of the 78-minute episode, it's said to be the longest battle ever filmed. The actors endured 11 weeks of night-time shoots to enact the confrontation between humans and the undead White Walkers that has been anticipated since the show began eight years ago. And the director may well have had a Machiavellian Method to that process, for we can see all the pain and exhaustion on their faces; this may be fantasy, but it feels unshakably real.
It's often advisable to accompany an episode of GoT with a stiff G&T; this time, with heart in mouth, the drink would likely be forgotten. As ever with this show, the action is informed by character, gallows humour, human drama. And by now the audience is phenomenally invested in characters who, at this point, appear almost certain to die. Hence the feeling of unusual trepidation over the past week and relief, almost, that it's over. This is event TV of a scale and impact that's rarely been seen, except in other episodes of Game of Thrones.
The series-long struggle for the Iron Throne has been put aside while once warring families join forces for humanity's future. The supernatural White Walkers with their thousands of zombie-like wights descend on the northern citadel of Winterfell, led by the demonic Night King (Vladimir Furdik, pictured below), whose ability to add newly killed opponents to his undead army suggests virtually no hope for the humans.
The season's opening two episodes cleverly brought families and friends together for this wintery last stand. Episode two, in particular, made us fear the worst for a number of them. When Jaime knighted Brienne (Nikolaj Coster-Waldau and Gwendoline Christie, pictured above), the very thing this courageous woman had dreamed of but never thought possible, it seemed like a fitting prelude to her demise, even his. When the much-maligned, often pitiable Theon volunteered to protect the oracular Bran against the attentions of the Night King, it seemed like he was signing his own death warrant, while finally securing redemption. When Missandei and Greyworm, the former slaves and the show's most ardent lovers dream of their future home together, this too seemed like farewell.
And when Jon Snow (Kit Harrington) revealed to Daenerys (Emilia Clarke) that his claim to the throne was stronger than hers (not to mention that they'd inadvertently been conducting incest) her reaction was so hostile that the possibility suddenly arose that she might use the battle to remove this new obstruction – or at least kill the messenger, the bookish Samwell Tarly.
Thus, in their perennial battle against story leaks, showrunners David Benioff and DB Weiss came up with a cunning solution – to offset spoilers with teasers. No-one wanted to know who would fall at Winterfell; but we all couldn't help trying to guess.
Director Miguel Sapochnik won an Emmy for one of the show's earlier great confrontations, the Battle of the Bastards. That was day-time, an Agincourt slaughterhouse of mud and men and blood. Now we're in darkness, in bitter cold, men facing monsters and seemingly insurmountable odds.
The first sequence signalled Sapochnik's interest in tone as much as action. There was no dialogue as the camera roamed the ramparts and grounds of Winterfell, surveying the faces of Stark, Targaryen, Greyjoy, fear etched deep into every one of them, the prelude to battle accompanied by the ominous drums of Ramin Diawadi's score. The suggestion of abject dread was utterly persuasive.
Typically, the silence was broken with humour. "Oh for fuck sake, you took your time," snarls Eddison Tollett to his friend Sam, both of whom have survived far longer in the show than seemed possible. Then a woman walked out of the snow towards them, Melisandre, the Red Priestess (Carice van Houten, pictured below, left with Maisie Williams), whose appearances are never without significance. "No need to execute me," she quickly told the upright Davos Seaworth, who owes the priestess for her most damnable deed, "I'll be dead by dawn."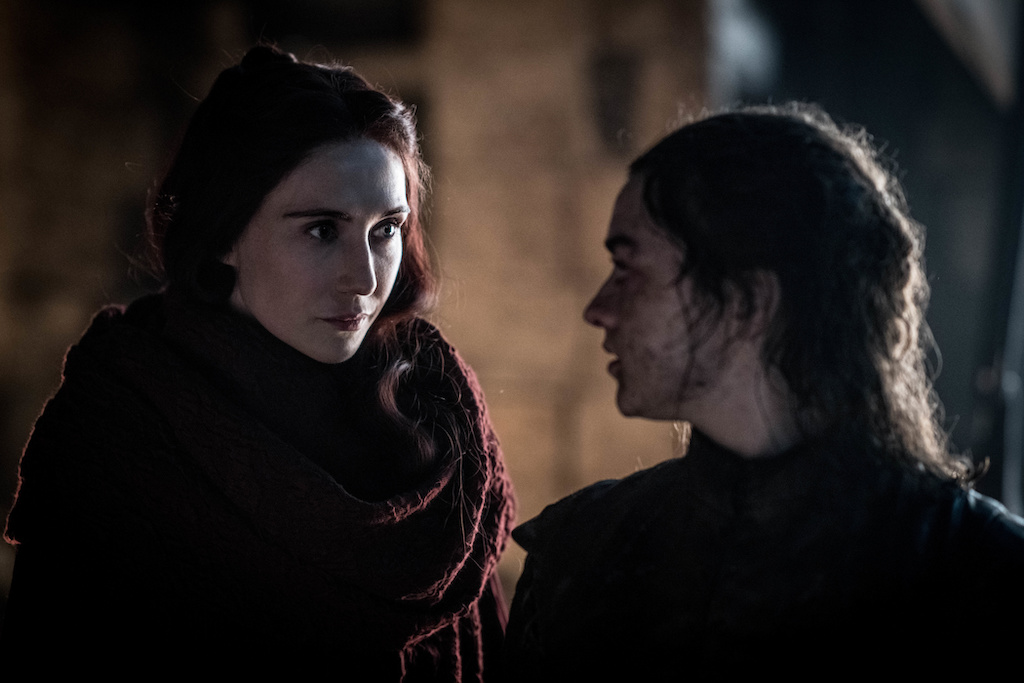 The first thing she did was conjure thousands of flames atop the spears of the Dothraki horde. It was a thrilling moment, which broke the ice and spurred the episode into action. It was also the first of many disorientating reversals: elation as the flaming riders launched into the blackness – chill as the collective blaze was suddenly extinguished.
Hereon, Sapochnik combined awesome spectacle (swarms of wights literally pouring over the human army, dragons and their riders pursuing each other in the darkened clouds) with intense close-ups of characters in combat and interior scenarios more associated with horror, notably as plucky little killing machine Arya Stark (Williams) found herself trapped in the castle's library with a gaggle of zombies.
Another horror show waiting to happen was in the crypt, where children and those unable to fight were deemed to be most safe, despite the fact that – hey! – the Night King can awaken the dead. Here Tyrion (Peter Dinklage) and Sansa (Sophie Turner) bonded over the marriage that never was. "You were the best of them," she says, which he knows was wholly relative, in that he was the only husband who didn't rape her. That it's a genuinely touching moment speaks volumes about the emotional nuance that this saga has regularly been able to produce from such grim proceedings.
To some extent it was business-as-usual: Jon was all courage and little guile, Jorah Mormont (Iain Glen, pictured above with Emilia Clarke) remained the staunchest knight a queen, in this case Daenerys, could ever ask for, the Hound (Rory McCann) will grumble to hell and back for Arya.
There were times when the images were too dark, the fighting hard to follow, though that's no doubt the reality, and certainly it feeds the intensity of the experience. These action scenes have less in common with Marvel's CGI overload than the live action – complete with hundreds of extras – of the lauded Battle of Helms Deep in The Two Towers, the second instalment of Peter Jackson's The Lord of the Rings. Like that battle, there were moments here when all seemed lost, that Cersei did the right thing by sitting tight in King's Landing while her enemies perished in the north (Diawadi's ever remarkable score moves from percussive drive to poignant lyricism as the action is at its most despairing). Jackson's epic may remain beyond compare in terms of scale and spectacle; but the tension, brilliantly conceived reversals in fortune, and intermingling of heroism and pathos were just as powerful here.
It may seem bloodthirsty to suggest that the episode's most notable weakness was that the final body count of major characters wasn't in keeping with Winterfell's predicament; unusually for Benioff and Weiss, they've been kind. But that does leave plenty of characters and options in play – with a new hero in the mix – as the action heads towards King's Landing and the Iron Throne.
This is event TV of a scale and impact that's rarely been seen, except in other episodes of 'Game of Thrones'
rating
Explore topics
Share this article
Subscribe to theartsdesk.com
Thank you for continuing to read our work on theartsdesk.com. For unlimited access to every article in its entirety, including our archive of more than 10,000 pieces, we're asking for £3.95 per month or £30 per year. We feel it's a very good deal, and hope you do too.
To take an annual subscription now simply click here.
And if you're looking for that extra gift for a friend or family member, why not treat them to a theartsdesk.com gift subscription?