Fearless, ITV review - Helen McCrory lights up dense conspiracy thriller |

reviews, news & interviews
Fearless, ITV review - Helen McCrory lights up dense conspiracy thriller
Fearless, ITV review - Helen McCrory lights up dense conspiracy thriller
Tough human rights lawyer enters the crosshairs of the secret state
Helen McCrory: is she that lawyer?
Emma Banville is almost too good to be true: a human rights lawyer who houses Syrian refugees, wins the most hopeless cases of wrongful conviction, won't be bullied by anyone – coppers, prison wardens, the system. OK she smokes, presumably for the stress, and pints of lager don't sit quite right in her hand. And she's trying to adopt a child with, somewhat implausibly, John Bishop.
But she's played by Helen McCrory, who can do no wrong, and her heart is in the very epicentre of the right place.
Fearless (ITV) began as a bog-standard drama about a cold case. Banville was called in to help reopen the file of Kevin Russell, banged up for 14 years and counting for the murder of a schoolgirl. Naturally no one wanted her to take it on: not her colleagues, not Kevin himself, and certainly not the family of the victim, who used a cocktail of physical menace and press manipulation to convey their displeasure. But Banville was undeterred. She drives a Volvo estate, for no apparent reason other than to signal that she's a safe pair of hands. With barely any effort at all she'd established that Kevin's confession was coerced out of him by an inexperienced young detective on the make, that the forensics pinning him to the murder were done by a dodgy firm of ex-coppers, and that he had an underwhelming lawyer. He doesn't any more. "You're that lawyer, aren't you?" said a surly copper.
By the end of the episode Kevin had been released. The sting in the tail is that he faces a retrial because of compelling evidence that we know is a stitch-up involving murky forces in London and Washington DC. Meanwhile GCHQ are keeping a very close eye on Emma "because she's slippery", a spook explained. They even had her pulled in ostensibly for speeding so that they could warn her to "mind how you go".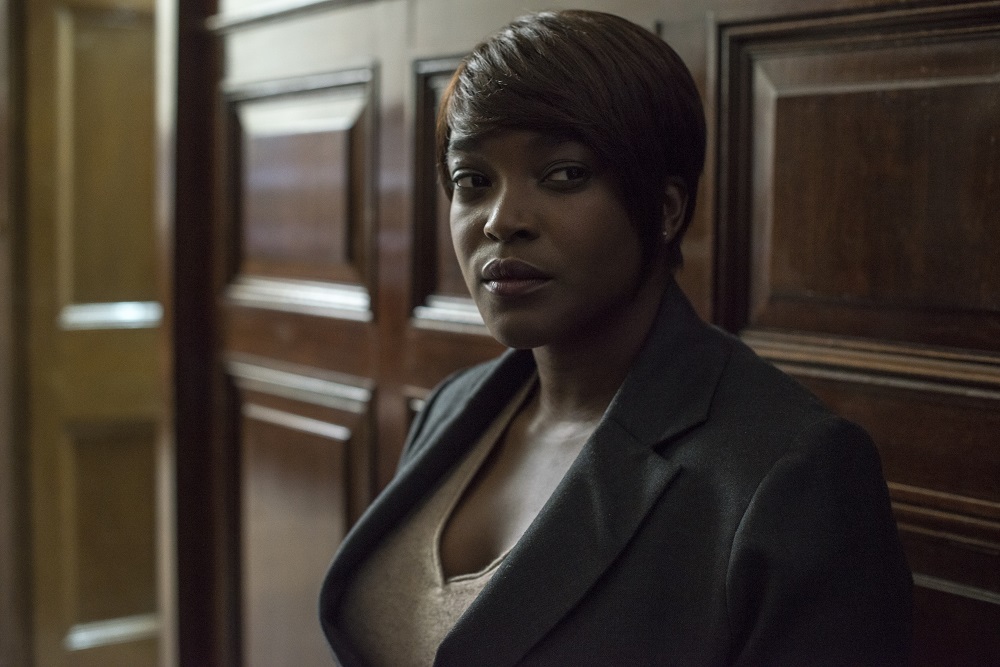 Meanwhile on the domestic front her mother (Kika Markham) is clearly ashamed to have a daughter who defends "sex offenders and mad mullahs" and hasn't taken the trouble to provide herself with a family. While her father (Jack Shepherd) is breathing his last, she's trying to adopt with her boyfriend Steve (Bishop) and is trying to keep a low profile while the wheels of the adoption process turn. It doesn't help that she's supporting a nest of Syrians whose humanitarianism doesn't impress the state.
Writer Patrick Harbinson has thrown the kitchen sink at his script and so far everything feels a bit too interconnected. Maybe that's the idea in a thriller in which the state has its eye on those it deems undesirable. At the heart of Fearless so far is the tension between democratic freedoms as defended by Banville and the responsibility of the state to protect both citizens and, it would seem, itself. It doesn't feel wholly credible at this point, and one or two of the characters are underwritten ciphers. But there's ballast supplied by the performances, especially McCrory, who could shrivel balls with a thousand-yard stare, Jonathan Forbes as her sidekick and Wunmi Mosaku (pictured above) as iffy antiterrorism detective Olivia Greenwood, who originally secured Kevin's conviction. Michael Gambon, who looks far too old to be still sitting behind a desk, awaits. Plenty of potential thrills then.