Eurotrash, Channel 4 |

reviews, news & interviews
Eurotrash, Channel 4
Eurotrash, Channel 4
Zut. The return of bent fruits, continental chortles and jiggling Euroflesh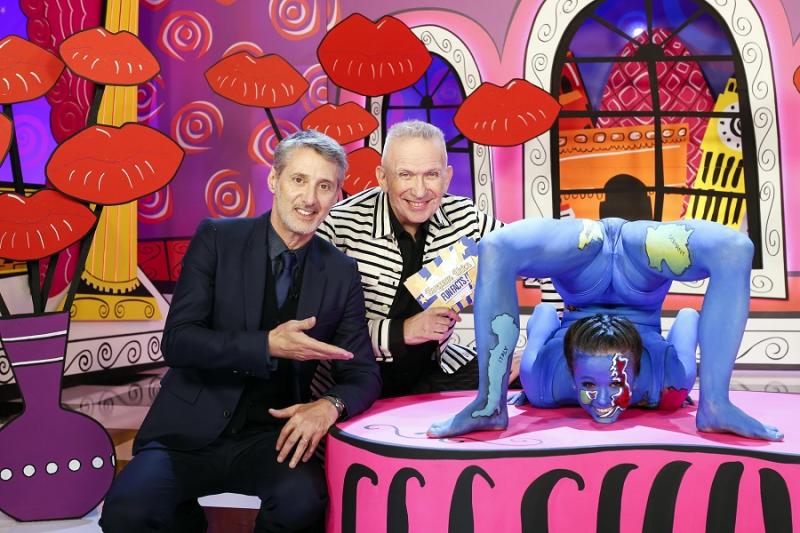 In or out? Eurotrash grapples with the issues
It was an exhumation waiting to happen. As the UK ponders trashing Europe, Eurotrash was summoned from the grave to remind voters what they'll be missing if enough Brits put an X in the exit box. The Europe of Eurotrash is not grey suits and fisheries legislation.
It's a place where a ruling on the straightness of cucumbers is a gag waiting to happen, where pooches and porn stars stand for political office, where the then future Madame Sarkozy could be distinctly heard to ask, "Do you like my titties?".
It's not easy or appropriate to write about Eurotrash the day after the referendum narrative unleashed fresh horrors. We've had hate and bile, we've had a naval battle on the Thames, we've had disinformation by the yard (or should that be metre?). It's no fault of Antoine de Caunes and Jean-Paul Gaultier that their nostalgic parade of boobs and bums and suggestive fruit and veg arrived when it did. There was little option but to lie back and think of Europe as the presenters hailed their British chums with another serving of Franglais slap, tickle and sauce.
The truth is that the show was at least partly assembled from the archives. We met once more the fat German folkies and the grotesquely pneumatic Lolo Ferrari, who died aged 30 in 2000. The other truth is that a lot of the material had nothing to do with the European Union. One item reported on the trend among Ukrainian youth to turn themselves in Barbie dolls. One studio visitor was a Swiss performance artist who wanders the continent's streets and galleries with her kecks off, inviting all-comers to cop a feel. Two Aussies were invited along to the party: an artist called Prickasso (pictured below) who does watercolour portraits with his genitals, and a transgender model for whom that is no longer an option.
In the 1990s when this stuff was first on, the tawdry jiggle of Euroflesh offered novelty chortles. The menu card hasn't changed. De Caunes and Gaultier are likeable naughty boys even in their sixties, but the best thing about Eurotrash is still the snarky voiceover of Maria McErlane and the no doubt mistranslated interviews dubbed into Scouse and Brummie and Chelsea accents, the joke being that the continentals are all as naff and confused as we are.
Eddie Izzard popped in briefly wearing that pink beret seen last week on Question Time to be not very funny. There was also a semi-naked contortionist with a map of Europe painted onto her parts and a Spanish psychic who predicts the future by fondling comestibles. A cauliflower told him the British electorate would choose to remain. His guess is as good as anybody's.