Doc Martin Christmas Special, ITV review - Santa comes to Portwenn as the final curtain falls |

reviews, news & interviews
Doc Martin Christmas Special, ITV review - Santa comes to Portwenn as the final curtain falls
Doc Martin Christmas Special, ITV review - Santa comes to Portwenn as the final curtain falls
It's a wrap for the 18-year-old TV institution
Tuesday, 27 December 2022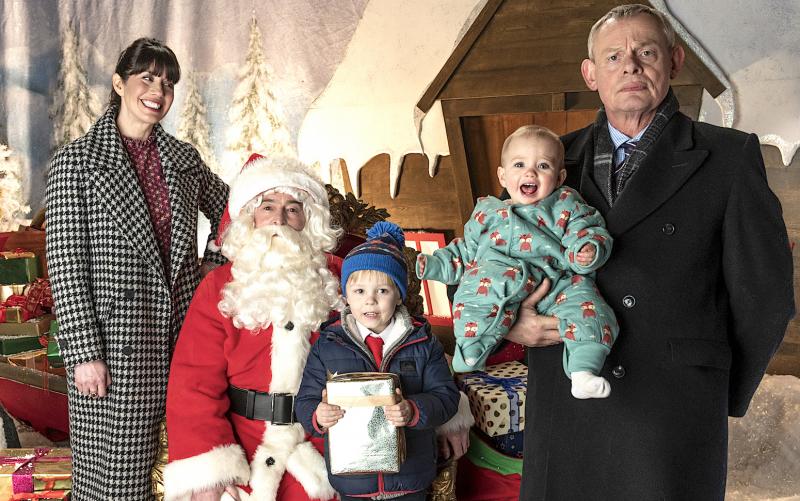 Can the Doc (Martin Clunes) really achieve domestic bliss?
In 10 series stretching over the last 18 years, ITV's Doc Martin unobtrusively became an enduringly popular household name, but it finally reached the end of the road with this Christmas one-off. Unless, of course, there's a prequel, a sequel, an origin story or a transformed internationalised version from Netflix.
But barring all that, this was the last we'll see of Martin Clunes's doggedly grumpy and stone-faced Doctor Martin Ellingham. He's a bit like a medical Blackadder. Series creator Dominic Minghella based Ellingham on Dr Martin Bamford from the 2000 movie Saving Grace, also played by Clunes but with a rather different personality. Formerly a brilliant surgeon at Imperial College, London, Ellingham developed a fear of blood (haemophobia), and with his surgeon's career in ruins he took up the post of GP in the Cornish seaside village of Portwenn, which he knew from childhood holidays with his aunt.
The result has been a quietly-trickling comedy of quirks and eccentricities as Ellingham's frosty and often contemptuous manner has rubbed almost everybody up the wrong way, and the show has attracted a gleaming roster of thespian talents – a quick sample would include Celia Imrie, Vicky Pepperdine, Ben Miller, Richard Johnson and Chris O'Dowd, not to mention Eileen Atkins, Claire Bloom and guest appearances by Sigourney Weaver.
At its core has been the relationship between Ellingham and schoolteacher Louisa Glasson (Caroline Catz), a love affair which has barely been able to survive Ellingham's asperger's-like abruptness, coldness and utter lack of any social graces (the first time he kissed Louisa, Ellingham told her she needed mouthwash). Yet somehow, after decades of traumas, splits and reconciliations, the pair ended up more or less happily, with their children James and Mary.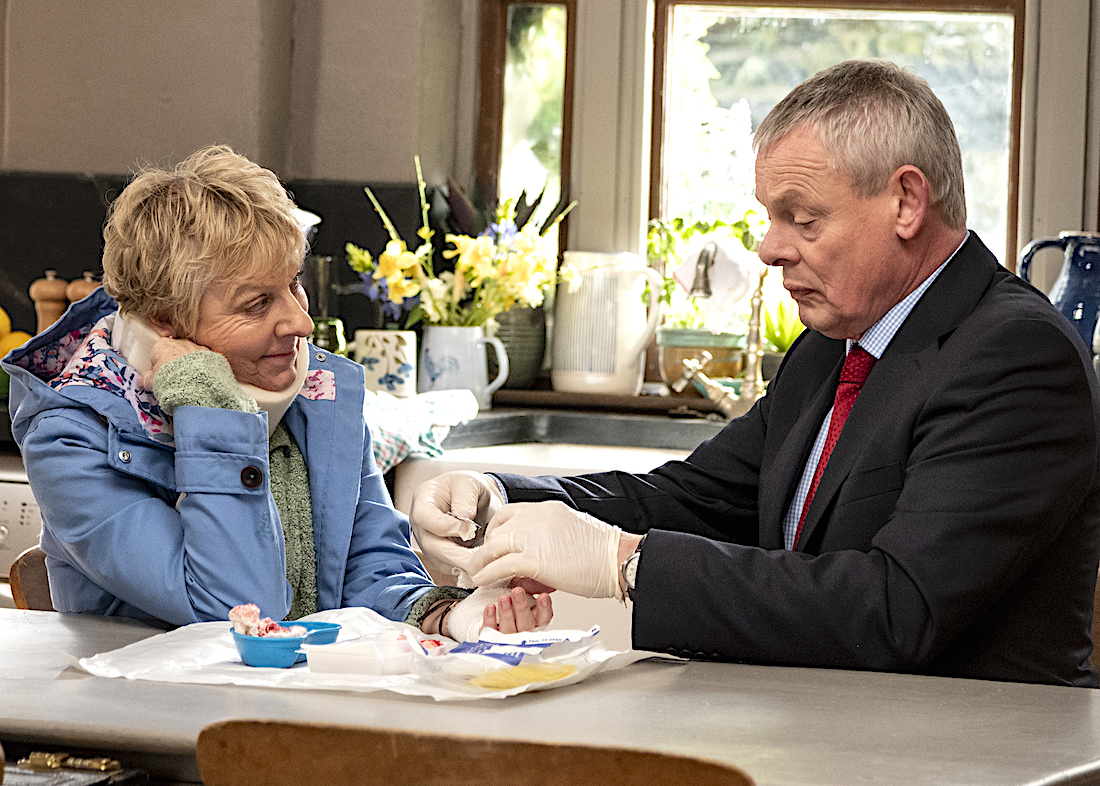 This valedictory appearance by the Doc wisely didn't stray from the show's unpretentious but built-to-last values, and wrapped up a few loose ends along the way. The story was based around Portwenn's Christmas celebrations, and there was a rather touching role for Ron Cook as a veteran Santa, doing his best to bring seasonal cheer to the local kids but finding it an uphill battle as his ageing body succumbed to a variety of ailments as well as a surfeit of drink. Doc Martin, spotting with his acute diagnostic eye a suspicious rash on Santa's arm, abruptly shut down Santa's Grotto on health grounds and dragged the poor old chap away for tests and a biopsy. He was typically oblivious to the upset and disappointment of the local families.
However, Santa was an integral part of the way the story developed into a kind of Winterreise for the Doc. Driving out into the snow-bound countryside to tend to Santa's serious leg injury, a chapter of accidents led to Martin almost freezing to death and receiving a spectral visitation from his recently-deceased mother Margaret (Claire Bloom). Though Martin curtly dismissed her – "you're not a person, you're a symptom" – she delivered some piercing home truths which threw revealing light on Martin's deficient personality. "How old were you when you realised we didn't love you?" she asked him caustically, before warning him that he was in the process of losing contact with his own son James. Eventually it was raddled old Santa himself who helped deliver the Doc back into the bosom of his family and the Portwenn community.
Of course, screenwriter Jack Lothian had made space for the show's stalwarts. There was a happy ending for comical copper Joe Penhale (John Marquez) and the ineffably daft Janice (Robyn Addison), while an amorous Mrs Tishell (Selina Cadell, pictured above) actually managed to take off her neck brace. Eileen Atkins continued to be a fountain of good sense as Martin's aunt Ruth, and didn't waste too much sympathy on the late Margaret. "She was an awful woman and a terrible mother," she concluded. The Doc didn't disagree.