Defending the Guilty, BBC Two review - trials and tribulations of a trainee barrister |

reviews, news & interviews
Defending the Guilty, BBC Two review - trials and tribulations of a trainee barrister
Defending the Guilty, BBC Two review - trials and tribulations of a trainee barrister
New legal comedy struggles to get off the ground
Wednesday, 18 September 2019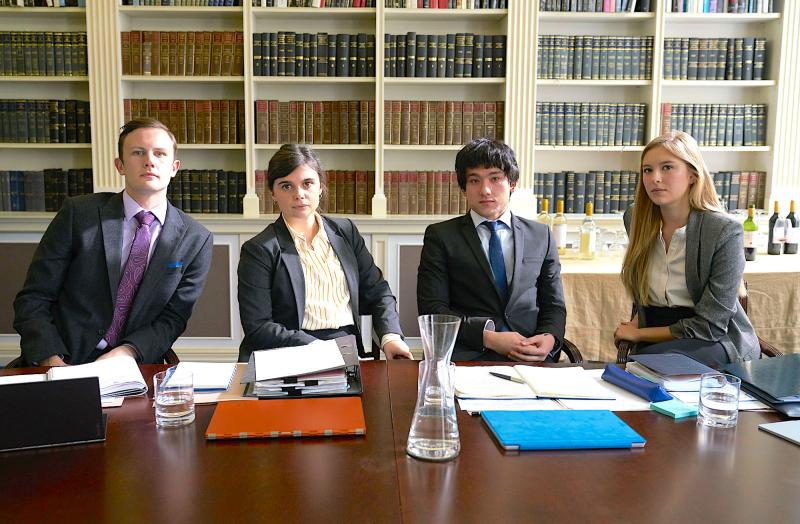 Battling barristers: Liam (Hugh Coles), Danielle (Gwyneth Keyworth), Will (Will Sharpe), Pia (Hanako Footman)
This new legal comedy is based on a well-received book by Alex McBride, but the transition from print to the BBC Two screen hasn't been an unalloyed success. It stars Will Sharpe as trainee barrister Will Packham, who's only been on the job for three months and faces cut-throat competition from three eager rivals for a post at a plush London law firm. He's learning the law under the tutelage of Caroline, played with acidic cynicism by ever-reliable Katherine Parkinson (pictured below).
Written for TV by Kieron Quirke, Defending the Guilty is an A-Z of the chaos and pitfalls of the law, where cases seem more likely to hinge on ignorance, intimidation or cock-up than the brilliance of the lawyers. Apparently unworldly Will sincerely believes that his sole objective is the pursuit of justice (does he never read a newspaper or watch Line of Duty?), but Caroline, who irritatingly keeps referring to herself as "mummy", puts him right. A barrister wants to win at all costs, and needs "the brain of a fox, the liver of an ox, the hugest of cocks." Obviously women didn't write the rules.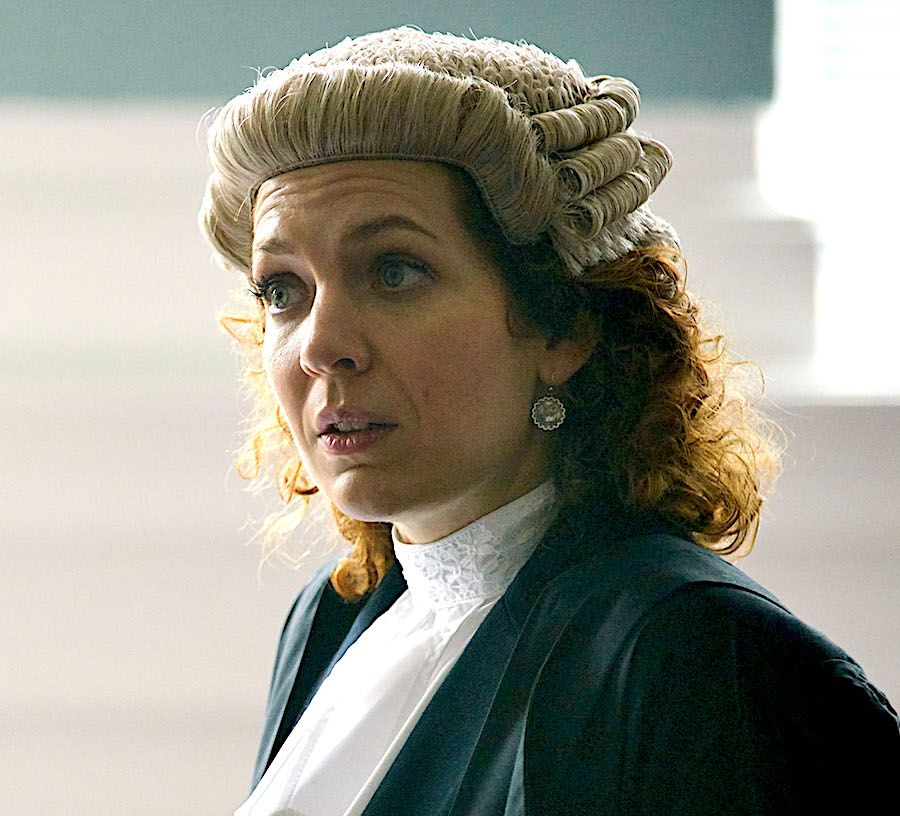 With the likes of pretentious, contemptuous Ashley (Prasanna Puwanarajah) lording it over the juniors like a legalled-up Flashman, Will's law firm resembles an especially knuckle-dragging type of public school. The legal "pupils" have their odds chalked up on a board (the contest is dubbed "Tenancy Deathball"), and are given demeaning nicknames (Will is DJ Stupid, while Welsh girl Danielle is Angry Chav and posh, sneery Liam is Lanky Poison Twat). When the rather haughty Pia cheerily informed Will that her nickname was Hot Robot, he was embarrassed on her behalf at such gross "objectification". Pia looked momentarily puzzled. "Oh, feminism," she murmured, as though deftly sidestepping a homeless person on the pavement.
Starry-eyed Will must learn the hard way. He gullibly believed the protestations of innocence from teenage mugger Gracie, who gazed doe-eyed at him and wrote a floridly apologetic letter to the court, but since no good deed goes unpunished, Will's reward was to become the latest victim of Gracie and her knife-wielding friend. On the other hand, it was Will who precociously spotted the fatal flaw in the prosecution's case against the thuggish Mike and thus inched himself a little higher on the greasy pole of career advancement.
No doubt this sort of thing really happens, but Defending the Guilty's one-dimensional characterisations don't help it win its case. Nor did the clumsily-manufactured romantic interlude between Will and Sabrina, a juror on the case he was attending. The jokes feel as if they've been rewritten so many times that they've died of boredom, and now it's our turn.