Deceit, Channel 4 review - how Colin Stagg became prime suspect in the Rachel Nickell case |

reviews, news & interviews
Deceit, Channel 4 review - how Colin Stagg became prime suspect in the Rachel Nickell case
Deceit, Channel 4 review - how Colin Stagg became prime suspect in the Rachel Nickell case
Damning account of the Met's ill-conceived honeytrap operation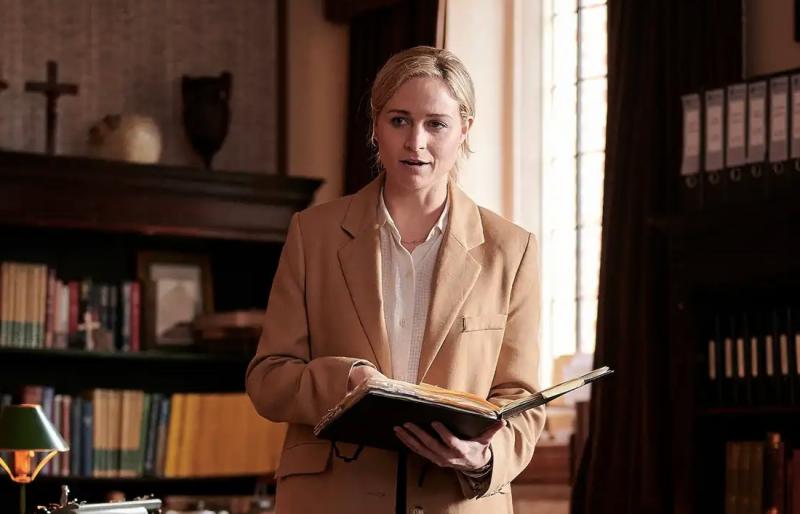 Niamh Algar as undercover officer 'Lizzie James'
It seems unlikely that the Metropolitan Police will welcome Channel 4's new four-part dramatisation of the hunt for the killer of Rachel Nickell, since it's a reminder of yet another of the Met's historic catastrophes.
Screenwriter
Emilia di Girolamo has homed in on the story of female police officer "Lizzie James" from the undercover SO10 unit, whose mission was to form a relationship with the chief suspect in the Nickell killing, Colin Stagg. Her real name is protected by a whole-life court order, but here they've called her Sadie Byrne.
Nickell was stabbed (49 times) on Wimbledon Common in July 1992, and Stagg found himself in the frame after reports came in of him walking his dog on the common, something he did regularly. Forensic evidence of his guilt was entirely lacking, but with a horrified public clamouring for action, the big cheeses at Scotland Yard pressurised the investigators to get a result. Hence the notion of turning to forensic psychologist Professor Paul Britton (Eddie Marsan, pictured below), who drew up a profile of a disturbed individual driven by dark sexual fantasies.
The police became convinced that the profile perfectly defined Stagg, but hindsight would reveal that it could have fitted various other candidates as well. As depicted here, the police force of 30 years ago was an unreconstructed bastion of laddishness, booze and sexism. In the opening sequence of this first episode, Byrne (played with fierce conviction by Niamh Algar) had played a pivotal and hazardous insider role in busting a drugs-and-guns gang in Tottenham, but her Chief Inspector – white, male and inordinately fond of the sound of his own voice – unhesitatingly gave all the credit to her superior, Mark De Costa.
Sion Daniel-Young's portrayal of Stagg suggests an unbalanced and insecure individual whose life has been sorely lacking in meaningful relationships, whether romantic or parental. However, he certainly doesn't look any less "normal" than Professor Britton, played with an insidious creepiness by Marsan which might almost suggest the Prof himself had an attic full of noxious secrets. In the scene where Byrne visited him in his study for the first time, Britton even managed to make the act of pouring her a cup of tea resemble a form of sadistic abuse. DI Keith Pedder (Harry Treadaway), running the Nickell investigation, has the ostentatious moustache and Brylcreemed hair of a resentful bank clerk bearing a grudge.
The discovery that Stagg had sent a letter to a woman who'd placed an ad in a lonely hearts column describing his brutal sex fantasies (though not including any reference to knives) seemed to persuade the cops that no other perpetrator than Stagg could be countenanced, and Byrne was tasked with worming her way into his confidence "to make Stagg fall in love with you". The idea was that she'd titillate him by playing into his own sexual predilections and, among other things, pretend that she'd been involved in a murderous Satanic cult.
One can't be certain quite how accurately Deceit mirrors real-life events, but the entire plan now looks wildly ludicrous. The idea that a young, attractive woman would be deliberately used as bait to entrap a man believed to be a sexually deviant, controlling psychopath now seems at best outrageous, potentially even tantamount to manslaughter. The fact that "Lizzie James" was eager to volunteer for the job, even though it would leave her isolated and exposed to extreme danger, beggars belief.
A judge would eventually deplore the police's "excessive zeal" and "deceptive conduct of the grossest kind". As the record shows, their pursuit of Stagg proved to be a dead end, calamitously for both him and the Met. Heads should have rolled, but, as usual, didn't.