Cinderella: After Ever After, Sky 1 review - preposterous fairytale sequel tweaks the funny bone |

reviews, news & interviews
Cinderella: After Ever After, Sky 1 review - preposterous fairytale sequel tweaks the funny bone
Cinderella: After Ever After, Sky 1 review - preposterous fairytale sequel tweaks the funny bone
David Walliams drives a coach and horses through Fairyland
Wednesday, 25 December 2019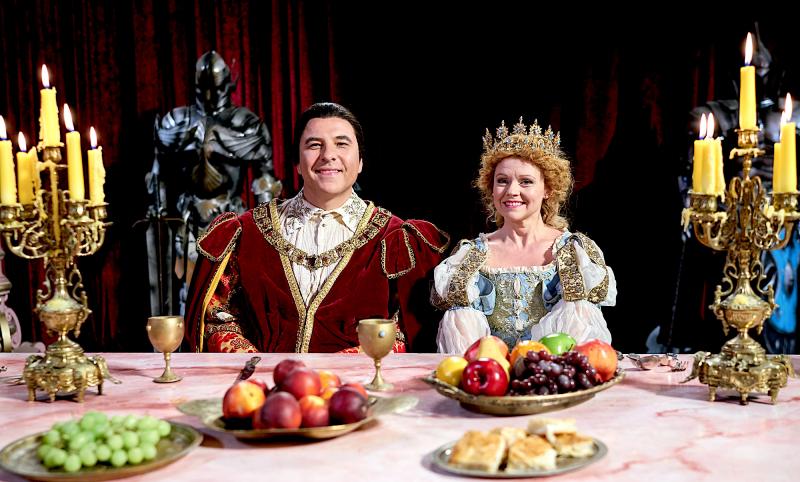 David Walliams as Prince Charming, Sian Gibson as Cinderella
This divertingly daft sequel to the Cinderella story (Sky 1) was the brainchild of David Walliams, who introduced it as himself, sitting smugly by a roaring fire in his authorial smoking jacket.
What, he wondered, happened after Cinderella and Prince Charming were married and lived "happily ever after"?
Well they weren't happy at all, as Cinderella (Sian Gibson) rapidly discovered. Charming (Walliams) was a braying, posh twit infatuated with his own reflection and obsessed with his hair. At their wedding celebration, he ignored poor Cinders and spent hours doing cringetastic hip hop dancing (accompanied by a funky harpsichord) with his fawning buddies Pongo and Snorter.
It was a slender story, but the cast rallied round. A beady-eyed Celia Imrie was in rumbustious form as the Wicked Stepmother, scheming with her two ghastly daughters, Rubella and Dumbella, to infiltrate Fairyland's royal family and seize power. This meant disposing of the Queen, despatched by a poisoned cake which caused fatal flatulence, then marrying the King. With a craftily deft touch, Tom Courtenay played the latter as a senile nincompoop – at the Queen's funeral he broke a bottle of champagne on the coffin, thinking he was launching a ship – and thus easy prey for Her Wickedness.
Despite the efforts of a dyslexic, tone-deaf herald and regular interventions by a Fairy Godmother barely capable of casting the simplest spells, a most unexpected conclusion was reached, though not until Charming had spent days wallowing in a giant latrine and Cinders had been turned into a mouse. The mixture of gross-out comedy and satirical silliness was suitable for children of all ages.