Boiling Point, BBC One review - chef drama that's simmering nicely |

reviews, news & interviews
Boiling Point, BBC One review - chef drama that's simmering nicely
Boiling Point, BBC One review - chef drama that's simmering nicely
Terrific drama series has been whipped up from Stephen Graham's hit film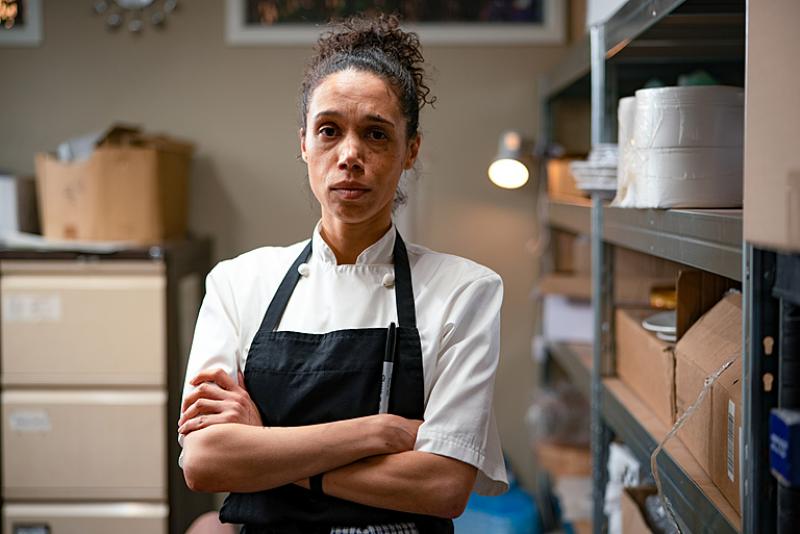 Yes, chef: Vinette Robinson as Carly
The problem facing any chef series is that its daily dramas are essentially rooted in the same small, sweaty space. It's like one of the reductions prepared there, all the flavours compressed into an intense spoonful of sauce.
As in Disney+'s riveting The Bear, the cast can take trips outside – that Chicago restaurant's patissier even travelled as far as Copenhagen – but the triggers of the drama will most likely be in the pass and the pot-washing.
Even so, taking a leaf out of the Shane Meadows film-to-TV-drama playbook, Stephen Graham's production company has created a terrific series out of its award-winning 2021 feature film of the same name, Boiling Point. The same forces are involved, notably producer Philip Barantini, a former head chef who has drawn from his own painful experiences.
[spoiler alert] The film ended with incendiary chef Andy (Graham) having a heart attack after a coke overdose. Now his sous-chef, Carly (Vinette Robinson), has been set up in a joint of her own, Point North, which puts a modern British spin on northern dishes such as hogget and scouse. Andy is not dead, however, but reappears as a subdued recovering alcoholic. He's still in touch with his former colleague Emily (Hannah Walters, aka Mrs Stephen Graham), who is busy mothering Jamie (Stephen McMillan), the restaurant's jittery young pastry chef.
Graham recently said the intention was always to allow others in the core cast to step into the spotlight, much as Carly does. Some are returning characters from the film, some are new. It's still a fruitfully diverse assemblage of workers, from non-binary waitress Kit (Missy Haysom) to Scouser chef Bolton (Shaun Fagan, pictured right, with Hannah Walters), a motormouth who can stir up a fight with two quick barbs.
The first episode opens with Johnny (Stephen Odubola), a young Black man, arriving for a probationary stint at the restaurant. It soon becomes apparent he has blagged his way in and has no experience whatsoever. But at home are a wife and twin babies to support. Similarly, Jake (Daniel Larkai), one of the two KPs, has a schoolgirl to care for while holding down two jobs and still facing a mountain of "red" bills.
The drama follows well-worn tracks – can the team make a good impression on a table of possible investors that their dead-eyed owner Liam (Joel McCormack) has brought along, with Jamie freaking out and Carly having to rush home mid-service to tend to her querulous, demanding mother (an unrecognisable Cathy Tyson)? Will Bolton and sous-chef Freeman (Ray Panthaki) come to blows? Will anybody spot the dire mistake Johnny makes with an order in time?
I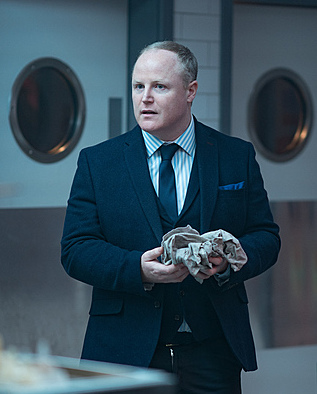 t's predictable fare but beautifully handled, each character given room to breathe and expand. In charge front of house is the quintessential greeter, a Scot who's all camp emollience with the paying public but a maverick livewire behind the scenes, moonlighting as a DJ at a club called Beret. As DJ Deano, Gary Lamont (pictured left) builds up a portrait of a gregarious man who is the nurturing force outside the kitchen that Emily is inside it, but probably equally lonely. And Walters gives a similarly nuanced performance as Emily, a kindly woman with a 13-years-clean track record with Alcoholics Anonymous who has to get a colleague to taste her sauces if they contain any booze.
Robinson is in her element here as Carly: serious and commanding at work, while her pinched face betrays that she is harbouring a world of anxieties and responsibilities. Sometimes she just switches off, lost in her problems; then she smiles and her angular features soften. Can she run the restaurant she wants to run, without compromise?
The thorns in this garden are standard-issue, inevitably: the awkward and complaining customers, the loud drunken couple watching porn videos at their table, the new sous-chef with wandering hands. The unpleasantness of the investors, in particular, is carefully accented: these are self-satisfied men on the make, people who know the price of everything and the value of nothing. What Point North needs, they argue, is gimmicks. But not "northern". Whoever says, "Let's go for a northern," they scoff.
The stress of the opener eases a little over the four-part series, but the first episode is a strenuous watch. Whereas The Bear's pace usually comes from staccato editing (and a lot of shouting), here the direction follows the original film in sending its steadicam fluidly into all areas of the kitchen as the tension builds. But the technique is not overdone and is eventually put on the back burner. The approach overall is for a verismo feel, which has the small drawback of requiring very accurately targeted sound design, which isn't always what we get (subtitles would help at certain points). But it's a small price to pay.
For the next three episodes the script explores the back stories of individual characters, such as Robyn the wannabe actor (Áine Rose Daly) and her attempts at auditioning, Jake's ploy for making some quick cash, Emily's battle with the bottle. All are as absorbing as the kitchen crises. You are left wanting second helpings; with any luck the BBC will already have had the wit to order up a second season.