Art, Passion and Power: The Story of the Royal Collection, BBC Four review - monarchs knew the power of the portrait |

reviews, news & interviews
Art, Passion and Power: The Story of the Royal Collection, BBC Four review - monarchs knew the power of the portrait
Art, Passion and Power: The Story of the Royal Collection, BBC Four review - monarchs knew the power of the portrait
A cornucopia of great works, but a little too much Andrew Graham-Dixon
Wednesday, 17 January 2018
Triple Portrait of Charles I by Sir Anthony Van Dyck
Henry VIII had a troubled marital history and Charles I lost his head, but both have also gone down in history as original, innovative and obsessive collectors of art, founders in different ways of what is now one of the world's greatest accumulations in all media.
The tale of this particular
royal
occupation is being brought up to date in four weekly
episodes
led by the enthusiastic Andrew Graham-Dixon, our go-to serial art presenter. Episode one was subtitled
Dangerous Magic
. And in this iteration, Graham-Dixon's own script is loaded down with exclamatory clichés. What is it about even long dead royals that brings this gush to the fore? Lots of gorgeous stuff to look at though.
A million and a half tourists every year visit Windsor Castle and this was our starting point too. The camera following our presenter waded through scores and scores of dazed, bedazzled, dutiful and exhausted tourists everywhere, passing though the vast displays in just a few seconds, taking in hardly anything, just somehow staggering on. Over a million works of art, including 7,000 paintings, are owned by the Queen and handed down from monarch to monarch.
Henry VIII invented a court of magnificence, gold plate and all. Much has vanished but there are contemporary awed accounts of his extravagance and pomp. We visited the great Flemish tapestries of the Story of Abraham, still hanging in the Great Hall at Hampton Court. And of course he commissioned Hans Holbein the Younger: in Windsor's Print Room there are 80 Holbein portrait drawings, still mesmerising in their intelligent, emotional realism. A collector of talent, Graham-Dixon suggested, met an artist of genius. At Whitehall (destroyed by fire) Holbein had created a huge mural, known now through a copy, and created the likeness which became emblematic of royal power, the sturdy, richly garbed standing figure with adamantine stare (pictured above).
Henry knew the power of art: his very Protestant son Edward VI oversaw, for religious reasons, mammoth destructions of the art that had adorned churches, but the portrait reigned, and under Elizabeth I the portrait miniature was supreme. The image was used to promote her political aims: she policed the royal image, ensuring its adherence to her wishes. No religious imagery was allowed; magic adhered to the royal image alone.
And then the Stuarts: we moved on to the golden incised blue armour for the young man who should have been Henry IX, the son of James I. He would have cut an extraordinary figure riding out, but Henry died of typhoid at St James Palace in 1612, and was succeeded by his weedy younger brother Charles, who became the greatest royal collector in British history. Aged 22, he went on an adventurous trip to Madrid accompanied by the Duke of Buckingham, with marriage in mind, but instead he fell for the Catholic art that had not yet come to England.
Charles acquired seven great cartoons (preparatory designs for tapestries) of the acts of the apostles by Raphael, for example, originally created for use in the Sistine Chapel. For art from the collections of the Gonzagas in Mantua, Charles paid £30,000 (how much would that be in today's valuation?). Masterpiece after masterpiece included a series of nine paintings by Mantegna, The Triumph of Caesar, still on display at Hampton Court (pictured below, Mantegna's The Bearers of Trophies and Bullion).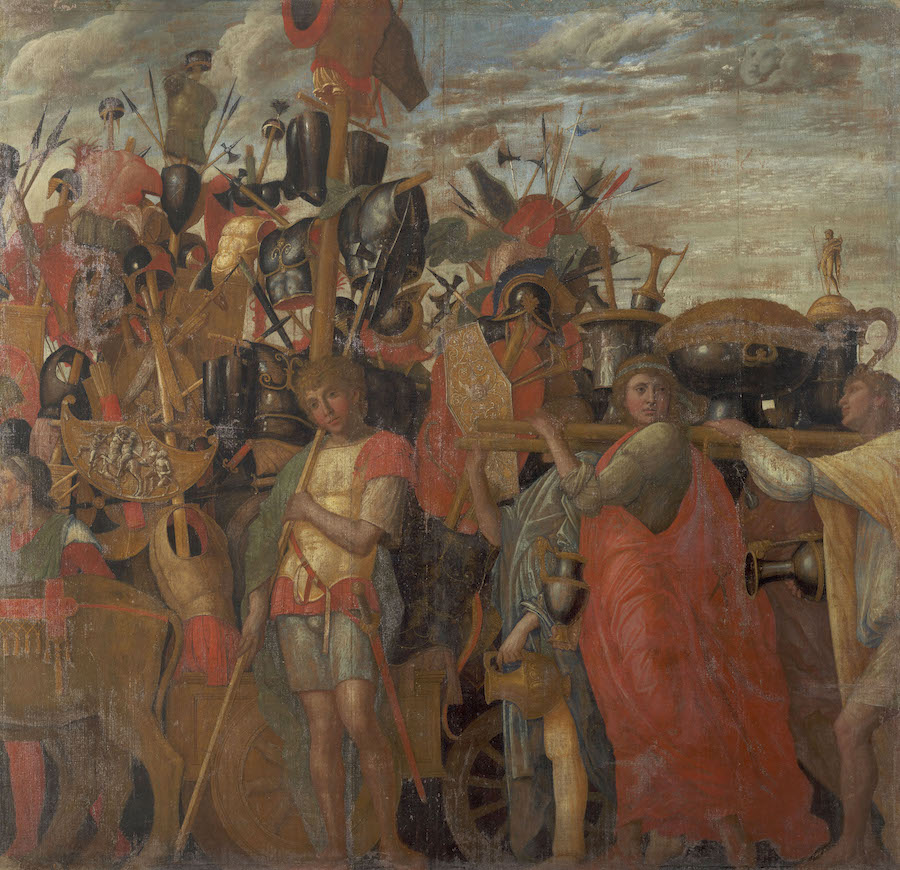 In the 1630s Charles, after the dissolution of Parliament, formed an alliance with the young Flemish painter Anthony van Dyck, who created potent images of the slight King elevated on horseback, the royal family with Henrietta Maria holding a baby, and a tripartite study of the King's face to send to Bernini for a portrait sculpture of the king. Further ambitions for the royal collection were sabotaged by the English Civil War. After Charles's execution, the most spectacular royal car boot sale in history took place, and the magnificent collection was sold to whoever would pay. The conclusion is that never again would a royal collection be made for the specific purpose of projecting the image of royal power.
Although this is an amiable amble through royal treasures, the history is not sharp enough and the focus blurry.
Charles I: King and Collector is at the Royal Academy from 27 January, and Charles II: Art and Power is the current exhibition at the Queen's Gallery
Elizabeth I policed the royal image, ensuring its adherence to her wishes
rating
Explore topics
Share this article