Arena: Jonathan Miller, BBC Two |

reviews, news & interviews
Arena: Jonathan Miller, BBC Two
Arena: Jonathan Miller, BBC Two
The polymathic director narrates his stellar career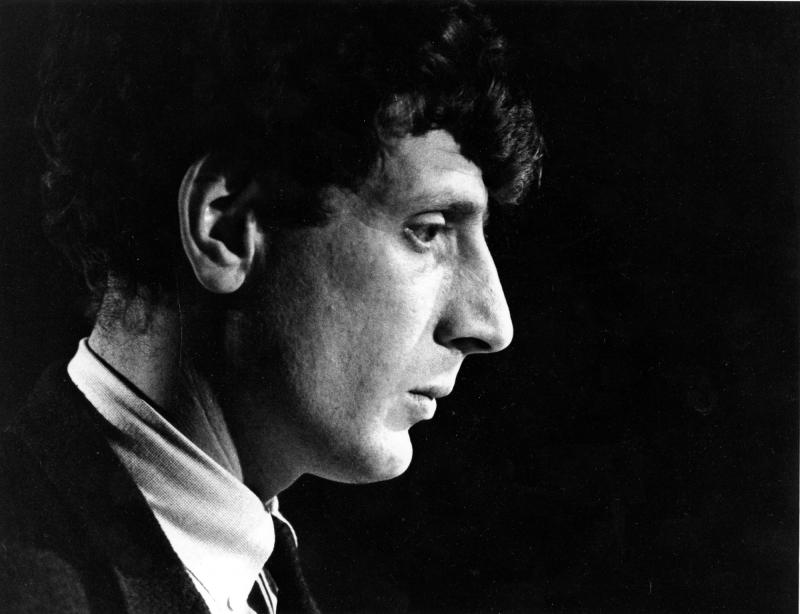 Classic deadpan: Jonathan Miller makes a thoughtful impression
A director who is "passionate about biology"; a humorist who "hardly ever mocks"; an artist who speaks fluently about the origin of species; a non-musician who has directed some of the best-received opera productions of the modern era; a doctor with his own profile on IMDB. In short, a man who puts the "poly" into "polymath" – and like as not does it in Greek. Don't you just hate Jonathan Miller?
No, of course not. As last night's Arena portrait could simply not fail to convince you, all laud and honour be to Jonathan Miller: there ought to be one of him in every home.
And in the Miller household, there were two. At least. For Miller ("Sir Jonathan", actually – not that he would mention it) comes from gifted stock: a soldier father who could make bronze busts of the neurasthenics he treated, and a mother whom the young Jonathan thought was a typist: she was actually bashing out novels.
It is impossible not to conclude that this natural raconteur and Jack of all trades is also the perfect chat-show guest. Damn him!
The Millers, "Bloomsbury-type Jewish intellectuals", sent Jonathan first to St Paul's (where he shared biology lessons with Oliver Sacks), and then to St John's, Cambridge, at the time when Crick and Watson were doing their thing. Of course, simply to sit in a room and steadily become a doctor was a little beneath our hero – "So there I was, a medical student, reading philosophy"* – and he sooner or later found himself inducted into the elite world of the Apostles, an intellectual secret society formerly staffed by the likes of EM Forster, Lytton Strachey and Leonard Woolf (to whom, in late age, he bears a certain resemblance).
Just as naturally, it seems, he was soon enough called to comedy, in the legendary Beyond the Fringe, where he quipped his most famous one-liner about being "Jew-ish." (It seems wonderfully typical of Miller's zigzagging "career trajectory" – if one may be permitted such a plebeian term – that Beyond the Fringe was actually conceived, by the Edinburgh Festival proper, as one in the eye for the rampantly successful Fringe performers.) The show sold out, transferred to London for two years (bastard!) and then moved to New York. Soon enough he was working for The New Yorker (double-bastard!!), and generally making the most of the Big Apple's can-do spirit, rather than the And-what-do-you-do? (No-I'm-sorry-we-don't-have-a-box-for-that) ethos over here.
On his return to England, he became, on the result of one preliminary interview, the editor and presenter of the BBC's Monitor. He invented new techniques by accent, went out on a limb (sometimes on all fours) in terms of content, and generally got up to stuff that those schooled in the art of television production would never have dreamed of. By the late Sixties, he was directing full-scale films: the Drinking Party – a parallel treatment of Plato's Symposium – and a Kafka-esque, stripped down Alice in Wonderland, in trippy black and white. In Humphrey Burton's words, "He had somehow become a top-line director overnight!"
"The more canonical the thing he's dealing in," says Sacks, "the more he likes to manipulate the edges of it." And as in television, so – the next leap – in theatre: "They found I brought to rehearsals a sort of playful inventiveness, which was perhaps entirely due to the fact that I was not trained." Cue footage of Sir Laurence Olivier leaping about as Shylock, under Miller's direction, looking for all the world like a frog in a yarmulke.
One of life's natural teachers (as his son William attests), it fell to Miller to write and present The Body in Question, a groundbreaking 13-part medical TV lecture in which, amongst other things, he handled a human heart straight to camera. In the years to come there followed similar documentaries on such psycho-spiritual topics as madness, reflection, atheism and the power of speech.
It is testament to Miller's exceptional modesty and nonetheless unflighty approach that he is comfortable, just about, referring to himself as "an intellectual". (Indeed, what else to call him?) Watching footage of his inevitable interviews on Parkinson, though, it is impossible not to conclude that this natural raconteur and Jack of all trades is also, in fact, the perfect chat-show guest. Damn him!
Appointed to run the BBC's complete Television Shakespeare in the Eighties, Miller took on six of the plays himself (see reel of him discussing snake typology with the nervous cast of Antony and Cleopatra) – then casually side-stepped into opera. His Mafiosi Rigoletto introduced Duke to juke-box at the ENO (if people were sceptical about his updates, he was even more sceptical about the fictional "histories" in which composers had originally set their scenes), brought a touch of the Nokia to Cosí fan tutte at the Royal Opera House (it gets a smaller laugh than you might expect; perhaps the Garden's punters have people to answer their phones for them), and blended Duck Soup – so to speak – with his most visually arresting production of all, ENO's 1920s finishing-school Mikado. (The original cast starred one Eric Idle, the ex-Python who'd been first persuaded that comedy was the way to go by seeing – you guessed it – Jonathan Miller in Beyond the Fringe.)
There was brief discussion of his staged St Matthew Passion – "not bad for an old Jewish atheist!" – and then next thing we know, at 74 minutes into an 89-minute film, it is being revealed that Sir Jonathan Miller also moonlights, to quite some considerable extent, as an artist. (For f***'s sake, Jonathan!) He spies what you might call "found art" everywhere, especially in 3D – a hole in a wall, a bolt on a door – the same way that Chatwin used to collect colours and shapes through his travel snaps. We see Miller's wife ("the stable core of a centrifugal Jonathan", Sacks chuckles) tutting at him as an Italian stall-keeper tells him an old lock will set him back 150 euros, and Miller saying, "No, no, I can't afford it!" and then him in his front room, lock in hand.
Asked to explain his glittering career, and the reasons for it, Miller sums it up as mostly "yielding weak-mindedly to unsolicited invitations to do things". Beautiful.
A ready use of subtitles for the quotidian info left the rest of the film free for the showing-not-telling: Miller's lovely artist's home, a (predictably) controlled clutter of books and oddments; his "transferable" talent for recognising and dissecting anatomical detail, both in medicine and drama. For the rest, it was all more or less under Miller's narration – the advantage of having a subject who's still alive, I suppose – and so we had the pleasure of his company as he not only strolled round, say, the Museo Speccolo in Florence (provoking a soliloquy on the nature of disgust and aesthetic interest), but also around the back-catalogue of his oeuvre, a programme on technology, for example, becoming a disquisition on metaphor. His comic training comes to bear in his magnificent deadpan: he refers to acting as "divine afflatus", speaks of his mysterious talent, aged 12, for imitating the sounds of hens, and when he warns conductor Roger Norrington that he can't read music, reports, "but he assured me that he could, so we were all right".
This was good telly. But it was also largely about good telly, and that was slightly wistful. Several times in the course of his documentaries, I'm sorry (or, rather, delighted) to say, Miller did things – the human autopsy, the prompting of a Parkinson's victim with a bunch of keys – that probably wouldn't make the edit now in our just-add-subject-matter easily offended culture. And forget offence: where did all that footage of televised opera come from?
Ultimately, Oliver Sacks concludes that Miller's boundless energies simply couldn't be contained by one career. For his part, somewhat astoundingly, Miller has regrets about not sticking to the one that was good enough for his father. But what can you do. "People like Jonathan should live till they're 200," wishes Sacks. Damn right.
--
* For someone with such a Classical enthusiasm for all things learning and doing, the one thing Arena didn't, in fact, reveal was any aptitude for the Classics, per se. Perhaps at some point Miller really did decide he had to prioritise. Or perhaps the programme simply wasn't long enough to discuss how he'd once boshed out a cheeky translation of The Iliad on the back of a fag packet. Come to think of it, no mention was made of any of the dozen books that he has written, not including edited collections, intros and forewords, and contributions to other compendia.
Oh, and he ran the Old Vic for a few years. Where Kevin Spacey begged him for an audition.
All laud and honour be to Jonathan Miller: there ought to be one of him in every home
Explore topics
Share this article