Privates on Parade, Noël Coward Theatre |

reviews, news & interviews
Privates on Parade, Noël Coward Theatre
Privates on Parade, Noël Coward Theatre
The Michael Grandage Company launches its inaugural season in victorious fashion with Peter Nichols' colonial comic musical drama
Tuesday, 11 December 2012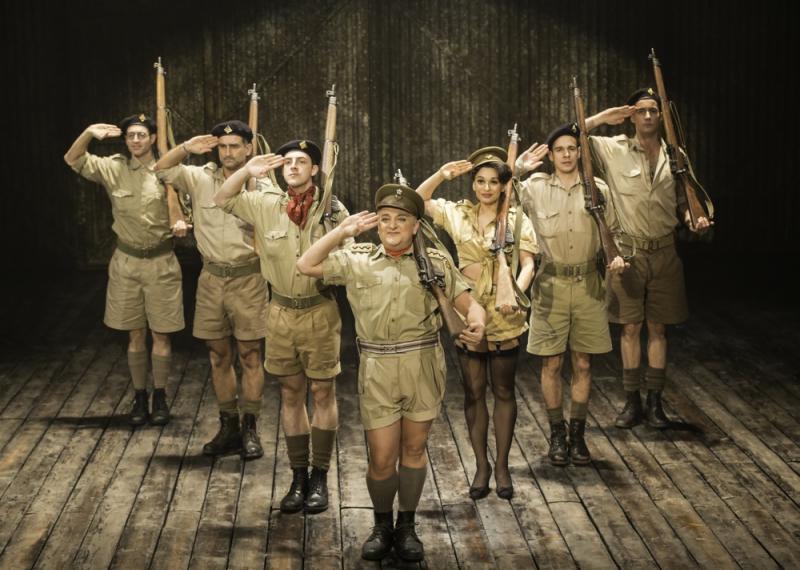 Stiff upper lips and suspenders: Simon Russell Beale (centre) and the company
It's brash, jolly, stuffed with wildly politically incorrect language, double entendres and spoof-laden song and dance. But beneath its brightly painted face, its stockings, suspenders and corsets, its uniforms and bravado, Peter Nichols' 1977 musical drama is revealed, in a production by Michael Grandage that is as sensitive as it is exuberant, to be both acerbically astute and compassionate.
Well, as the leading lady, Acting Captain Terri Dennis puts it, "you can't always judge a sausage by its foreskin".
That show-stealing role is inhabited to the hilt by Simon Russell Beale as the flamboyantly camp star of SADUSEA (Song and Dance Unit of South East Asia), a fictional military concert party dispatched to colonial post-war Malaya. Based on Nichols' own experiences, the play, with songs by Denis King, follows a raw young recruit, Private Steven Flowers (Joseph Timms), as he is initiated into a world of danger, dressing-up (whether in drag or khaki), love, loyalty and sacrifice. The production launches the Michael Grandage Company's inaugural West End season in high-kicking style – and Russell Beale is especially, and effortlessly, memorable. Dragged up as a lugubrious Marlene Dietrich, straddling a chair in frilly knickers, blonde wig and silver topper; playing the patient wife back in Blighty in a Vera Lynn tribute; coming over all Carmen Miranda, got up like a tropical fruit salad; or dapper and acid as Noël Coward in a bitterly satirical patter song in the "Don't Let's Be Beastly to the Germans" vein: number after number, he's devastatingly entertaining, moving with wonderful nimbleness and investing every lyric with raspy wit.
Yet though the songs and the music-hall-style hoofing are diverting, it's in the moments between, where relationships and romances are forged and tested, that the emotional lifeblood of the piece pumps. We see Russell Beale (pictured right), an artiste in flight from the drab realities of Britain under "Clementina Attlee", engaged in a buttock-flashing, gin-swilling dressing-room costume change, sharing confidences with newcomer Flowers with easy generosity. We watch the virginal Flowers receiving a sexual education from Sylvia (Sophiya Haque), a Eurasian dancer – and then betraying both her and his own principles. And, perhaps most touchingly of all, we see love flourish between Corporal Lee Bonny (John Marquez), a bull-headed Brummie, and Lance Corporal Charles Bishop (Harry Hepple), a solicitous nurse who adores him with utter and uncomplicated frankness.
Meanwhile – though Nichols never quite drives the politics of the piece home – we're made uncomfortably aware of the absurdity of the men's dubious position, on a posting where thwarting Communist ambitions is arguably less pressing a priority than protecting rubber plantations and tin mines, and where their leader, Major Giles Flack (Angus Wright) is a pompous, over-privileged fool on a mission to civilise using a mixture of Englishman's honour and Christianity, and high on self-righteousness and his own evangelical zeal. The casual racism of the British is thrown into sharp relief by the presence of two silent servants, whose fury we sense mutely intensifying and who are revealed, in the final moments of Grandage's staging, to have the last word in spectacular style.
Nichols' writing is not sharply focused; at times its looseness, while it reflects the ramshackle nature of SADUSEA's entertainment offerings, is faintly frustrating. But Christopher Oram's set ably evokes crumbling colonialism, Ben Wright's choreography is both adroit and amusing, and, for all that it exposes ugliness and idiocy, in its tenderness, camaraderie and irrepressible humanity, the show launches a considerable, and ultimately irresistible charm offensive.
It's in the moments between the songs, where relationships and romances are forged and tested, that the emotional lifeblood of the piece pumps
rating
Share this article